FUEL NKU begins supplies pick-up program
March 8, 2021
FUEL NKU, an organization providing free food and household supplies for students at NKU, has recently started QuickPick Pantry. With QuickPick Pantry, students are allowed to schedule items for pick-up. It is a new addition to FUEL NKU's operation while its walk-in pantry remains closed during the COVID-19 pandemic.
Using the program, students first fill out a form where they pick out specific items they need and arrange a date and item for pick-up. The items will be located outside the FUEL NKU office in the Albright Health Center, packed into bags with the students' names on them.
"We've been doing it for a few weeks, so it's essentially a pilot program and we're learning to make it better as we go," said Dr. Jessica Averitt Taylor, director at FUEL NKU.
According to Dr. Taylor, the table model implemented for the pandemic–in which items are left outside the office on tables for students to choose from–makes providing fresh, frozen and refrigerated produce difficult. The QuickPick Pantry allows FUEL NKU to offer those items to students again, Taylor said.
"This way, we have a better idea of actually knowing what [students] need versus when we put the food out on the tables, we're just assuming what might be helpful for the day," said Jun Fularz, a senior social work major and student worker at FUEL NKU.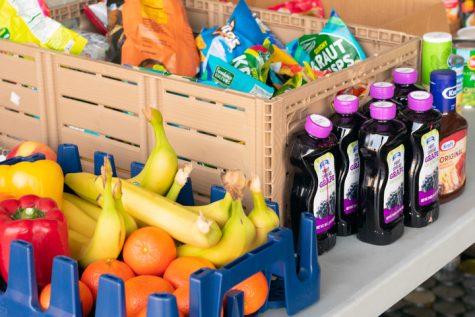 The program was officially launched in early February, with development beginning around Thanksgiving last year. According to Nick Bliven, a member of AmeriCorps VISTA who worked on the structuring, designing the program was a group effort where communication was key.
Development consisted of numerous conversations among team members. An important contributor was Tim Reiskamp, a NKU alumnus whom the team relied on for technical support. Effective communication via email and the Slack notification system was crucial, Bliven said.
According to Fularz, running the program can be stressful as it is constantly being revamped and improved. FUEL NKU receives three to four orders on weekdays. With two to three people on staff on a given day, the workers pick the orders, log the information in the system and make sure the items are prepared on time. Figuring out what needs to stay digital and what can be done non-digitally is part of the challenge, Fularz said.
After the pandemic is over and the walk-in pantry reopens, the program might remain as a supplemental option for those unable to visit the pantry in person. 
"We need to be mindful that some students aren't gonna be able to come and have the time to shop," said Fularz. "They might be single parents or having a busy day or a hard time, and they just have a brief moment when they've got to get in, get out."
FUEL NKU is further refining the QuickPick Pantry in order to best support students. Other initiatives at the organization include a cookbook created using community submissions. 
"We're here for [the students]," said Taylor. "Even when we need to close because of snow, if someone needs food, we'll find a way."