"Having someone hang from your legs and being responsible for them and then switching and depending on your partner forms a bond quickly. The two of us just being us was a great experience," Harral said.

While the show has given Harral a second family, she said performing is an individual feat.

"You do it for you. It's not a team sport, you're out there alone," Harral said.

Because of this, landing a move is especially gratifying for Harral.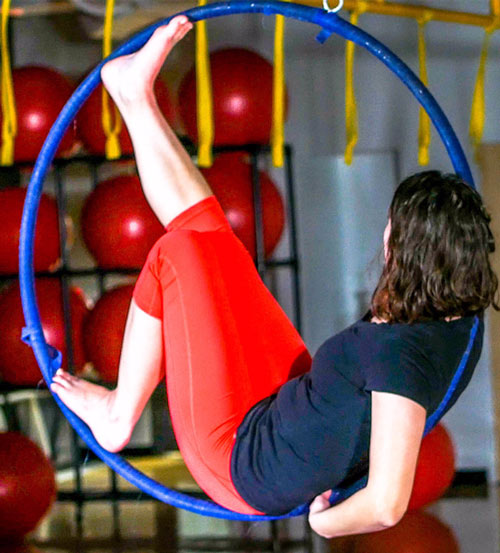 "When you first get a trick, no matter the bruises, no matter the ridiculousness you went through to get it, you feel very accomplished," Harral said.

Harral said she has felt the adrenaline of 9 performances within 2 years, usually seating anywhere from 100-200 audience members at each show. She said getting over the fear of being on stage, up to 12 feet in the air, in front of that many people hasn't been as challenging as expected.

"Honestly, when you're up there, you don't see anybody. You're just worried about yourself," Harral said. "I like it better when I don't know them (audience members) because when you know who's in the crowd you start worrying about what they're doing."

Harral described the flashiness of Turner's circus performances as "low-key." The circus focuses more on the art and beauty of acrobatics, similar to Cirque du Soleil, rather than past circuses that used animals and clowns for entertainment.

"It's becoming more artistic... and we don't try to make it a big spectacle," Harral said.

For those interested in acrobatics Harral said Turner's Circus would love to have them.

"Absolutely try it out. Even if you're afraid. It works with all body types. If you are willing to try Lyra and circus it's a good workout and you feel really cool afterwards," Harral said.

Despite the patches of purples and blues that speckle Harral's hips and spine, the blisters that callus on her hands and feet and the inevitable dizziness that arises from repeatedly spinning during training, Harral wouldn't want any other hobby.

"I absolutely love it."