Remembering Mary Pat Kremer: Hospitality, Kindness and Devotion
Celebrating the life of a loyal and devoted team member of NKU's campus community.
June 30, 2022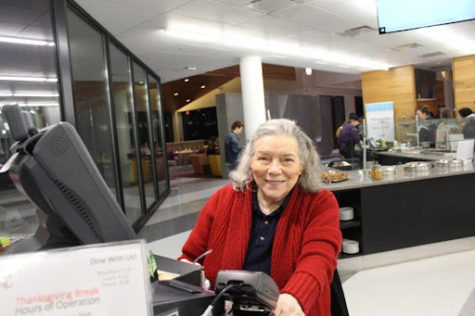 "Home" is often hard to describe. A home can change a lot throughout a lifetime, and for many students, college is the first time home ever changes. Oftentimes this transition can be difficult for first year students. 
The unfamiliarity is simply overwhelming. Therefore, it's a gift whenever someone can make a university feel like a home. 
For Norse Commons cashier Mary Pat Kremer, this gift came naturally. Her hospitality truly made the difference. To many current NKU students, as well as alumni, Mary Pat made Northern Kentucky University feel like home. 
According to senior Resident Assistant Clare Birkeland, "Mary Pat was truly just an incredible woman who really tried to connect to each student individually and get to know their name, talk with them and just get to know them on a personal level."
Following her death on June 16, 2022, Norse Nation would like to shine a spotlight on Mary Patricia Kremer, who devoted so much of her time to the students of Northern Kentucky University.
"I think she wanted to take the last few years of her life and try to make the next generation a little more welcoming to each other," said junior Brody Wells.
One of Mary Pat's strongest attributes was how her monumental impact seemed so effortless. She greeted each and every student by name (even if she did take the occasional peek at an All Card). Despite asking hundreds of people about their day, she always managed to make each conversation feel special. 
Night after night, students found themselves looking forward to their daily dose of Mary Pat. Her revolving door of kindness served as a reminder that compassion is a two-way street.
"I think what I personally took away [from Mary Pat] is to get off my phone, really. I want to make those personal connections with people. I think seeing how much she really impacted students made me put my phone away more. It made me, when I'd walk past someone, give them a smile. I work in the advising office, so I work really hard to make those students feel the same way Mary Pat made me feel, of just feeling welcomed, appreciated, valued and seen," Birkeland said. 
In 2017, The Northerner published an article titled "Mary Pat Kremer Cherishes Time with NKU Students," which explained why this campus celebrity cared so deeply for her "grandchildren."
In the article, Kremer was quoted saying, "I said when I came here, I had 500 new grandchildren. Some of them for a while would call me grandma, it's just the way it is. It's a fun job."
Today, however, NKU students cherish the time they had with Mary Pat Kremer.
"She was like an angel to all of us," Wells added.
With her warm smile and charming nature, Mary Pat turned what could be a short interaction into a cherished memory.
"Sometimes I would forget I had to go get food because we would just start talking," Birkeland chuckled while recounting. 
"She was selfless, and that's where it starts," Wells stressed.
In remembrance of Mary Patricia Kremer: a legacy of kindness that extends beyond the walls of Norse Commons.