Patriot Front canvases campus again, students react
April 3, 2021
Sometime during Friday night to Saturday morning, Patriot Front—the white extremist group that vandalized campus in late January—returned back to campus and vandalized the Housing rock for a second time, along with stickers throughout campus.
The rock was previously painted with different faces of Black students and crowns and black and yellow hearts on one side and the name of eight African American Student Initiatives organizations. Patriot Front spraypainted white Xs over the faces, crowns and hearts and spraypainted their logo beside the faces and the organizations.
Continuing through campus, several spots had stickers posted on them reading "Reject poison" and "Not stolen. Conquered" 
The rock was covered by maintenance early Saturday morning.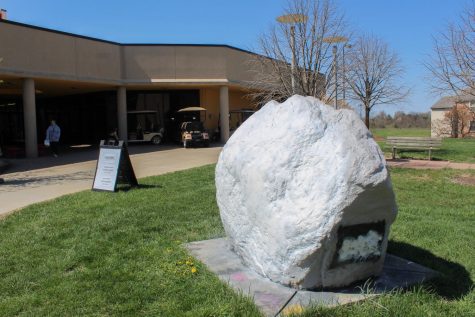 President-elect Aliya Cannon, said in an Instagram video, "I am tired. I understand that you are tired. We are tired of the disrespect, of the hate of all the hate crimes, that continue to go on at our campus unnoticed."
Cannon said that while SGA may be shut down right now and she is not currently president, she and her e-board will be getting change accomplished once they are installed on April 26, 2021.
"It's time to uplift each other, unify and take our campus back," Cannon said.
Students took to Twitter and Instagram to share how they were feeling.
NKU clearly has a problem. The white supremacist tagged the ROCK AGAIN! After AASI and Housing collaborated to paint it to celebrate and acknowledge Black organizations, people and culture. Clearly they feel comfortable doing it again. SOMETHING NEEDS TO BE DONE ASAP

— 🌻girl with the jill scott afro🌻 (@BlvckkRose) April 3, 2021
Once again, NKU's lax behavior has contributed directly to hate. The fascists are here & NKU cannot be bothered to act substantively. pic.twitter.com/QMYdCxRUeO

— "hillbilly philosopher" (@whoisgiffy) April 3, 2021
If affirmative action would have been taken since the initial hate crime committed on campus, we would not be here right now.

If the president of a university would have addressed the issue directly rather than continuously beating around the bush, this could've been prevented

— Chief Petty Officer (@XPerfectKarlaX) April 3, 2021
it only makes white people uncomfortable bc they don't want to admit that our university is a safe space for white supremacy https://t.co/8qbMkOvM0w

— opinionated spice (@TalithaReginee) April 3, 2021
TW// White Suremacy@nkuedu what are you doing about the issue of white supremacists yet again canvassing campus and vandalizing our home? I was sent these photos by a student who will remain anonymous for their safety. White supremacy is a threat to campus safety. pic.twitter.com/93SJ7haIOn

— Jimmy Renton (he/they) (@jimmyrents) April 3, 2021
TW// White Supremacy

Hate will not be tolerated in our community. Friends of Dorothy stand against this hateful act. Minority communities deserve to feel safe and protected. If anyone needs support don't be afraid to reach out to us. pic.twitter.com/gKGiLsqn5d

— Friends Of Dorothy (@friends_nku) April 3, 2021
The rock in front of Norse Commons has once again been vandalized by the white supremacist group Patriot Front. We will continue to stand against this hate, and work with whoever we can in order to work to dismantle white supremacy

— NKUDems (@NKUCollegeDems) April 3, 2021