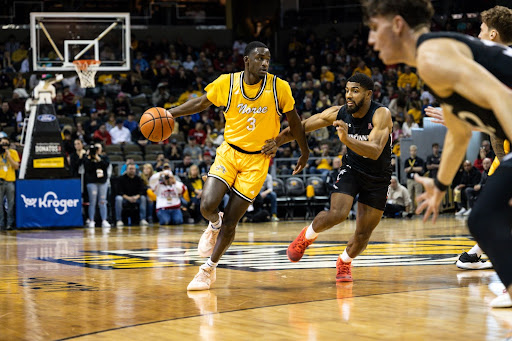 Preview: 16-seeded Norse look to shock the nation, upset Houston in Round of 64
March 16, 2023
After experiencing the thrill of winning the Horizon League title last Tuesday, the NKU men's basketball team has a huge mountain to climb if they want to keep dancing in March. But who better than the Norse to pull off the rarest upset in the history of March Madness?
On CBS' Selection Sunday show, the Norse were handed the tall task of being a 16 seed in the midwest region by the NCAA's Selection Committee going up against the number one team in the nation in the Houston Cougars Thursday night.
The rundown: The Norse (22-12, 16 seed) are riding high after winning the Horizon League championship on March 7 and look to take that momentum into the NCAA tournament. They make their third Division 1 men's tournament appearance and will be looking for their first March Madness win against Houston.
Horizon League Tournament MVP and All-League Second Team selection Marques Warrick has been the centerpiece of Northern's offense all year long, scoring 19.1 points per game and sinking 44% of his shots, with Chris Brandon's 9.8 rebounds per game helping down low when the junior guard does miss. But the calling card of this Norse team has been its defense – the Norse have the 27th best scoring defense in the nation and only allow 63.6 points per game. Sam Vinson has been the face of NKU's zone scheme all year, racking up 73 steals on the year and ranking 14th in steals per game with 2.35.
Houston (31-3, #2 in Associated Press poll, 1 seed) are coming off a 10 point loss in the American Athletic Conference championship game against Memphis, but make no mistake, the Cougars are still heavy favorites to win the whole pie. They've been among the top 10 teams according to the AP all year long and were riding a 13-game winning streak before falling to the Tigers.
The Cougars also feature a suffocating defense – they allow the lowest field goal percentage per game in the nation and rank second in points allowed per game. Guard Marcus Sasser leads this Houston squad on the offensive end of the floor, putting up similar numbers to Warrick as he scores 17.1 points per game and has a 43.9 field goal percentage. Jarace Walker and J'Wan Roberts are UH's two bigs down low, coming in at 6-8 and 6-7 respectively and putting up a combined 14.4 rebounds per game.
History: The Norse and Cougars have never squared off in men's basketball competition, but the 16 seed has only won once in the history of the NCAA tournament, with the lone occurrence coming in 2018 when UMBC left Virginia stunned with a 74-54 blowout.
Three keys for the Norse: 
Push the pace –

One of Darrin Horn's mantras all year has been for his team to be aggressive on both ends, and the Norse have especially come into that form early on in March. They'll need to use Vinson's tough defensive play, Xavier Rhodes' quickness on both ends, and big shots from Warrick, Trevon Faulkner, and Trey Robinson all game long to pull this one off.

Hit the big shots –

The Cougars have the clear size and depth advantage over the Norse, which means Brandon is all on his own down low in NKU's normal four guard lineup. The Norse may try to adjust their rotation to compensate for this, but their strength all year has been dictated by having a "pick four" combination of Warrick, Faulkner, Vinson, Rhodes, and Robinson. Much like how they found new ways to get on the board during the Horizon League Tournament, they'll have to share the wealth when it comes to perimeter shooting instead of relying purely on Warrick's shooting and Brandon's rebounding.
Nameless, faceless opponent –

Simply put, the Norse can't get distracted by the bright lights in Birmingham and primetime television stage on TNT Thursday night. They've been under the national media's lens all year long for their upset against Houston's fellow AAC member Cincinnati, Warrick's buzzer beater against Cleveland State on January 19, and more recently for winning the Horizon League title, so why should they treat this game any differently?
Where to watch/listen: The game will be held at Legacy Arena in Birmingham, Alabama and tips off at 9:20 p.m. It will be televised on TNT and can be heard on ESPN 1530.