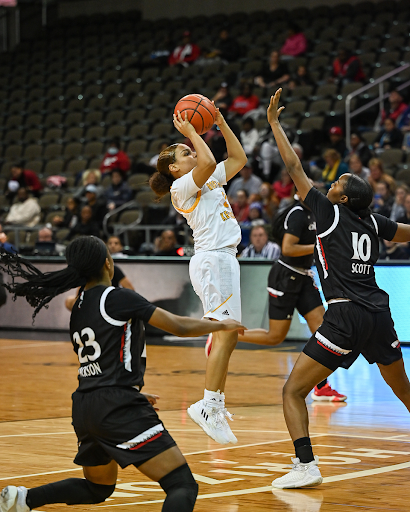 How sweep it is: Turner, Duvall make history as Norse assert dominance over UC
December 23, 2022
It's one thing to beat a high-major program as a mid-major in college sports as a one-off event. It's another thing to pick apart that program in two games with two different teams.
In yet another historic night in Truist Arena Wednesday, the NKU women's basketball team had their brooms ready as they beat Cincinnati to mark their fourth consecutive victory with an impressive 72-52 win over the Bearcats.
Guards Ivy Turner and Lindsey Duvall etched their names into Norse history by becoming part of the 1,000 career point club, with the former tying Kailee Davis as the leading scorers for NKU with 15 points. Duvall recorded her seventh double-double on the year and her fifth consecutive as she put up 11 points and 12 rebounds on the night.
"I know they don't care about their points, they just care if we win, but I told our team in the locker room that I don't give these two enough credit in front of the team because I expect them to do it all the time," Norse head coach Camryn Whitaker said of Duvall and Turner's achievements. "They're very consistent, and we would not be where we are right now without these two, so I'm really thankful for Lindsey and Ivy for their loyalty and dedication to NKU."
The Norse broke off on an 18-6 run in the first quarter and never looked back as Turner led the charge with seven points. Souder and Duvall had six and five each as the Norse defense held the Bearcats to just the six points, all coming from junior guard Jillian Hayes.
The second quarter would be just as dominant for the Norse as they would take a 35-14 lead into halftime, going on a 10-2 run in the final 5:26. Emmy Souder would lead the scoring attack down low for the Norse throughout the half, finishing with eight points and three rebounds. Overall, NKU held UC to just 23% shooting in the half as the only two Bearcats on the board over the first 20 minutes of the game would be Hayes and Craig.
Whitaker complimented her team's lockdown first half defense and said that the game plan she had for her team coming in was followed to a T.
"Our kids knew their personnel inside and out, and we were able to practice quite a few days for that," Whitaker said. "To hold a team to 14 points in one half, no matter who you're playing, is pretty remarkable."
Although both teams made adjustments at the half that allowed UC to find their footing offensively as senior guard Mya Jackson scored seven, NKU continued to play to their own strengths on the offensive side of the ball as six different Norse found themselves on the board in the third quarter, going 8-for-14 from the field as a team.
Jackson and Hayes would continue to push for the Bearcats in the fourth quarter as UC would outscore NKU 20-17 for the final 10 minutes, but it was too little too late as the Norse would take the women's edition of the River Rumble.
Turner commented on her performance postgame and said that she feels at her best when her teammates are able to get baskets around her to supplement the scoring attack.
"I know coach gets on me sometimes when I'm not being aggressive and looking for my shot, so I just feed off Kailee or Lindsey if they're going," Turner said. "I know their defense is trying to stop things, so I just try to keep myself going off my teammates."
Duvall shared her thoughts on the culture that NKU has cemented in women's basketball over the past few years, commenting that the environment in the locker room and on the court encourages the team to be successful.
"I remember telling Coach Whitaker before the season even started that our locker room is awesome," Duvall said. "Obviously not everyone is going to have the same cliques, but when we're in the locker room, everyone talks to everyone, and I just feel like we all play for each other. I think that's been so huge, and you can tell on the court that we all love each other and we all want everyone to do well, and I think that's really going to carry us throughout the season."
The Norse take a short break for Christmas before returning to their Horizon League schedule with another much anticipated matchup in Truist Arena with Wright State on Wednesday, Dec. 28. The game begins at 7 p.m. and can be seen on ESPN+.