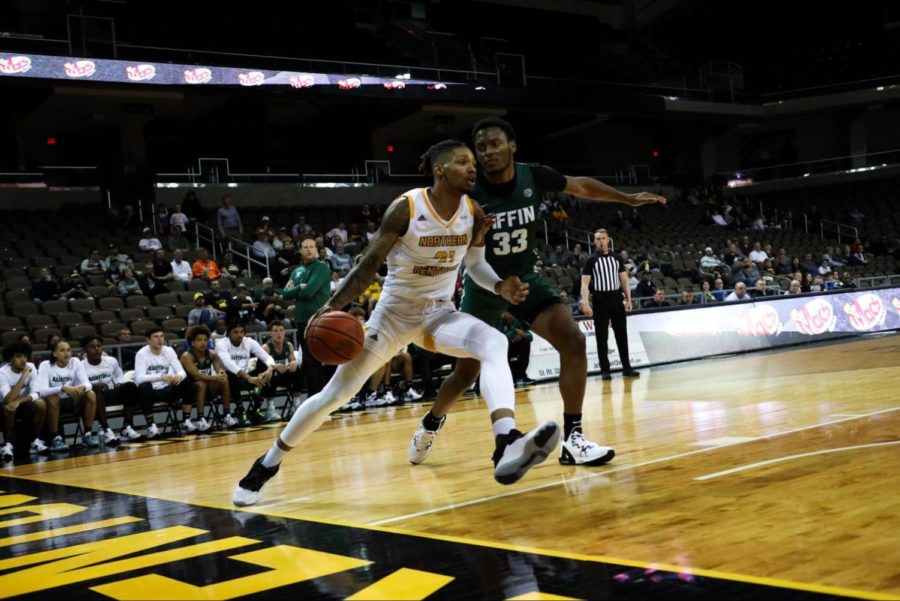 Preview: NKU men's basketball hosts UC for first time ever Wednesday
November 16, 2022
Although the University of Cincinnati is more well-known for the Crosstown Shootout with Xavier, the Bearcats will face a roadblock Wednesday against the NKU men's basketball team as The Battle of Big Mac bridge takes a trip to Truist Arena for the first time ever.
The rundown: Much has changed since the two programs matched up in 2018. Former Norse head coach John Brannen left for UC following the 2018-19 season and spent two years as the head coach of the Bearcats before a messy departure from the school. Darrin Horn was hired by NKU before the 2019-20 season to fill their head coaching vacancy, and Wes Miller currently heads the Bearcats after being hired last year.
The Norse come into the contest with a 1-1 record after a dominant win against local community college UC Clermont. Fifth-year forward Chris Brandon enters the game in a three-way tie for first in average rebounds per game in college basketball this year and comes off a performance where he put up a double-double with 16 points and 14 rebounds. Keep an eye out for junior guard and preseason Horizon League first-team selection Marques Warrick as well: he comes into the game following a 26-point outing and is averaging 16 points on the year.
Wednesday's matchup is a much anticipated one for sophomore guard and Fort Thomas resident Sam Vinson, who suggested that with his local ties, there could be a little bit of extra added motivation for the matchup.
"With UC being right across the river from us, it's a huge game," Vinson said at basketball media day on Oct. 27. "Just growing up around here as well, I watched UC as a kid and I watched NKU as a kid, and it's a hometown game where you're playing against a rival across the river. It's a huge game, and it's going to be very fun."
The Bearcats enter Wednesday's matchup undefeated, but had a close contest against one of NKU's Horizon League foes in Cleveland State on Nov. 10. Guard David DeJulius leads UC in scoring with 21.3 points per game. The graduate student from Detroit, MI was named to the American Athletic Conference's preseason first team. Key transfer and last year's Naismith Invitational Tournament Player of the Year Landers Nolley II follows DeJulius as UC's second-best scorer, with the senior guard putting up 16 points and five rebounds against CSU.
UC will be without one of their key players in wing John Newman III, who will miss an extended period of time for the Bearcats due to knee surgery. This leaves junior forward Jarrett Hensley and other bench players to fill the void Newman leaves behind.
History: The Norse are winless against the Bearcats over the course of eight tries, with the most recent coming in 2018 when NKU lost 78-65 at Fifth Third Arena. Wednesday will be the second time the Norse have faced UC while being a Division 1 school and the first time NKU has hosted the matchup.
Three keys for the Norse:
Make shots early and often: The Norse have shot just 41% from the field so far this year and have only made 25% of their three-point shots. These struggles present a challenge, considering the Bearcats' defense has only allowed an average of 60.7 points on 39.7% shooting. Although it's nice to have Brandon and company down low cleaning up the boards, these shots either need to fall or new opportunities and looks need to present themselves if NKU wants to win against a UC team that has outscored their opponents 254-182 this season.
Vinson needs to be healthy: Last year's Horizon League Freshman of the Year has been dealing with an ankle injury since the first half of the Kent State game and sat the bench against UC Clermont while in street clothes and a walking boot. Horn said that Vinson is currently day-to-day with the injury, but Vinson was seen in a practice uniform Tuesday night which could be a sign that he will play. The Norse will need last year's Horizon League Freshman of the Year on the court to assist their struggling offense.
Keep Norse fans in the game: It's going to be an environment in Truist Arena like no other Wednesday night: the lower bowl is sold out, a pre-game tailgate is taking place at Scudamore Field and the game is billed as a Gold Rush (fans in attendance are encouraged to wear gold and the Norse will be debuting new gold uniforms). And with UC only being seven miles away from campus, the crowd will likely be split between gold and red. Both of the previous factors will be important to getting Norse fans loud and on their feet and keep Bearcat supporters quiet and seated.
Where to watch/listen: The game can be seen on ESPN+ and heard on Fox Sports 1360 and 700 WLW.