'Everyone is so fine-tuned,': Norse offense shining in the Horizon League
May 1, 2022
To say that the NKU baseball team has gone through hardships and adversity thus far into the 2022 college baseball season is an understatement. Between the brutal weather conditions in Highland Heights and beyond, being bitten by the injury bug, and pitching woes, it always seems that a new challenge presents itself before the Norse when they least expect it.
But there is one constant about this ballclub that head coach Dizzy Peyton loves to talk about, and that's their toughness and durability when it comes to the process and preparation for the grind.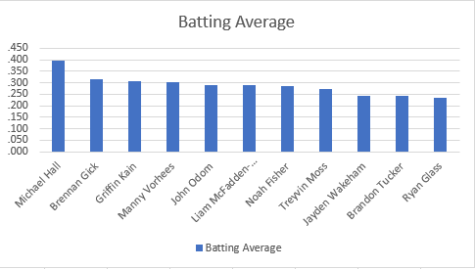 "We fell short on a few games there for a little while, and at some point someone told me that we were on a seven-game losing streak that I really wasn't aware of because we've got to go one game at a time, so our guys were wondering what was going on," Peyton said. "And that's kind of when we dug even deeper into the process and didn't abandon it."
That persistence has made the Norse offense one to be feared in the Horizon League, as the team ranks among conference leaders in multiple offensive categories, as well as having several standouts among their starting lineup.
As of April 24, the team ranks third in the Horizon League in batting average, slugging percentage, and runs scored. They also rank third in the conference when it comes to home runs. All of this speaks towards their ability to put the bat on the ball and to do so with emphasis in order to score runs.
"This year the coaches have preached quality at-bats, hitting the ball hard, and simplifying the approach as much as possible," said junior right fielder Treyvin Moss, who ranks second among Norse hitters with 30 runs batted in. "Baseball is already hard enough as it is, so simplifying things gives you a better chance for success."
Multiple Norse position players have been recognized for their contributions on the field this year, including infielders Liam McFadden-Ackman and Manny Vorhees, both of which have won the Horizon League Batter of the Week Award. Vorhees, who transferred from Division II school Ohio Dominican in the offseason, currently leads the conference in doubles and runs batted in, but he says that the jump between the DII game and that of Division I has led to noticeable differences in the competition level.
"I would say the biggest difference is the fundamentals," Vorhees said. "Everyone is so fine-tuned. They do all the little things right."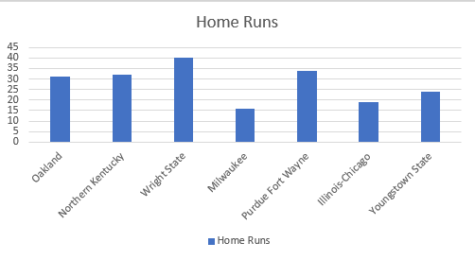 But that stability can be lost when a team loses key components like catcher Jayden Wakeham to injury. The lineup being shaken and stirred is one example of that, as Moss and Vorhees have seen themselves bumped around multiple times, more recently seeing their roles from the Mississippi State series reversed with Vorhees leading off and Moss in the two-hole. To Vorhees, this means a change in approach to what he's normally used to in a deeper part of the lineup.
"At leadoff, I have to be more patient and find a pitch to do damage with," Vorhees said. "I'm a free swinger normally, but at leadoff my job is to get on base, see a lot of pitches, and get the starter's pitch count up early so we can get to the bullpen."
To Peyton and his coaching staff, it's all about playing towards the strengths of their players and making the best of the current roster situation, not just trying to play towards a matchup.
"We're always going to play towards the strengths of our guys," Peyton said. "The only time we can play towards a matchup is with our designated hitter spot, and we're so thin right now on our team and there's not really a whole lot to do any of those sorts of things. If we play around with the lineup much, it's going to be because of our quality at-bat charts, and that's going to help make the moves we're going to make."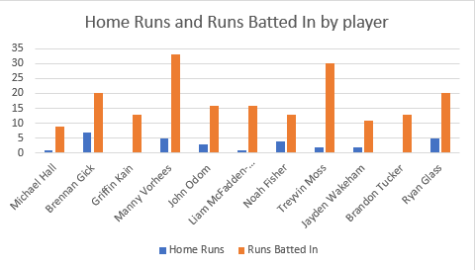 And despite the big power numbers and the more modern baseball perspective that drives the Norse offense, they've found a more old-school way to get on base and produce runs: small ball. The bunt isn't nearly as prevalent as it used to be in the higher levels of baseball, but it's something that outfielders Brandon Tucker and Griffin Kain have employed throughout the year, not just to try and get a sacrifice, but also to put pressure on the defense and get on base. Peyton said that this is another step in getting his players to maximize the opportunities to use their on-field ability to help the team win.
"Whether it's this team or any other team, we're going to try to maximize the ability to cater to each player and how this offense is run," Peyton said. "Those guys are pretty good at it, so we're going to do it when needed. It helps sometimes if you're in a slump or you need to help your team out."
The Norse find themselves sixth in the Horizon league standings with a 7-11 record. If the team is able to piece together some good pitching, they certainly have the offensive ability to make opposing teams pay.