Takeaways from NKU women's basketball as conference play heats up
Norse are 9-3 overall and 3-2 in the Horizon League through the first two months
January 13, 2022
The NKU men's and women's basketball teams had five games scheduled last week from Thursday through Monday. The men were slated to host IUPUI on Thursday, UIC on Saturday and close rival Wright State on Monday, while the women were set to welcome Robert Morris and Youngstown State to BB&T Arena on Friday and Sunday respectively. 
Due to COVID-19 complications within the two programs, exactly none of those games actually happened, as cancellations and postponements rained down in rapid succession over the weekend.

According to Horizon League policy, the cancelled games have been declared "no contests" due to extraordinary circumstances that led to the cancellation, including breakthrough cases among vaccinated individuals.
With that, the next game for both teams will come on the road, as the men's team begins a four-game road trip with Youngstown State on Thursday night, while the women's team travels to Detroit Mercy on the same night. The next home game for either team will be Jan. 20, when the women host Wright State at 7:00 p.m.
As the Norse continue to get healthy and back on the court, the break in games for the time being allows time to take stock of how each team's season has gone thus far, and what could be improved as the Norse chase down Horizon League championships.
After checking in on the men's basketball team yesterday, we will now take a look at the NKU women's basketball team, who will enter Thursday's game on a five-game winning streak.
Women's Basketball
Record: 9-3 Overall (3-2 in Horizon League)
Ratings (Courtesy of Warrennolan.com, as of Jan. 12):
NET: 133
RPI: 120
Statistics below are updated as of Jan. 12.
While the men's basketball team has struggled this season to piece together consecutive victories, head coach Camryn Whitaker and the NKU women's basketball team have done exactly that before their own COVID pause, winning five games in a row, including three on the road. 
The Norse have been led by two of the best guards in the Horizon League in redshirt senior Lindsey Duvall and junior Ivy Turner. After a sensational season last year, the former five-star recruit Duvall has taken another step forward in 2021-22, averaging 19.8 points and 7.8 rebounds per game. Turner leads the team in assists with 41, while averaging 14.6 points per game. Together, the duo has helped the Norse average 66.9 points per game, fourth in the Horizon League.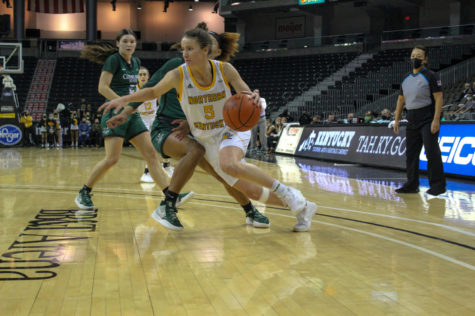 "When you've got Ivy Turner and Lindsey Duvall on your team, it makes my head hurt a little bit less," Whitaker said following NKU's Dec. 5 win over Purdue Fort Wayne.
In the frontcourt, the Norse boast the Horizon League's leading rebounder, graduate student Grayson Rose, who made the decision to come back for one more season and has helped guide the Norse to their success thus far. Rose has averaged 9.6 rebounds per game, while another forward Emmy Souder has grabbed 5.5 rebounds per game. The Norse are third in the Horizon League in rebounds per game (37.4) and have posted the fifth-highest rebounding margin in the conference entering the week of Jan. 10.
The Norse continue to search for a third dependable scorer behind Duvall and Turner, as the two have combined for 34.4 of their 66.9 points per game this season. A pair of freshman guards in Khamari Mitchell-Steen and Kailee Davis average 5.1 and 3.0 points respectively, but while Mitchell-Steen has already proven to be an elite player on the defensive side of the ball, she has struggled at times to consistently score the ball, shooting 34.7 percent from the field.
"Khamari is the best defender on our team, and she shows that every single day in practice," Garcia said following a win over Eastern Kentucky in November. "In the offseason, the summer, preseason, she brought it every single day and I think everyone on our team was very impressed from day one with her, so it was awesome for her and we're all happy to see it."
NKU has two of the best players in the Horizon League in Duvall and Turner, each of whom should compete for a spot on the All-Horizon League First Team. If the Norse can continue to get the frontcourt contributions that they have from Rose and Souder, NKU should continue to remain competitive in conference play and enter the postseason with a chance at their first NCAA Tournament appearance in the Division-I era.
Top individual performance: G Lindsey Duvall at Saint Louis (Dec. 11)
Just go through the Norse schedule and choose a game; Duvall likely put up a big performance. However, there may have been no better performance from the all-conference star than a December tilt against Saint Louis, as Duvall posted 29 points, grabbed 14 rebounds and shot 8-8 from the free-throw line to guide the Norse past an Atlantic-10 opponent on the road. Duvall's 29 points not only tied her career-high, but was also the most points scored by a Norse player this season. 
Not far behind Duvall's performance was a 12-point, 18-rebound and six-block effort from Rose against Green Bay on Nov. 18, propelling the Norse past a formidable conference foe on the road. Rose has recorded seven games this season with at least 10 rebounds, and has blocked 35 shots on the season. Duvall's 26 points and seven threes in the win at IUPUI on Dec. 31 was a memorable feat as well.
The one constant with all three of these massive performances? They all came on the road.
Player to watch: G Carissa Garcia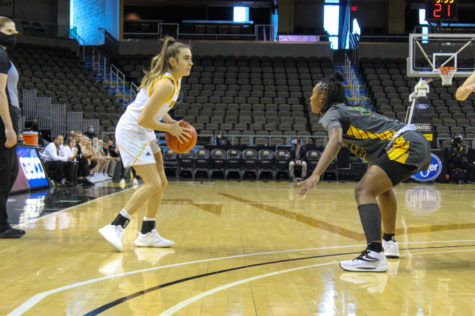 One of the best three-point shooters on the roster, Garcia ranks second on the Norse in three-point percentage (37.8 percent), trailing only Turner and has recorded several games this season with three or more three-pointers. Against Eastern Kentucky on Nov. 14, Garcia knocked down 4-7 from three to record 16 points. On Dec. 20 in a road win at Wofford, the junior guard displayed her shooting prowess again, cashing in on five of her nine three-point attempts for 15 points. Garcia has talked about the coaching staff encouraging her to shoot the ball more when she has the opportunities to, and when she is connecting on those opportunities, that continues to open up more chances for Duvall and Turner to make plays, both in transition and in the half-court.
Several games to watch
Jan. 15- AT Oakland- At 4-2 in the Horizon League, Oakland is firmly in the mix to compete for a Horizon League championship, led by guard Kahlaijah Dean averaging 18.2 points per game.
Feb. 12- VS IUPUI- Unquestionably one of the best teams in the conference, IUPUI is led by forward Macee Williams, averaging 18.0 points and 8.6 rebounds per game. The Norse pulled off the upset win over the Jaguars on Dec. 31 behind an epic performance from Duvall. Can NKU repeat that performance at BB&T Arena next month?
Feb. 18- AT Youngstown State- Currently at 8-0 in the conference and 14-1 overall, the Penguins are a formidable roadblock for the Norse as they chase down a Horizon League championship. Going to Youngstown State and grabbing a victory could be a tremendous boost of confidence for Whitaker and her squad late in February.