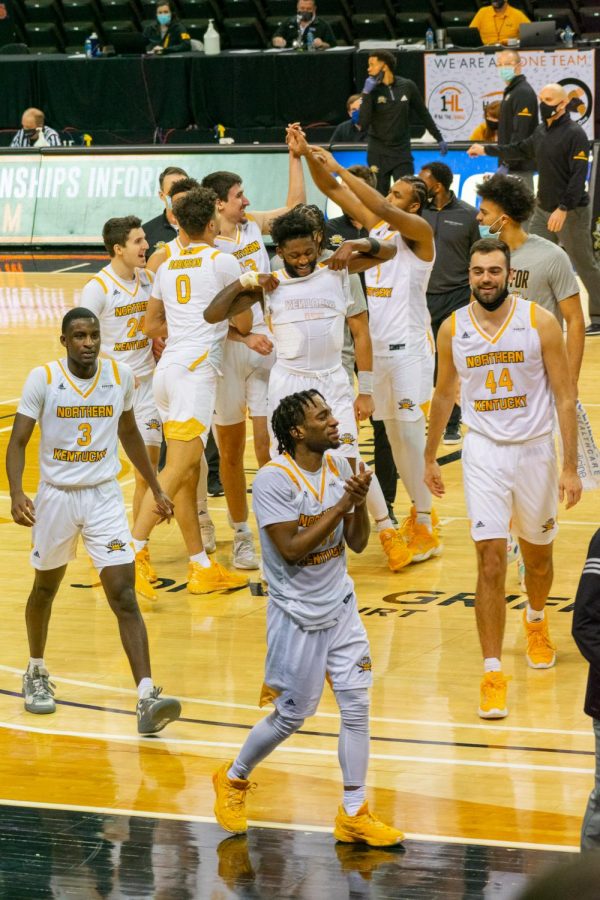 Deep, talented and experienced, Norse aim for a return to the Big Dance
NKU lost in semifinals in 2020-21 after winning conference tournament the previous two seasons
Heading into the 2020-21 season, the central theme of the Northern Kentucky men's basketball team was turnover, as the Norse lost their top three scorers in forward Dantez Walton and guards Tyler Sharpe and Jalen Tate, and were replacing four of their five starters.
This season, the script has almost totally flipped.
Led by a pair of players named to the Preseason All-Horizon League Second Team, Trevon Faulkner and Marques Warrick, the Norse return four of their five starters from the 2020-21 season, as well as four players who saw significant minutes off the bench last season.
Faulkner, who is entering his fourth season as a starter for the Norse, had a tremendous season in 2020-21, averaging a team-high 16.7 points per game, as well as 5.7 rebounds per game. Additionally, Faulkner passed out 62 assists, which ranked second on the team. Faulkner was named to the All-Horizon League Second Team last season and will once again be counted on as a major leader for the Norse this winter.
"Literally everybody we had last year was either brand new or in a brand new role, so I think having some guys back that have performed at a high level and understand what it takes to be good and be successful at how we want to work and do things, I think more than anything it's help bring the young guys along faster," Horn said.
Joining Faulkner in the backcourt will be Warrick, another standout performer from 2020-21. The sophomore guard enters this season fresh off a first-year campaign in which he scored 15.8 points per game, was named to the All-Horizon League Third Team and won the Horizon League Freshman of the Year award.
With Faulkner and Warrick, two of the most gifted scorers in the Horizon League on the wing, the Norse can already stake a claim for one of the best backcourts in the conference. Toss in senior point guard Bryson Langdon, who contributed 10.7 points per game and 4.0 assists per game in 24 starts as a junior, and NKU has three players with starting experience in the backcourt.
In addition, the Norse also enter the season with strong depth behind the three aforementioned starters. Sophomore guard Trey Robinson showed enormous potential as a freshman in 2020-21, averaging 5.3 points per game while earning five starts. At 6'6, Robinson is also paramount to the defensive scheme of the Norse, as his athleticism and defensive versatility allows him to switch onto taller forwards, while also remaining a strong defender on the ball at the top of the key.
The Norse also welcome three freshmen guards to the rotation, led by local product Sam Vinson. The 6'5" Vinson led the local Highlands Bluebirds to the 2021 Kentucky state championship, becoming a finalist for Kentucky Mr. Basketball on the strength of his 22.3 points per game. 
"I think a big part of it honestly is that he's 6'5", he's a 6'5" point guard," Horn said about Vinson. "Great size at the perimeter, great size when he gets in the paint, not only to be able to finish and make plays,… but to make reads and passes as well. He's a freshman, and has the potential to be up and down, but we think he's a guy that is only going to keep getting better and better."
Along with Vinson, the Norse brought in another Kentucky Mr. Basketball finalist to the program in Isaiah Mason out of Bowling Green High School. Mason, whom The Northerner profiled while he was still a senior in high school last fall, is an athletic combo guard that could potentially help massively on the defensive end, using his length on the perimeter to disrupt opposing offenses.
Over the summer, the Norse added another guard to the roster, Hubertas Pivorious. A native of Lithuania, Pivorious played high school basketball at Christopher Columbus High School in Miami, Florida. As a senior, Pivorius averaged 18.0 points per game while shooting 43 percent from beyond the arc.
According to Horn, one of the main strengths of this team could be the depth that they bring. In Thursday's exhibition game against Lake Erie, the Norse had 10 players log at least five minutes of action.
"We really challenge our guys daily that we have got to buy into that as a team, that it's got to be a collective thing and that is going to take great sacrifice and great trust," Horn said. "Everybody's not going to get to play 30 minutes and shoot all the balls that they want, but if we can buy into doing it as a group of nine or ten, then we feel like we've got a chance to be really good when it's all said and done."
In the frontcourt, the Norse are led by a pair of returning players in senior forward Adrian Nelson (8.4 PPG in 2020-21) and sophomore forward David Bӧhm. Nelson, a tenacious force on the glass, recorded 10.0 boards per game last season, while Bӧhm averaged 7.5 points last season, starting seven games. Bӧhm spent time over the summer training for the Czech Republic National Team, his home country.
"I think it helped me to play a little different style basketball," Bӧhm said. "European basketball is a lot slower, a lot more about thinking, so I think that is something that I can bring to this team, being a patient guy that doesn't make much mistakes and trying to make the right play every time."
The Norse also picked up additional frontcourt depth in a pair of transfers: forward Chris Brandon from Detroit Mercy and forward Seybian Sims from North Dakota. Brandon, who competed against the Norse in the Horizon League for the Titans, brings a terrific post presence along with the ability to consistently grab rebounds, while Sims' presence will be felt on the defensive end, as his 6'7 frame could allow him to switch on ball screens and disrupt the opposing offense both in the post and on the perimeter.
Freshman Imanuel Zorgvol and sophomore Noah Hupmann, who stand at 7'0 and 7'1 respectively, provide excellent size inside, but may not see as much action this season as the aforementioned group of forwards. Neither player saw action in the exhibition against Lake Erie.
The Norse will open the regular season on Nov. 9, hosting Wheeling at BB&T Arena. Tipoff is scheduled for 7:00 p.m.