NKU Men's basketball 2020 National Champions
According to Norse Nation, that is.
March 23, 2020
This past weekend would have been NKU's third showing in the first round of the NCAA tournament. Due to the COVID-19 pandemic, the Norse weren't able to compete in the national tournament. A lot of national teams didn't even get to start their conference championships, so speculation of NKU would play was still out—Villanova and Baylor were number two seeds that popped up the most as NKU's potential opponents.
A lot of fans on Norse Nation—a Facebook page where NKU students and fans post about university athletics—wanted merchandise to celebrate the achievement and turned to NKU fan Paula Hook. Hook attended NKU and is now a stay-at-home mother who creates and prints t-shirts. 
"My sister-in-law got me involved with making shirts and stuff," Hook said. "And when I started running out of room in my closet and my kids' closet, I started offering shirts for other people."
Hook's shirtmaking hobby started in March of last year after creating a special shirt for a big Tyler Sharpe fan, Bryce. If you were at any basketball games this season, you probably saw Bryce sporting his "Sharpe-shooter" tee while cheering on the Norse.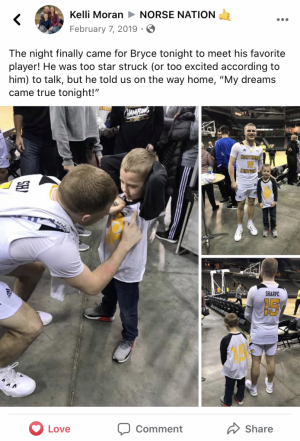 "Then, I was looking around for shirts and stuff to wear to the games, I didn't find what I actually liked. So, I'm just going to start making my own," Hook said.
Hook wanted something different from what was offered in stores and online, something "a little more fun to wear."
Hook made the shirts for personal wear, but once people saw her at games and her pictures online, they started asking if they could get one too. Then the shirts snowballed from there.
The national champions shirt idea came from another Norse Nation page member, Mark Culp. He posted a t-shirt that had the University of Dayton Flyers as the national champions. The t-shirt reads "Dayton 2020 National Champions (Probably)" with a basketball soaring through the net. Culp asked if anyone in the group could make something similar for the Norse, and Hook was tagged under the post.
Hook got to designing, but this NKU shirt had some changes.
"I got rid of the probably underneath, because we definitely would have been the champions. No doubt in my mind," Hook said.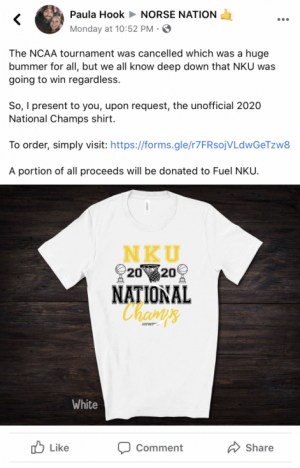 Now with COVID-19 being a global pandemic and NKU going virtual for the semester, students are in need of resources that aren't as readily available. Hook has decided to donate 40 percent of the shirt's proceeds to FUEL NKU, an organization that provides students on campus with food and essential supplies. 
"I wanted to make sure that those [students] who are there all year round will have the funding that they need," Hook said. "For me it's just a matter of doing my part to help. All of the success I've had has come from the NKU community, so I want to be able to give it back."
If you're interested in buying an NKU national champions shirt, click here.
The Northerner is currently investigating the impact of the switch to online learning, including but not limited to how housing, dining, student workers, labs, studios and the office of Health, Counseling and Student Wellness will be affected. For any questions you'd like to know about the decision, contact us anytime on Twitter or Instagram. For questions or concerns about how the virus could potentially affect campus, contact us or email covid19@nku.edu. Keep checking The Northerner for all updates on NKU's switch to alternative instruction.