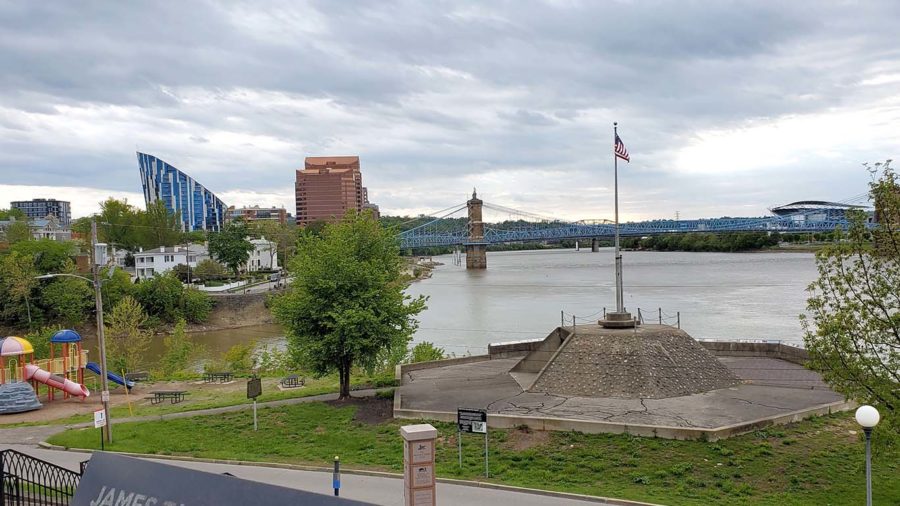 Students and faculty help search for unknown history at Newport Barracks
An archaeological survey and future excavation of the site could unlock new secrets about the place we call home. Consultation and research by NKU students and faculty are playing a key part.
May 21, 2023
Troves of fascinating history surround us in various archives, buried in earth beneath our feet and in our backyards. The NKU Master of Public History program is playing a key role in uncovering snapshots of history through historical research and archeological findings stemming from the Newport Barracks military base, which once stood in what is now named General James Taylor Park. 
The Newport Barracks lay at the confluence of the Ohio River and the Licking River. Originally known as Fort Thomas, the station relocated to Newport from Cincinnati in 1803 and is well known for its integral involvement in the War of 1812 and the Civil War. 
A host of historical figures, such as Jefferon Davis, Robert E. Lee, Ulysses S. Grant and William Tecumseh Sherman, are believed to have served tours at the base in its lifetime. 

Over time, the site has been subjected to multitudes of floods that have left its surviving elements subterrain since its closure in 1894. 
The City of Newport approached Dr. Brian Hackett, program director for the Master of Public History program, and Don Miller, professional archeologist and adjunct NKU professor, to aid an effort in reimagining General James Taylor Park, an under-utilized space in an area bursting with development. Hackett and Miller's advisory has helped the city lawfully and conscientiously navigate the early stages of the park's development, they said.
Kentucky state law codified by the Kentucky Antiquities Act mandates that archeological sites and artifacts on state or municipal property be preserved. The Newport Barracks, despite not having an archeological site number prior to this project, is on the National Register of Historic Places and is known to hold an important place in US history for military and cultural reasons, qualifying its archeological significance, according to Hackett.
Under the Kentucky Antiquities Act, the City of Newport is bound to consult professional archeologists before mounting construction projects on such sites and must acquire a permit from the Kentucky State Office of Archeology at the University of Kentucky to ensure preservation of the site's contents and that its exploration is handled professionally. 
Early stages of the Newport Barracks project warranted mapping out the site and designating an archeological site number so it could be duly recorded in the statewide database of archaeological sites, said Miller. The site is now officially labeled 15Cp103, 15 being Kentucky's state number, "Cp" representing Campbell County and 103 meaning that it is the 103 archeological site in Campbell County. 
Hackett's students conducted thorough research on the site's history, investigating courthouse records, military records, census data and letters of correspondence to uncover pertinent information that guides their research design and questions. 
The site is now being surveyed with the help of a city-contracted company specializing in ground-penetrating radar, a somewhat new technology that searches for subsurface anomalies by radiating radio waves and measuring the speed at which they're reflected back to the surface. The non-destructive survey technique allows researchers to identify points of interest and follow suspicions formed based on research to inform plans for excavation. 
Stakeholders in the research hope to break ground on excavation this summer after finishing surveying in early June, according to Hackett and Miller. 
"They're doing the ground-penetrating radar on the length and width of James Taylor Park up to the base of the flood wall," said Miller. "In terms of ground truthing and how much of it we will be able to look at, it depends on the anomalies that they find… in conjunction with the city, what their plans are for redevelopment." 
Excavation serves to verify the data gathered from ground-penetrating radar and recover archeological artifacts, like structures, ceramic vessels, remnants of clothing, weaponry and more.
"It's like putting together a puzzle and trying to solve it from the clue that you're given," said Hackett. 
Preliminary research on the site and its surrounding areas by Hackett's Master of History students suggest the rebirth of stories untold—stories that could become astonishingly lurid if discoveries they believe to be there turn up in surveys and excavations.
"From what we learned, we have some pretty amazing stuff that we hope to get and we think is there. Might make a pretty good attraction," contemplated Hackett. 
Take for instance, the obligatory military whiskey ration for US military members that stretched into the 1830s parlayed with Kentucky's rich history in bourbon production and the role of the Ohio and Licking River's roles in transporting these products. This could provide a lens for interpreting recovered artifacts and the investigating relationships and roots that stimulated a booming whiskey industry, said Hackett.
Newport's past reputation as "Sin City" may have been greased by the presence of the Newport Barrack's and its personnel, an argument that could eventually be forwarded by this research, said Hackett.  
Hackett and Miller agreed that future plans for General James Taylor Park vest high potential for public history value and transforming the park into a riveting attraction. The goal of public history—to disseminate historical information and cultivate connection between the past and citizens of today—aligns well with the project, as information gleaned from these studies may be recorded and memorialized through fixtures and learning resources in the park's renovations.
"We're going to tell a really good story about this community, and it's going to appeal to a pretty wide audience," said Hackett.