NKU and Highland Heights: A model symbiotic relationship
May 3, 2023
When Northern Kentucky State College held its grand ribbon cutting back in 1968, all seemed to be as it should for the city of Highland Heights. While the small Northern Kentucky city had seized the moment during the college's founding, current Highland Heights Mayor Gregory Meyers had a vision for a further collaboration between the city and the university. 
In the 40 years between the college's founding and a new partnership, NKU was not officially a part of Highland Heights, contrary to popular belief. The acreage that NKU occupies was actually farmland at the time of its groundbreaking and was not incorporated into the city, although it used the Highland Heights address. In 2008, under the leadership of Meyers and NKU President James Vortruba, the university was part of a friendly annexation, which expanded the area of Highland Heights to include NKU.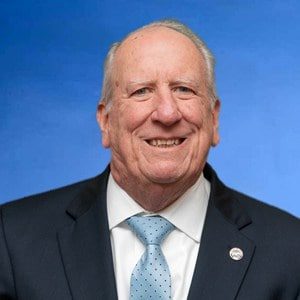 "I think back today if we were to just seize the momentum at that time [in 1968] and brought the university into the city, think of where we'd be today," the mayor said. "We've done such tremendous work here in such little time."
At a time when Highland Heights was losing revenue and had some depletion of businesses, the partnership allowed the city to flourish and also offered great benefits for the university.
NKU wanted to see a thriving community: one that impressed students and parents alike when they came to Northern Kentucky to tour the university. For college students, there was interest in being surrounded by a city that offered places to eat good food, hang out or have a part-time job. Over a few years, the community saw areas of US 27, also known as Alexandria Pike, go from being an eyesore with "nothing but a couple houses and a lot of weeds growing up," to over 30 present businesses.
Many of those businesses thrive off the college and family-oriented community Highland Heights offers. 
La Ru Lanes, a husband and wife-owned bowling alley located on Alexandria Pike, is working to make NKU students feel more welcome after gaining ownership. 
Kati and John Manning gained possession of La Ru Lanes in 2021, coming off the struggles of the COVID-19 pandemic. In their constant pursuit to market toward new demographics, they're interested in hosting a night of the week just for college students. Kati is even an alumna of NKU who understands the value in having entertainment right in the heart of the city.
"Our next bet is to do a college night on like Wednesdays and maybe do a pies and pints night and karaoke," the Mannings said.
The two-year owners create a space for university students to feel at home with their live music on Friday nights, which is open to featuring college bands. NKU's club bowling team frequents the alley, and the Chase College of Law even has its own league which holds events at the Highland Heights business.  
New developments are constantly in the works for the city, like the possibility of Better Blend, a natural fruit smoothie/bowl shop, potentially bringing a location to Highland Heights toward the end of this year.
Brittan Grubb, another NKU alumnus from 2014, is exploring available real estate in the city, ideally in the area of E-Jay Plaza, which is located across the street from Walgreens.
Grubb has the NKU college community at the forefront of his mind with the proposal of Better Blend because he knows the focus and care many young people put on their health and what goes into their body. He can see the business lending itself to athletes looking to gain weight or individuals looking for a healthier alternative to a grab-and-go meal. While nothing is confirmed, a Highland Heights branch is a goal Grubb is working toward.
The partnership between the university and Highland Heights allows for many discussions about developing businesses and what would best benefit the community. The mayor and Eric Gentry, vice president for University Advancement, both recognize that the presence of NKU offers great incentive for many businesses to make their home in Highland Heights.
"Honestly I don't know if some of these businesses would have come to Highland Heights had it not been for the university," Meyers said.
There can be challenges with operations geared toward younger demographics coming into the city, especially as the summer approaches.
Highland Heights claims a population of over 7,000, Meyers said, which also includes NKU housing residents who fill out the census claiming Highland Heights as their residency. Many of these students leave at the end of the semester.
Every restaurant can feel the impact of having fewer students in the summer months, but it doesn't make for a huge difference in operational income, the mayor noted.
Applebee's local manager said they see an obvious decline in sales during the summer when there are fewer classes and students in the area, but they're able to keep their revenue steady throughout the rest of the year.
A smaller city size ensures safety, however, which is a huge point of interest for both parties in the partnership. 
"This is a safe campus because it's a safe town that we live in," said Vice President Gentry. "That is one of our huge pluses and that we get recognized nationally for, and that really is a partnership between the city and the university."
While Highland Heights may be running out of room for an influx of new businesses, the mayor insists that the city will continue redeveloping what space it has. He has hopes for "maybe someday" seeing development of Nunn Drive and US 27, a project that has aimed to create a gathering place with restaurants and a hotel for several years. 
"Highland Heights has been on a substantial growth pattern since the partnership with Northern Kentucky University," Meyers said. "Now you bring a family in that looks at Highland Heights and says, 'Wow, it's a thriving community. I want my children to go here.'"
A complete list of businesses located in Highland Heights is listed below.
Directory