Men's basketball coach $100k pay raise strikes a chord
The raise will make Darrin Horn the highest paid NKU employee
April 29, 2023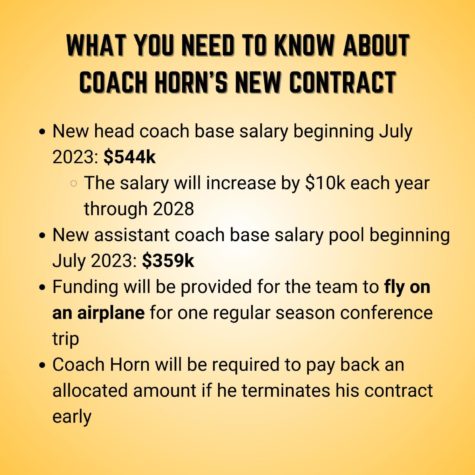 Following a heroic season and dazzling NCAA tournament appearance, Men's Basketball Head Coach Darrin Horn renewed his contract with the university. The new contract will make Horn the highest paid coach in the Horizon League.
It also makes him the highest paid employee of NKU, topping the president of the university.
While the announcement was met with pride from much of the Northern Kentucky region, some members of the NKU community are furrowing their brow and trying to fit the puzzle pieces together.
It's no secret anymore that the university is having its share of financial trouble, dropping the sudden news in Oct. 2022 that a budget deficit of nearly $25 million existed. Since that announcement, university faculty, staff and academic affairs have seen budget cuts meant to improve the deficit. At the time of publication, 23 tenured and tenure-track faculty have volunteered to receive a stipend to separate from the university, and 17 non-tenure-track renewable faculty have been informed that they will not be renewed for the coming school year. More cuts are expected in the coming weeks.
While the message seems to be that there is no money to keep certain faculty and staff members around—and certainly not enough to give any of them a raise—the message also appears that there is enough money to make our basketball coaching staff the highest paid in the league, said Faculty Senate President John Farrar.
"It's angering," Farrar said of the announcement. "I would have argued he was already making a pretty healthy salary."
In 2021, according to Horn's original contract and Open Payrolls, the head coach was earning a base salary of $406,000. At that time, the salary was over 500% higher than the average pay of other NKU employees. 
Beginning on July 1, 2023, the new base pay will be $544,000, and this salary will increase by $10,000 each year through 2028. Benefits and the opportunity for various bonuses will add on to this amount. 
The university maintains that they will help pay for the new contract's expenses through fundraising. The two university administrators who signed the new contract, Athletic Director Christina Roybal and Interim President Bonita Brown, declined to interview, instead referring to statements from University Marketing and Communications.
"The Athletics Department is committed to meeting this investment in Coach Horn and the Men's Basketball program by growing external revenue through fundraising, ticket sales and sponsorships," a statement from NKU Athletics read.
This claim is laughable according to Farrar, and the optics of the entire situation are rather demoralizing. 
"If you get $250 on a $10,000 debt, and you go out and buy a $250 watch, what is a person supposed to think about that? You know you could have reduced the debt that you had," Farrar reasoned.
On the flip side, some campus partners feel that the new contract was a necessary investment.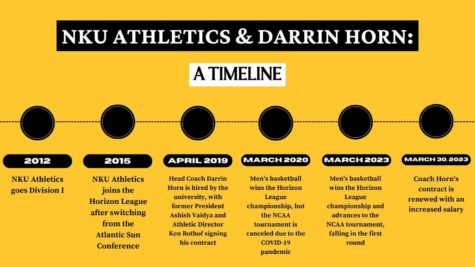 Dr. Joe Cobbs, associate professor and member of the Athletic Council, said the university needed to invest enough to keep the basketball program in a high-achieving place. In his opinion, two of this year's most exciting moments for the university were beating the University of Cincinnati and making the NCAA tournament.
"I would have been concerned if he wasn't re-signed for higher," Cobbs stated.
NKU Athletics shared a similar sentiment, mentioning the level of media exposure this season gained the university with Horn at the helm.
"Broadcasts of basketball games reached more than 25 million households, sharing of our material on social media was up nearly a thousand percent the week of the tournament this year, and for reference, in 2017 when NKU played in the tournament, the media exposure monetized valuation for coverage was nearly $40 million."
While the faculty senate president acknowledged this benefit, he questioned how much the university really gained by having a head coach paid $544,000. 
In comparison, a Horizon League competitor and runner-up in this year's Horizon League championship, Cleveland State University, pays their head coach a base salary of $325,000, according to an open records request done by The Cauldron, Cleveland State's student media publication.
Youngstown State, another close rival of NKU in the Horizon League, increased their head coach's salary to $300,000 beginning July 2023, as it was previously only $213,000, according to the Tribune Chronicle.
Finally, there is the issue of the women's basketball coach salary compared to the men's. Women's Basketball Head Coach Camryn Whitaker, who has been with NKU since 2016, makes approximately $161,000 base salary, according to an open records request. Her female associate head coach makes $69,000 a year.
Horn's new contracted salary will be triple the amount the women's head coach receives. 
While Farrar understands there are factors that determine these salaries, like ticket revenue and peer institutions' market, this raises a problem in the diversity, equity and inclusion model the university boasts. 
Athletic Council member Cobbs predicted that the women's head coach salary may be reevaluated before the new fiscal year, but no salary increase has been guaranteed for Whitaker. 
At the end of the day, Farrar said, the university needs to have a hard conversation about the cost and benefit of intercollegiate athletics, as it pours in $10 million of direct institutional support each year.
While Cobbs feels it could have been damaging to morale to not renew Horn and lose him to another university, Farrar feels it was more discouraging to the campus community as a whole to make the decision to throw more money at the coach that could have been used elsewhere. It would have been encouraging, Farrar said, to hear members of leadership say that Horn had done a great job but their financial priorities were on other things besides basketball. 
"I think they should have just said not right now," the faculty senate president said. "Instead the message was, well, the opposite."Darrin Horn - First Addendum (1)