Myers and Gentry announced as president, VP of 2022-2023 SGA
April 1, 2022
Daniel Myers and Jaelynn "Jae" Gentry were announced as SGA president and vice president Thursday night on the organization's Instagram page.
A total of 636 votes were cast in this year's election. Aside from the positions of president and vice president, students also voted for members on the judicial council, the student senate, secretary for administration and secretary for student involvement.
The chart below shows the total number of votes cast for each of the two candidate slates.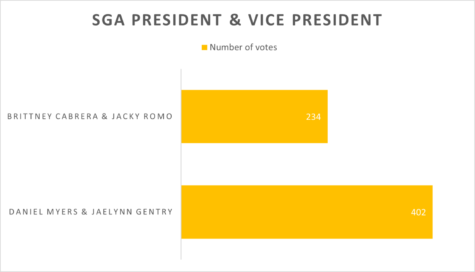 Myers is a junior double major in marketing and sports business and event management. Gentry is a sophomore psychology major with a minor in Black studies. Their platform centers on giving students awareness of campus activities through social media, tackling inclusiveness and creating a culture of engagement.
Their administrative term begins April 25 and Myers' term as Student Regent begins July 1, according to an email announcement from Vice President of Student Affairs Eddie Howard.