2022 SGA Debate Preview: Three sets of candidates to participate ahead of election
Looking ahead to Monday's SGA debate as candidates face off before election
March 19, 2022
On Monday, The Northerner, in collaboration with the Student Government Association (SGA) will host the annual candidate debate at 7 p.m. in room 107BC of the Student Union. The debate will also be available to view via Zoom and will be live streamed on Facebook.
While the past two SGA debates in 2020 and 2021 were held online in response to the COVID-19 pandemic, this year's event will return to the in-person format that it had in years prior. Monday night's debate will be the first in-person SGA debate since 2019.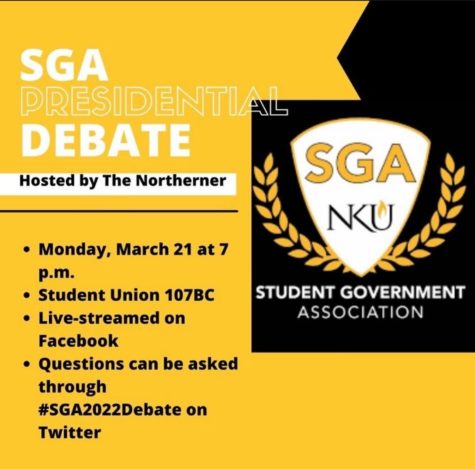 The 2021 SGA Presidential Debate between the Aliya Cannon-Chris Roat ticket against the Jackson Coates-Rebecca Noel ticket debated several key topics throughout the two-hour event, including diversity at NKU, campus safety and sustainability.
Cannon and Roat were elected last March as President and Vice President of SGA, taking 343 of the 425 available votes. Roat, a junior communication studies major, would later announce his resignation in early November.
Monday's debate will feature three sets of candidates for SGA President and Vice President. Below is a look at each pairing and their visions for NKU as outlined in an email to the student body earlier this week from the desk of the Vice President of Student Affairs, Dr. Eddie Howard.
Brittney Cabrera and Jacky Romo
Cabrera, a junior criminal justice major with a minor in psychology, is running for SGA President for the 2022-23 school year. Cabrera will be running alongside Romo, a junior construction management major. 
Cabrera is involved in the Latino Mentor program, is President of the League of United Latin American Citizens (LULAC), is the DEI Chair for Delta Zeta sorority and is on the Inclusive Council at NKU, among other organizations. Romo is also a head peer mentor in LAMP, LULAC Treasurer, is the Alpha Psi Lambda IVP President and is an ambassador for the Haile College of Business. 
"Our campaign is fighting to minimize the inequality, increase the graduation retention rate, and work with students whose first language is not English. We want students to continue to thrive and focus on academic achievements, while balancing their awareness of social injustices and administration accountability. Both Jacky and I have put ourselves in numerous leadership positions all with the intention of helping our community and organizations grow," Cabrera said in the email.
Daniel Myers and Jaelynn Gentry
Myers is the current Vice President for SGA and is a junior double major in Marketing and Sports Business and Event Management. Myers is running for SGA President this year. He is also the treasurer of Kappa Alpha Psi fraternity and is a mentor for the NKU R.O.C.K.S. program on campus. 
Myers' running mate Gentry is a sophomore psychology major with a minor in Black studies in the Honors college. Gentry is also an NKU R.O.C.K.S. mentor and is the Anti-Grammateus of the Rho Chi chapter of Sigma Gamma Rho sorority. 
Mohamed Omar and Jimmy Renton
Omar will be running for SGA President while Renton runs for SGA Vice President for the 2022-23 academic year. Both Omar and Renton are involved in numerous organizations around campus, including the Sunrise Movement, an organization that Renton leads as president. Sunrise is an organization that fights for economic and environmental justice at NKU.
"The Omar-Renton campaign believes that every student should feel represented and heard, and under an Omar-Renton administration we'd pick up the mantle that has been left to lay on the ground.  We are ready to fight for everyone and listen to everyone.  We are ready to progress NKU forward," the campaign said in the email.
Elections for SGA will open on Wednesday, Mar. 30 and will run through Thursday, Mar. 31 at 10 p.m at https://inside.nku.edu/sga/elections.html.
Monday's debate will also be live streamed on Facebook. Questions for the candidates can be asked by using #SGA2022Debate on Twitter.