SGA executive board members resign due to mental health and structural issues
December 2, 2021
Former SGA executive board members Chris Roat, Jimmy Renton and Karla Arango spoke with The Northerner about the impact the organization has had on their mental health that led them to their decisions to resign.
Chris Roat
SGA Vice President Chris Roat, a junior communication studies major, announced his resignation in early November, citing reasons of his mental health.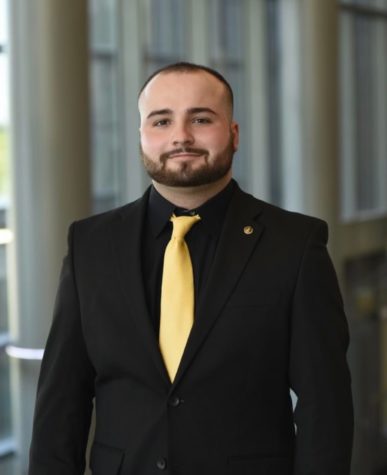 "The life of being a college student, being involved on campus, having to deal with my grades, schoolwork, personal life, family, everything like that — it just kind of piled on top of each other and I just had to take the steps that I needed to take to move forward," Roat said.
Roat was with SGA for nearly a year, having run last year and taken office in April. The student government was not his only commitment, however: up until his resignation he was serving as Vice President of Recruitment for Sigma Phi Epsilon fraternity and Vice President of Member and Community Development on the NKU Interfraternity Council.
According to Roat, having to balance membership on these executive boards — not just SGA — with a student's life took a toll on his mental health. He has taken a leave of absence from these organizations for the remainder of his term.
"I've had my mental health struggle throughout the years and … a lot of people say that junior year is everybody's hardest year," Roat said. "It just got to a point when I needed to start focusing on myself, my grades, getting back to the Chris that I'm used to being."
The Chris that he was used to being is fun-loving and down-to-earth, always with a smile on his face and always saying hi to everybody he knows. Roat said that he strayed away from this image as he spent a lot of time in his room trying to keep up with his day-to-day responsibilities.
"At the end of the day, I just need to get back to where I used to be and [be] happy all the time," Roat added.
Roat is on antidepressant and anti-anxiety medication. When he saw his grades beginning to slip and saw that his primary responsibility was as a student, he realized that no student organization is more important than his mental well-being.
Prior to his resigning, his counselor at NKU came to the same conclusion after they went through different options together.
"Going to get professional help for your mental health is the same as going to the doctor to get treatment when you have an injury or when you're having a physical illness like the cold or the flu," Roat said. "So I just say it's nothing to be ashamed of. It's something that people around the world, around the country, especially of the college age struggle with."
Roat added that being willing to talk about his struggles has helped him get closure with his mental health and move past it.
Now that he has taken a step back from high-profile commitments, Roat is planning to recover his grades, take time for himself, enjoy his life and what is happening around him. Because people's openness about their mental health helped him be comfortable about coming forward with his own well-being, he wants to play the same role for others as well.
"It's almost like a calling, being a mental health advocate, being able to provide the resources," Roat said, adding that the primary role of student government is to help students.
Although he is no longer serving in the organization, Roat feels like he can still support students who may be struggling with their mental health by showing them resources on campus that have once helped him.
Roat encouraged students to get involved with organizations, which he called the reason he is still in college. Getting involved at NKU made him fall in love with the campus and the community.
"However, you need to be aware of your limits and realize that, even at one point you feel like you can handle taking everything on at [once] — and granted, you could — but then life still happens and unpredictable things happen," Roat explained. "Just know what you're able to take on and don't be afraid to say no when it's necessary to protect yourself."
Roat recommended going to the office of Health, Counseling, and Student Wellness, where counseling fees have been suspended for the rest of the semester.
"It's okay to not be okay. It's okay to talk about your mental health with your peers, with your community. NKU has a really great group of people in it and a lot of people that have stood behind me within my struggle and within this decision as a whole," Roat said. "Just keep pushing [on] because things do get better."
Jimmy Renton
SGA Chairperson of University Improvements and Senator Jimmy Renton described the organization as a rollercoaster.
Renton, sophomore in the music education program with a vocal emphasis who has served in the organization for over a year, sent out their email of resignation on Nov. 8, stating that the reason behind their decision to resign was made in the interest of their mental health as well as shying away from their musical interest.
Renton will officially resign on Dec. 21, however they are still remaining productive within the organization as they just proposed the first resolution of the semester on Nov. 29 with Senator Lucy Burns on campus sustainability.
Renton's mental health had tremendously declined after the last administration's impeachment hearing but has gotten better since then.
"When I started SGA in 2020, I liked the environment and I felt it was a very safe space. And then the impeachment hearing happened and I definitely had a sharp decline in my mental health," Renton said. "It was very emotional for me and I was not considering running again, but I did anyway. Compared to last year, it's a breeze."
Renton added that sudden changes occur throughout student government, but feels that the current administration is doing a good job of keeping it afloat.
"It's very much a rollercoaster in this organization, but currently, I feel like it's in a good spot," Renton said.
Mental health is something frequently discussed during SGA's weekly meetings, where President Aliya Cannon often asks members with a show of thumbs how they are feeling and how their mental health is.
"I've noticed a change this year; Aliya [Cannon] has put more of an emphasis on mental health and when I told her about my resignation, she was very understanding regarding that," Renton said.
Renton is sometimes haunted by their experiences from last year's meetings — and now feels triggered by small mishaps — but came to the realization that healing from those experiences by resigning will help form them into a better leader.
"If I'm still dealing with everything from last year, I can't effectively lead as best I can this year," Renton said. "If I am having to rehash old and past things, I'm not going to be as effective as a leader and there's someone that can do it more, if not better."
Outside of SGA, Renton is involved with Friends of Dorothy and is President of NKY Sunrise Movement.
Renton knew they had to make the decision to drop one of the organizations when they began to notice a slip in their musical work.
"I definitely have noticed as a music major that my music has lagged behind compared to what I want it to be, and to me that was unacceptable and I knew I had to drop something, and that thing just happened to be student government," Renton said.
Renton's resignation was also influenced by their interest in auditioning for NKU's opera.
"It [resigning] was an opportunity to open a new door in my music career," Renton said.
Renton said with much certainty they feel more passionate with their involvement with FOD and Sunrise due to wanting to better lead these organizations to better success and involvement and both organizations being complete safe spaces.
"I feel like I have to be a lot more passionate about those organizations [FOD and Sunrise] because they are the ones I am currently leading and I am going to be leading in the future." Renton said. "They're more 100 percent safe spaces, whereas in student government, if you say one thing, it'll be used against you."
Renton's focus on other organizations does not retract from the main reason Renton joined SGA: to serve the student body.
"I am very passionate about representing the students and making sure the students have a voice. That's the whole reason I ran [for SGA] in the first place and why I ran again," Renton said.
Renton noted that they feel SGA would be more effectively run if there was a separation of state statute.
In section two, subsection B of SGA's Constitution, it reads that the SGA president and vice president must comply with Kentucky statutes relating to Board of Regents membership. SGA presidents must serve as the student regent as well.
"I believe those two positions [SGA president and student regent] should be separate, that way the student regent can focus on more board of regents matters and the student body president can focus on more SGA matters," Renton said. "I definitely feel like a lot of our issues are because of the structure."
Renton's advice to those interested in joining SGA is to come in with ideas for change, but be patient as the business of governing cannot alter overnight.
"Definitely come in with bold and changing ideas," Renton said. "But be prepared for some of them to die."
Karla Arango
Former SGA Chairwoman of Student Advocacy Karla Arango, junior international studies major, sent out an email of resignation on Nov. 11, noting the organization no longer aligns with her values as a student body representative and the lack of transparency throughout the organization. The Northerner was copied in the email.
"The actions I have seen from this organization no longer align with my values as a representative of the student body and the lack of transparency has been tremendous," the email states. "The way I have heard some advisors as well as members of the body speak about me and my peers is absolutely disgusting and will hopefully be something no one else has to experience."
Arango has been a member of SGA for about a year and a half and noted that during the past year, she realized that the titles within organizations often led to a toxic environment that she can no longer put herself in.
"I was tired of allowing myself to be treated disrespectfully and was tired of being part of a cycle that was going to continue to perpetuate the toxicity that student leaders often become part of," Arango said.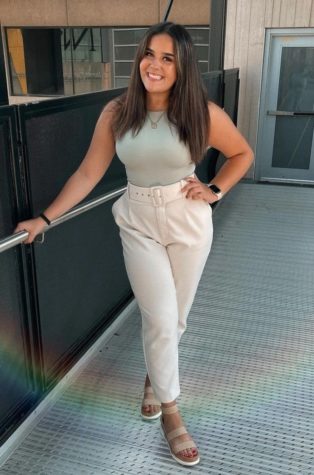 Arango felt not only her voice had been left unheard throughout her time in SGA, but students' voices, too.
"Within student government I was oftentimes told I could not or should not say certain things due to my role as student advocacy chairwoman and I was constantly reminded that I 'worked for the state and represented the regency'. I was tired of trying to make change in a place that felt like it was created to silence students instead of amplifying their voice," Arango said.
The feeling of burn-out and exhaustion hit Arango many times throughout this semester — in which SGA had played a role in — and although at first she felt her resignation would let people down, she knew she had to really prioritize herself in the situation.
Arango said she feels SGA impacted her mental health due to the constant feeling of walking on eggshells.
"It was constantly questioning interactions I had with others and what their intentions were, it was not being able to say how you felt without it being called drama, it was constantly walking on eggshells making sure you didn't upset anyone in leadership in fear of what would happen to your reputation on campus," Arango said.
Like Renton, Arango feels as if there is a structural problem within SGA's ties with the Board of Regents, noting that SGA should be more focused on the representation of all students.
"We should be trailblazers for structural change within student government and demand that this organization is more representative of not just racial or ethnic groups, but all majors, gender identities, abilities and many more," Arango said. "Student government should expand beyond just being a legislative body and should think on how to restructure their business to actually represent students."
Arango's advice to those interested in joining SGA is to push through what others may think in order to allow students' voices to be heard, but to be mindful of the impact the organization can have on mental health.
"You'll feel like you're the only person in the room that sees things the way you do … Fight for what you believe in even if you get backlash and be the voice students you are representing need. Overall, this is a good opportunity if used correctly. But the moment it affects your mental health, leave," Arango said.
To schedule an appointment with Health, Counseling, and Student Wellness, call (859) 572-5650 or visit the website.
To learn more about mental health resources, go here.