Homecoming 2022: a nearly two-month event you don't want to miss out on
A celebrative theme of "NKU through the decades"
February 3, 2022
Homecoming kicked off last Friday at Northern Kentucky University and will look a little different this year than in years past, where a series of events and activities will take place until March 26 to help celebrate this annual Norse tradition. 
The usual week-long event was extended throughout the span of two months due to the surge in COVID-19 cases, and students can attend homecoming activities either virtually or in person.
Behind the scenes, both NKU's student affairs and alumni engagement work tirelessly in preparation for these activities. Assistant Director for Student Engagement Emily Sagraves said that homecoming activities have been in the works since October. 
Sagraves, whose main role is focused on overseeing all student organizations on campus, said that homecoming activities being more spread out throughout this semester has had more benefits. 
"Instead of cramming all events into one week, we scattered them throughout the semester, and it's actually been good because it means that we get to invite more students into it and also partner with more offices on campus that we wouldn't have gotten to do anyway," Sagraves said. 
Associate Director for Alumni Engagement Olivia Moragne is a 2011 graduate of NKU, where she received a degree in both marketing and public relations. She's served in her role for the last year and a half. 
The force of COVID has placed a hindrance on the way Moragne and her colleagues have been able to engage with alumni in-person, but living through a virtual age has helped a lot with this. 
"We've created a number of virtual events that have engaged a number of alumni and it's actually been very eye-opening and starting to change how we think about our work and what we do in the alumni," Moragne said. "Because of COVID and being in that space, we've actually been able to reach out to more alumni across the country."
The drive to be able to reach many NKU alumni — even as far away as Los Angeles, California — helps with an event as extensively planned as homecoming. 
Moragne works with admissions, housing, African American Student Initiatives, student life and NKU's Activities Programming Board (APB) to be able to come together and talk about the different homecoming events student engagement has planned. Moragne and her colleagues plan out the annual alumni awards as well as work with the Black Alumni Council. 
Moragne said the work she endures and the experience, such as engaging with alumni and helping with the alumni side of homecoming, is what she thrives on. 
"Homecoming is one of the very few events that NKU is able to have across campus that really does pull together students, parents, faculty, staff, leadership, alumni, donors and friends in the community. It's the one opportunity that we have where we're able to bridge the gaps in between all of those different audiences and groups," Moragne said.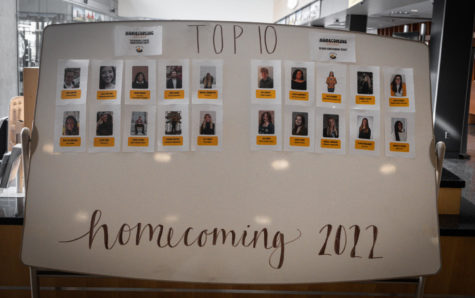 Here's a list of current homecoming activities:
Feb. 3: 
Men's basketball game at 7 p.m. at BB&T Arena (click

here

for inclement weather updates)

Helmet competition

Homecoming Court announced at halftime
Feb. 5: 
Men's basketball game at 7 p.m. at BB&T Arena

Homecoming Court announced at halftime
Feb. 24: 
Virtual Black History Month speaker Angie Thomas at 6:30 p.m.
Feb. 25: 
The Ultimate Black Family Reunion at 4:30 p.m. – 6:30 p.m. in SU Ballroom

Virtual NPHC Step Show, time TBD
Feb. 26: 
Black Alumni Council Brunch at Boomtown Biscuits and Whiskey in Union, KY at 11 a.m.

Women's basketball game at 2 p.m. at BB&T Arena

End of season tailgate from 4 p.m. – 6:30 p.m.

Men's basketball game at 7 p.m. at BB&T Arena

Black Alumni Council Kickback at Holiday Inn following the men's basketball game
Feb. 27:
Black Alumni Council Senior Conversations Brunch from 11 a.m. – 1 p.m. in Norse Commons 140
March 16:
Canstruction: a canned-goods donation drive, location TBD
March 23:
APB Talent Show at 6 p.m., location TBD
March 24:
Women's History Month Program
March 25:
NPHC Plot Ribbon Cutting Ceremony at 3 p.m. in SU Ballroom
March 26: 
Alumni Awards Dinner and Celebration from 6 p.m. – 9:30 p.m. in the Rec (tickets can be purchased

here

)
More information regarding homecoming activities can be found here.