Students displaced after Woodcrest hall closure
Dean of Students Arnie Slaughter announced Woodcrest's closure over the holiday break
February 3, 2020
After living in Woodcrest Apartments' Willow Hall for about 10 days, Savannah Guelda was asked to move out.
When she received Dean of Students Arnie Slaughter's email on Dec. 30 announcing the closure of Sycamore and Oak Halls, Guelda said she was under the impression she wasn't going to be moved out. Guelda was soon alerted that her room was going to be home to one of the displaced Woodcrest residents.
The sophomore biology major found herself having to move out the morning of Jan. 20.
David Berland, director of University Housing, notified residents in his email that if students were moved, Housing would provide FLEX dollars as an "acknowledgment of your efforts to help us ease the transition for Woodcrest residents."
Guelda would receive $200 in FLEX as compensation.
Guelda's move, along with many others, was a product of University Housing announcing over winter break that Oak and Sycamore Halls would be shuttered; Slaughter said he and University Housing had been talking about a potential closure for "years now."
After contacting a structural engineer in October, Slaughter said he, along with Housing, realized things were worsening.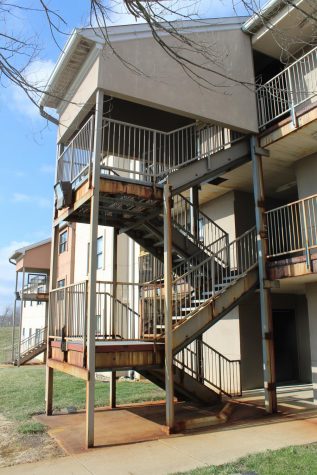 "We realized that the conditions that we were aware of in Woodcrest that were on our radar, unfortunately, were escalating quicker than what we anticipated," Slaughter said.
The conditions include the visible rust on the staircases to each level and problems with the crawl spaces underneath the building. There are other factors that also raised the cost needed to correct the issues for Woodcrest. These conditions led campus officials to think about what would be best for students.
Housing and Slaughter decided to close the building in December.
Slaughter said the decision was made right before the school closed for winter break, leaving them a week and a half to plan out their decision and how students would be informed.
The next step was to send emails explaining the closure to all University Housing residents on Dec. 30.
The first displaced
Slaughter sent the first email notifying the Woodcrest residents about the immediate closure of Sycamore and Oak and the eventual closure of Willow.
"After reviewing [structural engineers'] reports and faced with the condition of Woodcrest, we have come to the decision to close Oak and Sycamore Halls immediately and plan to close Willow Hall in June 2020," Slaughter wrote in the email.
Berland then sent an email out to the Woodcrest residents stating what would occur in the following weeks.
"We want to assure everyone that you will have a bed on campus and will pay no more for your bed than you are currently paying," Berland wrote. "We will be making every reasonable effort to keep roommate groups together during moves, and each resident that does not have a residential meal plan will receive a commuter meal plan for the Spring term, courtesy of University Housing."
Eleven minutes after those emails were sent, Berland wrote to all University Housing residents about plans to make room for the newly displaced students.
"We will be reaching out to residents in all of our communities soon whose rooms are not full," Berland wrote. "During the second week of classes, we will be asking various residents to relocate within their communities to fill partially filled rooms and to make space for Woodcrest residents to move the following week."
One of those students with available space was Guelda, whose removal made room for students like sophomore Maddie Hackathorne.
A new home
Respiratory care major Maddie Hackathorne was a resident of Woodcrest Apartments and lived in Sycamore Hall. She initially moved to campus during sophomore year to have less of a commute and liked that if she lived in Woodcrest, she wouldn't have to purchase a meal plan.
She recalled waking up on Dec. 30 at home in Springfield, Ohio with an email directed to all Woodcrest residents announcing the closure.
When Hackathorne read this, she said she didn't know what to think; she immediately called her roommate to let her know they had been "kicked out."
After the break, she returned to Woodcrest awaiting her new assignment. It wasn't until Berland sent an email on Jan. 15 confirming her new residence.
In the time that followed Berland's email, the move ended up benefiting Hackathorne.
"We're getting more money and we are getting a refund for the housing because Norse Hall's $1,000 cheaper, so we don't have a full kitchen or anything anymore, but the meal plan kind of balances out because it's so much," Hackathorne said.
She moved into her new room during the week of Jan. 27, as did many students displaced by the closure.
Future for Housing
Slaughter said the closure of Woodcrest will decrease the number of residents on campus for the 2020-2021 academic year, but Housing plans to make up the beds lost with the new building opening in the fall semester of 2021.
RELATED: Board of Regents discuss renovation plans across campus
Currently, there are no conversations about when the demolition of Woodcrest Apartments would begin, but Slaughter and Housing are talking about ensuring the facility is still safe and attended to.
The Northerner reached out to Director of University Housing David Berland. He declined a request for an interview.