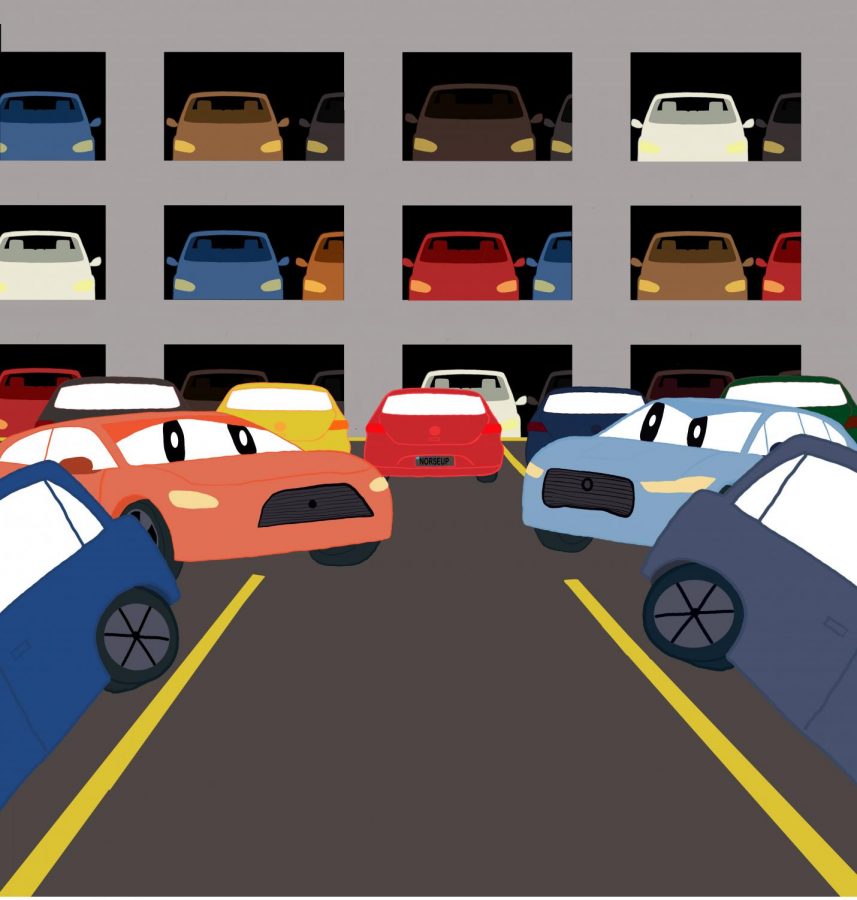 'It's all about the turnover': Parking Services sells more passes than spots available
November 20, 2019
With 10,734 parking passes issued and only 6,694 parking spots available as of Nov. 14, 2019, finding a parking spot has become a difficult task for NKU students and faculty alike.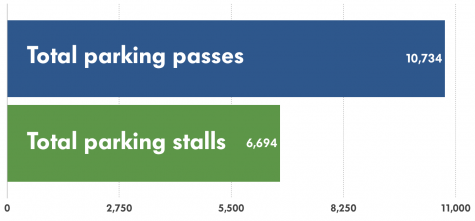 "It's like trying to find a needle in a haystack; it's just impossible," Devaughn Allen, sophomore marketing major, said about his experience with NKU parking.
Allen is a recent transfer student who said that he was ticketed his first week for parking in the grass near Griffin Hall. Allen said he'd like to see more parking on NKU's campus because the situation at hand is an inconvenience for students.
"We've got a lot of students, not a lot of spaces," Allen said. "Parking should be about student convenience. We need more parking. Flat out."
Justin Wickersham, sophomore undeclared major, said parking was especially rough during the first three weeks of school. Wickersham has been ticketed three times this semester for parking in the grass.
"I live an hour away and I now have to leave thirty minutes earlier than usual, only to find a spot that's fifteen minutes away from my first class," Wickersham said. "It's not convenient, but it gets the job done. You can have everybody park here and I think they might all fit. It's just some students are going to have a 15- to 20-minute walk to class."
According to Director of Business Operations and Auxiliary Services Andy Meeks, the biggest complaint Parking Services hears is there isn't enough parking spots. However, Meeks said that complaint is hard to respond to because "that statement is so far from the truth."
"On our busiest days, there are hundreds of parking spots available, they just may not meet someone's criteria for convenient," Meeks said. "I can't open up 6,000 spots in front of Landrum Hall at 12:30 to meet everyone's preference. It's just not realistic."
Meeks warns that inconvenience is no excuse to violate the parking rules and regulations, citing that the biggest problem is students parking in the grass.
"Don't park in the grass. It's illegal and ruins the landscape of NKU. You will be given a citation," Meeks said.
Once someone accumulates three unresolved citations, a boot will be applied to their vehicle.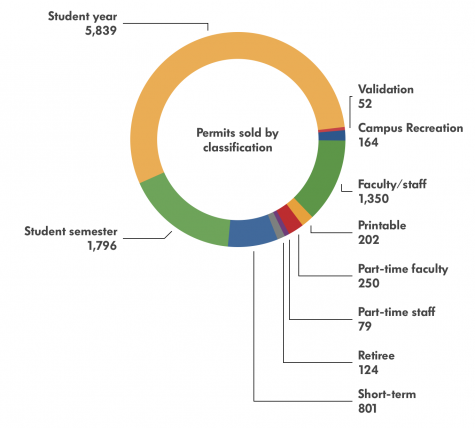 As far as the numbers go, there are more parking passes issued than parking spots available. At first glance, these numbers could cause some concern, but Meeks said that "a lot of logic and science" goes into how many parking spaces that NKU should have, and compares it to the foodservice industry.
"If you go to a restaurant that serves 400 people daily, they may only have 150 seats. It's all about the turnover," Meeks said.
By turnover, Meeks is talking about students' schedules and how many students are on campus at one time on average. He said that a lot of numbers are analyzed prior to every semester, such as student schedules (MWF and TR) and special events—athletics, concerts, organizational events, etc. He said that these statistics are gathered from the office of campus planning and the office of institutional research and then analyzed to ensure that there is enough parking to facilitate all students and faculty.
Meeks said that "when the need arises, we will definitely talk about it, and the next solution would most likely be in the form of another parking garage."
In addition, Meeks addressed the new residence hall in Boothe Village that is currently scheduled for completion by July 2021. He said that the hall will "more than likely be plopped down in one of our service parking lots, so we're planning to recover those parking places by putting in another lot down behind Woodcrest." The Northerner previously reported that 200 parking spots will be unavailable during construction of the new residence hall.
RELATED: Board of Regents announces new residence hall and new pizzeria
Meeks also said Parking Services does have "long-range plans" to designate "millions of dollars" to a complete overhaul of all of NKU's parking lots like they did with Lot K and L near the Kenton Drive garage over the summer, where they added more lighting alongside a botanic touch and new pavement.
Meeks and his Parking Services team do offer some advice for students to land more convenient parking on their Parking Services page.
"All I want to do is provide safe, adequate parking. [NKU Parking Services] want to make it as convenient as we can," Meeks said.  
For students with several parking citations, on Nov. 11 – 27, NKU is running their "Food for Fines" initiative which allows students to pay for up to three citations with six, unopened and unexpired jars of peanut butter, six 5 oz. cans of chicken or six protein/granola bars.