McConnell praises NKY court pick at NKU ceremony
Senate Majority Leader helps instate federal judge in Greaves Hall
August 27, 2018
Senate Majority Leader Mitch McConnell lauded President Donald Trump's pick for a federal judge in Greaves Concert Hall Monday.
"He is clearly a standout individual and incredible legal talent," McConnell told an audience of northern Kentucky judges, politicians and lawyers gathered in Greaves. "That's why I recommended him to President Trump for this nomination."
The event honored new U.S. 6th Circuit Court of Appeals Judge John B. Nalbandian, a northern Kentucky native that has practiced law for over 20 years in Cincinnati and served several government legal agencies.
McConnell ribbed Senate Democrats and other 6th Circuit judges for getting only Republican votes at their confirmation. Nalbandian was confirmed in May 52-43, including three Democratic votes.
"So we've got here bipartisan support," McConnell joked. "Knowing the Senate these days, that's a little unusual, as our friends on the minority side seem to have a little different view of who should be put on the federal courts."
Nalbandian is the seventh Asian-Pacific American to serve as a U.S. appeals court judge. In addition to private practice, he was appointed a special Kentucky Supreme Court Justice in 2007. In 2010, President Barack Obama appointed Nalbandian to the State Justice Institute, a non-profit agency that aims to improve state courts.
McConnell called Nalbandian "unanimously well-qualified" and "the perfect choice" for the 6th Circuit, which handles appeals cases sent from lower courts.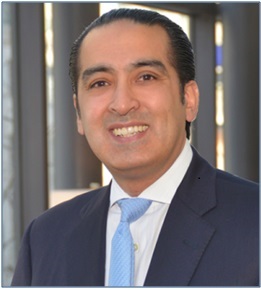 6th Circuit Judge and Chase professor Amul Thapar administered Nalbandian's oath Monday. Thapar made national news in July as a finalist for the U.S. Supreme Court, though Trump ultimately chose D.C. Circuit Judge Brett Kavanaugh to fill the seat.
Northern Kentucky native Nalbandian has been a judge on the 6th Circuit for three months. Monday's ceremony, a judicial investiture, celebrated the start of his tenure on the bench.
President Ashish Vaidya welcomed the court and supporters to Greaves, noting NKU's own Chase College is celebrating 100 years of women in law education in 2018.
State Senator Wil Schroder and State Representative Joe Fischer, who both represent NKU's district and nearby Campbell County, also attended the investiture.
Nalbandian compared becoming a Circuit Judge to "kind of like getting struck by lightning," a result of luck more than anything else.
"But having it happen to two people like Amul [Thapar] and me who have been friends from the same region at the same time for the same court is probably not a bet that I would have taken," Nalbandian said. "Well, I suppose that depends on what the odds are on that."
Nalbandian closed by remembering the mantra of one of his heroes, the late Sen. John McCain: "Serve a cause greater than yourself."