Students, parents rally for campus childcare with UC takeover on the table
April 20, 2018
One week after students and staff rallied against state budget cuts, students marched outside the Student Union to save the Early Childhood Center, a program slated to close June 1 due to budget pressures that have existed since 2015.
For Samantha Hamilton, the stakes have never been higher; just a semester shy of graduating, she will no longer have a place to drop off her two kids while she attends her final courses and works part-time at a chiropractic practice.
RELATED: In the wake of the Early Childhood Center's closure, students work to save it
On Wednesday, she protested to keep the center in the Math, Education and Psychology building so she and future student-parents can have affordable childcare on campus.
"Without the center, I would not be graduating this December," Hamilton told ralliers. "With the threat of the center closing this June, all of my hard work is being put into jeopardy."
Hamilton wasn't alone: among the ralliers was her boss Dr. Heather Ianelli, owner of Children's Family Chiropractic Center. Ianelli said she came to support the center that allows Hamilton to balance working with earning her degree.
"This center holds multiple, multiple uses," Iannelli said, her arm around her daughter. "I'm gonna fight as long as you're here to keep the center open."
Is it too late to save the ECC?
NKU subsidized the Early Childhood Center for roughly $1 million over the last five years, according to an email from interim president Gerard St. Amand on March 16. With pension costs and cuts from Frankfort looming, St. Amand said paying for the childhood center's deficit would no longer be an option.
While the March 16 email made the closure sound like a done deal, the Early Childhood Center could survive through external means.
The University of Cincinnati's Early Learning Center has expressed interest in operating the NKU center, according to an email sent to student-parents from Vice President of Student Affairs Dr. Dan Nadler.
The UC program offers infant care and full-time preschool at its campus location. It is not yet clear how the change might affect children's tuition or the extent of services offered.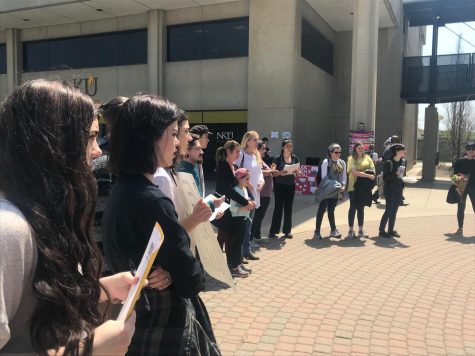 Nadler also invited students to the following informational sessions on what a UC-sponsored center at NKU would look like on April 24, 1:30-3 p.m. in MEP 296 and April 30, 4:30-6 p.m. in SU 108.
The fate of student workers is also uncertain. Greta Kelley, a student worker at the center for children ages 1-5, said it has acted as a second home for children to grow and learn while parents go to class.
"I see all those kids as my own kids," Kelley told the crowd. "I care about them so much so I know that I wouldn't pick a school that didn't have an early childhood center."
Kelley, an art education major, said it's also harder to be a student now than it used to be. Adding a child to the mix of challenging courses and multiple jobs makes an early childhood center a necessary respite for parents.
In his email, St. Amand said the university would work to secure discount rates at other local daycare centers.
But, Kelley explained that getting to campus is already challenge for some student-parents; she knows one has to walk with her child from her apartment to campus each day.
"She wouldn't want to have to walk all the way to another childhood center and then all the way to school," Kelley said. "Life is so hard for me as a student, I can't imagine having a child on top of that."
'Stand up, fight back'
The ralliers hoped there was time to change the decision to close the center. Benjamin Sanning, president of NKU's Student Socialists, outlined other areas NKU could cut to keep the childhood center afloat, including executive salaries, renovations and athletics.
"That could come from a lot of different places that don't remove a single vital service that NKU students can't attend the university without," Sanning told the crowd. "We are pulling the rug out from underneath of our most vulnerable members of our community."
Sanning said students must continue researching and emailing administrators to solve the problem.
"The NKU administration has told us time in and time out that their hands are tied," Sanning told students. "I think it is up to us to untie them."
Hamilton said she wants to learn everything about why the childhood center is closing. So far, she has researched how other universities run their childcare centers in order find models that could work for NKU.
She plans to attend a Faculty Senate meeting Monday that will address the childcare center closure. If there's a chance NKU can still offer childcare, she wants to make it happen.
As for Wednesday's rally, Hamilton said it was about making the campaign to save the ECC more visible.
"We might not have necessarily gotten the center to stay open with this meeting, but really to force [administration] to bring to light the reasons for closing other than just a short email and broad numbers," Hamilton said.
Event organizer and SGA senator Noel Waltz told students she would bring over 450 gathered signatures to administrators in a final push to reconsider the facility's closure. Then, she led chants as students marched around campus holding signs supporting the ECC.
"The ECC is under attack, what do we do?" "Stand up, fight back!"
Informational sessions on how UC's Early Learning Center could support NKU's Early Childhood Center will be held April 24, 1:30-3 p.m. in MEP 296 and April 30, 4:30-6 p.m. in SU 108.