BREAKING: Dada, Bluford win SGA presidential election
March 30, 2017
Sami Dada and Erica Bluford were elected Student Government Association president and vice president Thursday, receiving 616 votes from the student body.
Three slates vied for the positions of president and vice president of the SGA. Dada and Bluford beat the nearest candidates, Kaitlyn Schaefer and Taylor Gagné, by 129 votes. Dejah Rawlings and Troy Cornes received a total of 266 votes.
A group of approximately 40 students, along with family members and friends, crowded the third floor of the Student Union. Election commissioner Chuck Rust, a chase law student and former member of SGA, read the results at 10:25 p.m.
The room was tense as the votes were announced, moving from bottom to top. The crowd was speckled with members wearing t-shirts in support of their candidate.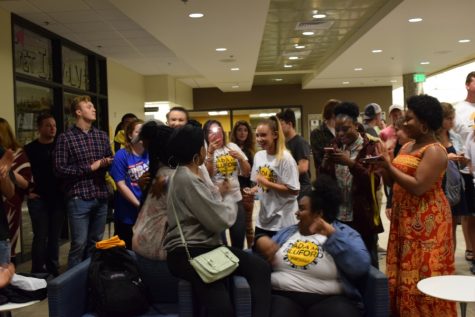 There was a moment of silence before the announcement; the third floor crackled with sounds of chants and shouts from Dada's camp. The running mates, Dada and Bluford, pulled one another into a hug.
After the win, Dada said that he is looking forward to an SGA that's diverse and gets things done; he previously served as the secretary of public relations. 
"It doesn't matter what greek affiliation you are. It doesn't matter what organization you're in," Dada said. "I want to work with all students to make sure we come together."
Bluford added that she and Dada have been saying that they're the best representation of not just one group of people, but the entire campus.
"We really look forward to proving that to everyone and really unite," Bluford said.  
As supporters of Dada's campaign leaped to hug one another, the other platforms' camps somberly embraced one another.
For Gagné, who ran as vice president with Schaefer, the campaign season was stressful. He said that he currently works a 60-hour full-time job, along with classes and other involvement. 
"I am glad that we ran a clean campaign full of integrity and we ran a campaign that didn't tear people down," Gagné said. "That's something we really prided ourselves on through the entire campaign."
He added that the relationships with the other people running are ones that will last them a lifetime.
Dada and Bluford will follow Will Weber and Ellen Wilshire as president and vice president throughout the 2017-2018 school year. Dada will also serve as a regent on the NKU Board of Regents.
Below is a list of full votes, which were certified by Arnie Slaughter, Interim Assistant Vice President for Student Affairs and Dean of Students, as well as Rust.
| | |
| --- | --- |
| President/Vice President | Votes |
| Sami Dada/Erica Bluford | 616 |
| Kaitlyn Schaefer /Taylor Gagne | 487 |
| Dejah Rawlings/Troy Cornes | 266 |
| | |
| --- | --- |
| Secretary for Student Involvement | Votes |
| Christina Muenchen | 669 |
| Iain Applebee | 445 |
| | |
| --- | --- |
| Secretary for Public Relations | Votes |
| Emma Vincent | 450 |
| Courteny Cook | 370 |
| Jordan White | 346 |
| | |
| --- | --- |
| Secretary for Administration | Votes |
| Ethan Losier | 1149 |
| | |
| --- | --- |
| Student Senate (top 25 elected) | Votes |
| Miriam Davis   | 584 |
| Hannah Edelen | 555 |
| Kaitlyn Nally | 519 |
| Jeremy Sweet | 485 |
| Onyinyechi Okorie | 467 |
| Zachary Stone | 439 |
| Nick Abell | 433 |
| Evan Berkemeyer | 433 |
| Janiah Miller | 427 |
| Titilayo Akakpo | 420 |
| Jerrod Lainhart | 418 |
| Jachelle Sologuren | 405 |
| Brenda Moran | 392 |
| Dylan Sparks | 377 |
| Peter Readnour | 351 |
| Tyler Andre | 348 |
| Kamaria Mayes | 347 |
| Aida Manzi   | 320 |
| Makayla Keokongsy | 307 |
| Jeffrey Williams   | 294 |
| Devin McNary-Mason | 281 |
| Benjamin Bardgett | 269 |
| Christopher Murray | 255 |
| Adam Zarnowski | 255 |
| | |
| --- | --- |
| Judicial Council (top 5 elected) | Votes |
| Lindsay Wright | 660 |
| Hunter Poindexter  | 624 |
| Haley Madden | 568 |
| Christian Dichoso | 516 |
| Benjamin Sanning   | 456 |
| | |
| --- | --- |
| Constitution & Bylaws  | Votes |
| Yes | 1085 |
| No  | 89 |