SGA elections underway: Who are the candidates?
March 28, 2017
Three tickets are in the running for the presidential and vice presidential bid for SGA in the upcoming school year alongside other executive and senator spots on the board. Each platform addresses ideas of unity within their campaign, and navigate the issue with different lenses and processes. 
The three tickets are as followed: Schaefer/Gagne, Dada/Bluford, and Rawlings/Cornes. 
On Wednesday, March 29 and Thursday, March 30 the elections will be held. Students can vote through the NorseSync platform, opposed to the URL link used in previous years.  
Schaefer/Gagné 2017: United as One
Who they are:
Her sorority sister once told her that if one looks up a definition of a "Norse," Kaitlyn Schaefer's picture would pop up right beside it.
Alongside her love for the university, Schaefer said that her connections with administration, faculty and other organizations on campus would benefit the position she's running for, president of SGA.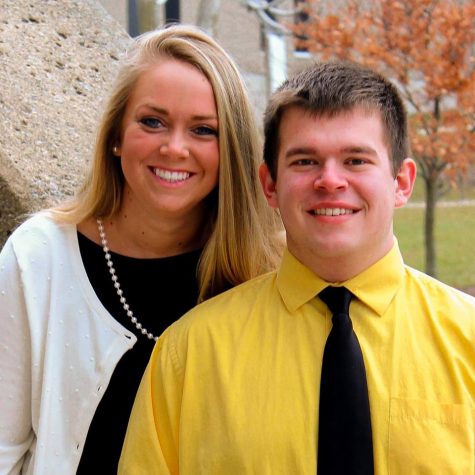 Schaefer is a junior marketing major. She has been a part of SGA since her freshman year, where she served as a senator. The next year, she served as the university's improvement chair. She also served in the Summer Intersession Course Evaluation committee. This year, she was appointed as a senator once again, after running for Vice President last school year.
Other involvement: Kappa Delta Sorority, Norse Force, Order of Omega, College of Business Advisory Board and Victor Volunteers.
Schaefer has served in multiple leadership roles within these organizations, including VP of her sorority and PR stints in both Norse Force and FSLC.
Schaefer said that after three years of serving in student government, she knows the ins and outs of the organizations. She pointed out that though being elected president could be seen as a resume booster, ultimately this isn't the reason why she decided to run.
Their platform can be found in length on their website.
"I think my biggest reason for running is that I'm so passionate about this university," Schaefer said. "If you look on my Facebook, Twitter, Snapchat or Instagram–I'm always posting about NKU. I just love NKU."
What about her running mate?
Taylor Gagné is a sophomore double majoring in accounting and finance. Previously, he has served as senator for SGA as well as the Secretary of Administration and on the College of Business Student Advisory Board Representative.
Aside from SGA, Gagné is involved in Alpha Tau Omega, Kentucky Phi Beta Lambda, where he serves as the state historian, Norse Leadership Society, Order of Omega, and Victor's Volunteers. Previously, he's worked as a Residential Assistant on campus.
What's their platform?
The platform consists of four main issues. The biggest point in their campaign is focusing on is inclusiveness, Schaefer said.
A few tangible ways they plan to address the issue are the following:
Ensuring that flex housing, which provides housing that welcomes all gender identities, not limited to the gender binary. is incorporated into new housing facilities that are soon to be built on campus. 

Bringing back the NKU R.O.C.K.S. living learning community; 

NKU R.O.C.K.S is a program that provides support for first-year African-American students as they transition from high school to college.
On this issue, Schafer said that there was a community on campus a few years ago. She said that it had been brought to her attention that minority students feel as if they're the only minorities in their classes and feel left out. Since she said that NKU feels like home to her, she wants every person to feel that way.
"Bringing back that living learning community, it will give them the option to live with people in the NKU R.O.C.K.S. program and other minorities just so they feel like NKU is their home," Schaefer said.
Their next point surrounds funding for NKU. She said that though they were able to rally in Frankfort and able to receive the outcomes-based funding model, there is still more than can be done to ensure the financial strength of the university in the future.
"Taylor and I want to partner with the FLIP program, where students go down Frankfort," Schaefer said. "We want to partner with them so they're constantly talking to the legislators down in Frankfort. It's harder to say no to a face than an email."
The FLIP program gives the opportunity for students to intern and be engaged at the state capitol, Frankfort. Here, they meet face to face with representatives.
Next, they want to work on a concept they've coined "Norse Nights," where SGA will partner with several small, local businesses who can't afford to give constant discounts to students. SGA would give PR to said business in return for a  period in which NKU students receive discounts.
The idea behind this is to create a more "college atmosphere" around NKU.
The last point in their platform is replacing one of the current meal options in the SU with a chain food brand.
"They would replace their counterparts," Schaefer said.  "So Qdoba with Route 27, Subway with Mondo Subs, and Panda Express with The Travel Wagon. That would alleviate a lot of the stress that's been put on Steak N Shake and just give more students options."
Schaefer added that both she and Gagne also want to focus on tailgating. She pointed out that the women's soccer team won the Horizon League Tournament as well as NKU's basketball team, but didn't get as much recognition.
"We want to streamline the tailgating process so that they can assume that if it's a weekend game we will have students tailgating and supporting our teams," Schaefer said.
They plan to work toward resolving their platform points through forging partnerships. She said she's already spoken to local businesses, administrators and students about working toward their goals.
Schaefer reflected that successful past presidents have been outgoing and driven, as well as had connections and passion for the campus community.
"Having those connections and knowing everything about the university is great," Schaefer said.  "It's very important, but nothing without that passion for the university and for what we're doing because it is a big commitment and it's a lot of work."
Dada/Bluford 2017: NKUnited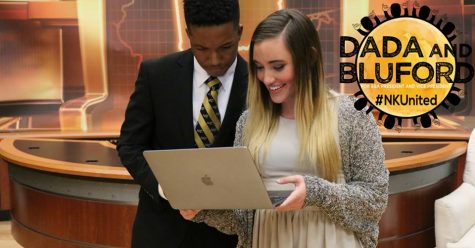 Who they are:
In the three years Sami Dada has been at NKU, he said he's seen the campus dramatically change.
His freshman year, Dada volunteered with the athletic facilities. Along with doing tasks such as picking weeds off the soccer fields, he would hand out fliers to students. He said when he started students would throw fliers back in his face. Last semester, Sami reflected that students actually kept the fliers.
Dada is a junior majoring in communications with a minor in political science. He has served two years on the executive board as the secretary of public relations. His freshman year he served as a senator.  
Other involvement: 2017 Homecoming Prince, 2016-2017 NKU R.O.C.K.S. Mentor, N.A.A.C.P. (E-Board), International Student Union, Pi Kappa Alpha, Activity Programming Board, Black Student Union and Best Buddies
Dada said that he identifies in the LGBTQ community, African-American community and the international student community. In his freshman year, he used to go to the third floor of the SU and see a diverse group of students, but the groups wouldn't be interacting with one another.
He added that through several campus events and tribulations, such as NKUnity and the Victor E. Viking mascot upset, students have rallied together more than in the past.
"Now when I go up on the third floor I see LGBTQ students talking to African-American students, African-American students talking to Latino students and vice-versa," Dada said.  "Knowing that that's not how it was three years ago is amazing."
The biggest reason that  Dada and his running mate, Erica Bluford, are running is because he said he's seen what works and what doesn't over the past three years.
He wants to build relationships with other organizations and groups, such as the international students, so that when it's time to run for positions they're armed with more knowledge.
He said that as PR chair he went above and beyond. Last year, during freshman elections, 26 ran for senate seats.
"Not only did we have 26 freshmen, we had 26 diverse freshmen. It wasn't only the same people," Dada said.  "But, this past semester we had five international students running and one of the international students actually became pretty close from winning the freshman seat by six votes."
What about his running mate?
Erica Bluford is a junior majoring in political science with a minor in pre-law. She currently serves as the Panhellenic president, which is an umbrella organization for all sororities. 
Along with this, she is a sister of Delta Zeta, a mentor in the Latino Mentor Program, a 2016 orientation leader, a 2016 international student orientation leader and she also served as a 2016 Gamma Chi. 
What's their platform?
Their platform has six main points. The full platform can be found on their website.
For starters, Dada said that they want to improve the gameday experience. Right now, their platform is mostly focusing on tailgates.
"Say we pick a day. SGA can host a Friday tailgate and before the tailgate, we can partner with a local company to provide students a free coney with a valid ID or a discount," Dada said.
They want to invite everyone, not just greek life. Dada wants to invite international students, African-American students, Latin American organizations and other organizations. He believes tailgates could change the dynamic of campus.
Another point is parking. With new dorms being built, Dada mentioned that other lots would be taken off the line.
"With talks of parking going up, I just think that if they're going to taking a parking lot off line they have to ensure us that they're going to make better parking," Dada said. "With the new connector road, I don't see why–we're going to be able to touch more places than we have before. It would open a big access."
Dada added that he wants to see the two gravel lots on campus be paved. There is already discussion around paving these lots, and he said he wants to keep administration accountable for following through.
Their third point is to bring the A+ back, which was removed a few years ago.
"We don't want to devalue the 'A,' but we feel as if students who get a 98 to a 100 deserve to be rewarded," Dada said.  "I know, to speak on the job field, if you got a 100% in your courses, and another student got an A+, they'll have a 4.2 going into the job market, and you'll have a 4.0 gpa. That will be the deciding factor between them and you. Not because they're smarter than you or worked harder, but because their school had the opportunity to reward them."
Dada also said he wants to expand scholarships and get the word out about lesser known scholarships.
At the beginning of the year, Dada said that they want to send out a survey regarding what scholarships students want to see as well as host a fair once or twice a year.
"Even with all my financial aid, I still owe about $2,000, I have no way of paying that at the moment," Dada said.
Dada credited a retention scholarship offed by UCAP for helping him cover his remaining tuition, a scholarship that helps students who have maxed out student loans.
With Bluford's and Dada's experiences, he said, being an international student, an African student and a gay man, he's able to understand the base level of what they go through. He pointed out that his experience isn't the same as everyone who identifies in these demographics, however.
"That's something that we can explain to as many people as we want, and they can understand as close as they can, but they haven't walked in our shoes," Dada said. "That's what students need, a president that has walked in their shoes."
Rawlings/Cornes 2017: True to NKYOU
Who they are:
Dejah Rawlings decided to run for president because she wants students to have someone who's there for them.
Rawlings said that she wants to show students that their voice matters.
More information about their background can be found here.
"I really want to focus on empowering the students and that was the main reason why," Rawlings said. "I like to serve people and I felt like this was the best capacity to serve the students at NKU."
Rawlings, a first-generation college student, is a junior majoring in political science. She has served as a senator in SGA.
Other involvement: R.O.C.K.S. mentor, Ambassador for College of Arts and Sciences, President of Black Women's Organization.
Rawlings said that one of the major challenges the university faces is that the community doesn't know what's going on. She also said that inclusion has been thrown around so much that it's been diluted. She wants to see more effort toward inclusiveness.
"(I would) have an open dialogue and the students actually understanding the differences … having knowledge about it then being able to apply it and just work together more as a cohesive," Rawlings said.
What about her running mate?
Troy Cornes is a junior majoring in secondary English education. He has served as a SGA senator. Along with SGA, he has been the IFC Vice President of Membership, President of Theta Chi fraternity and a 2-time orientation leader.
What's their platform?
Rawlings said their platform was to be "True to NKU." The idea around the platform is about empowering students through advocacy, awareness as well as authentic inclusion.
For advocacy, they want more student representation through ensuring student voices are heard in the new NKU presidential search, as well as faculty and staff searches. She wants students to know that any issue that's pressing on them, someone will be there to speak up on their behalf.
As far as awareness, Rawlings said that being in different social groups or areas of campus, students don't always know what's happening on an administrative level.
"Making sure [the administrative process] is more transparent, making sure the students understand the stuff that's being passed and the different policies," Rawlings said. "So they can make informed decisions."
A president should be able to communicate with anyone, according to Rawlings. Whether they're from a similar background or not.
"They should be able to really listen and be able to really take in different aspects of people, different aspects of situations and just be diverse across the board when it comes to just different facets of different lifestyles, different areas of expertise," Rawlings said.  "They should just be a well-rounded person."
Each ticket participated in a debate moderated by The Northerner on Monday, March 27.