SGA rallies with Ky. schools for more funding
Commonwealth college students demand stop to higher education cuts
February 14, 2017
FRANKFORT, Ky. — Northern Kentucky University students rallied at the state capitol Monday for more funding for all public universities.
Students from Murray State, Western Kentucky University Kentucky University, Eastern Kentucky University, University of Louisville and other state schools convened to protest and petition against increased cuts in funding.
Nearly 30 members of NKU's Student Government Association gathered at the Rally for Higher Education in an effort to prevent cuts to the state's higher education budget.
The Rally for Higher Education was hosted by Murray State's Student Government Association and sponsored by the Kentucky Board of Student Body Presidents, which sent a petition to the governor and state legislature titled "Defend Kentucky Higher Education" last month.
The petition cited state lottery money being "diverted away from need-based scholarships" and decisions by legislature not to "reinvest in higher education over time."
These reasons "have made it increasingly difficult for the vast majority of college students to afford college, especially those who rely on need-based financial aid," the petition said. "In order to reverse this trend, we, as students, are taking action."
Student speakers attending the rally were NKU SGA Secretary of Public Relations Sami Dada and SGA Senator Hannah Edelen.
Dada, a junior communication studies major, told of his family's struggle immigrating from Liberia to the U.S.. Dada said the obstacles of being a lower-income family made life difficult. He said he is thankful for the needs-based scholarships that have allowed him to be the first person in his family to attend college.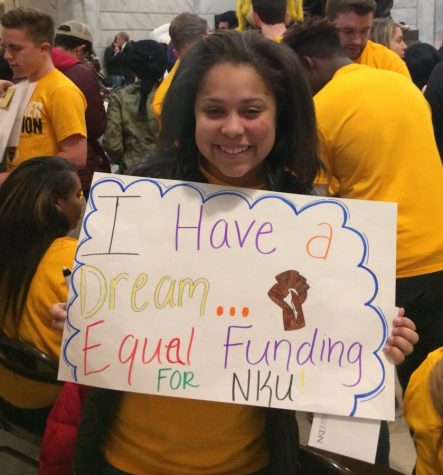 For freshman Edelen, affording college required hard work academically and financially. Edelen said she had to work 20 hours a week as a high school junior after her mother was diagnosed with cancer, all while studying hard to raise her ACT score and get into Kentucky's Governor's Scholars Program.
"I paid for my own college because I knew my family couldn't do it for me," Edelen said.
Despite her economic situation, Edelen said she found hope through education and a teacher that encouraged her to achieve her goals.
"An educator believed in me, and through her I believed in myself," Edelen told the crowd. "My background had no correlation to who I really was."
Other student speakers included one of the event's organizers, Murray State Residential College Association President Carter Hearne.
Hearne said that united students can influence state policy makers.
"We must stand together," Hearne said. "We must allow people to have the opportunity for affordable education."
Chair of the Kentucky Board of Student Body Presidents Jay Todd Richey of WKU listed the benefits of postsecondary education on society as well. He called the rising cost of tuition added with state funding cuts "bad for Kentucky" and "unacceptable."
Several lawmakers appeared at the rally to show support for increased education spending. Kentucky Sec. of State Alison Lundergan Grimes and Atty. Gen. Andy Beshear both spoke with students against furthering education cuts.
Beshear also discussed winning lawsuits against Gov. Matt Bevin's budget cuts and believes everybody in Kentucky should receive the opportunity to go to college.
Agricultural Commissioner Ryan Quarles called for students to meet with their representatives and invite them to campuses in order to have positive discussions about education instead of "pointing fingers."
State senator and UK professor Max Wise stressed the importance of the arts in tandem with academics as well as preventing the departure of students going to out-of-state colleges, or "brain drain."
The Northerner reported last year on the goal of NKU president Geoffrey Mearns to implement outcomes-based funding. According to NKU research, state appropriations made up only 28 percent of the school's budget. The state legislature and Gov. Bevin recognized NKU is underfunded and pledged an additional $5.33 million for 2017.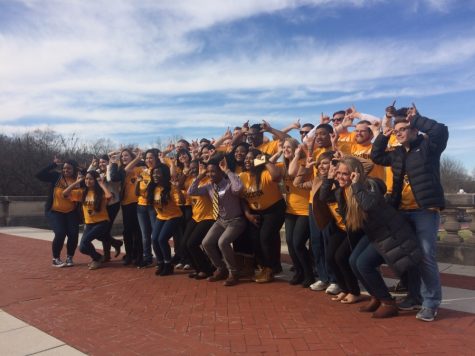 After the rally, NKU student body president Will Weber delivered handwritten letters to Gov. Bevin's office. The letters, written by NKU students at the rally, addressed reasons why public universities deserve more funding.
Kayla Lowe, an NKU alumni, said she wants her alma mater to receive the amount of funding and recognition from lawmakers it deserves.
"I hope that they realize NKU is not a hidden gem anymore," Lowe said. "I hope they realize we are doing great things and that we need to be supported."
Edelen said she believes all Kentucky citizens should have the opportunity for postsecondary education, no matter their background.
"This generation right now will one day lead us, lead you," Edelen said. "Do you want to see them get an education?"
Even if current NKU students will not reap the benefits of future scholarships, Dada said it is important that funding helps NKU grow. He compared the value of building young minds to the value of building bridges.
"You can build a bridge and make it last a century," Dada said, "When you invest in the minds of Kentucky students, that value will last for generations."
A previous version of the story listed Carter Hearne as the Murray State SGA president. His title is Murray State Residential College Association President.