Players, using Microsoft's motion controller Kinect, wielded hammers and swords to fight an ambush of alien invaders with medieval weapons in the game Medieval Martian Massacre, an elaborate, interactive video game developed by a media informatics class.
"Integrating graphics and virtual elements into the physical world is the future of interactive development so I'm trying to build stuff for that," Zeman said.
Eight students spent 10 weeks getting the game ready. Zeman said his favorite moment was when they were finally able to run it for the first time.
"You have an idea and you start running demos and putting all these pieces of that idea into one single package," Zeman said. "Then you run it for the first time. Anyone who hasn't seen your vision yet, sees where it's going and the light bulbs turn on in their heads. I love that moment."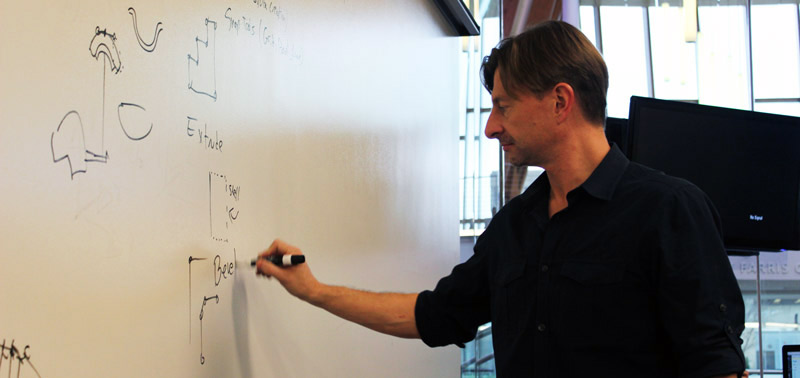 Professor Zeman teaches a multitude of diffrent classes, ranging from web design to 3D modeling.
When Griffin Hall and the programs within it first opened, people were more excited about the growth of video games according to Zeman.
He believes the enthusiasm has waned but thinks that NKU does a pretty good job keeping up to date with the new technology and video games. However, he strives for more business applications, pushing for game technology versus entertainment. He fears that the community is not big enough to develop Triple A titles, high quality games with large budgets.
"With all the investments and new stuff, plus with places surrounding the community, I think the program has grown a lot and we're pushing for game development skills and the use of game theory," Zeman said.
Professor of Games and Culture Alexis Pulos agrees that NKU integrates games on campus. With the Game Room, clubs, and specific courses, students are playing more games on campus.
"That's part of the college experience though," Pulos said. "When I was in college I was playing Halo and others. NKU is recognizing that and allowing students to play. NKU has begun to provide support for gamers. I think that's an initial stage, considering we've had 35 years of popular video games. We're now just starting to say gamers are people and nerds are cool."
When Griffin Hall's Digitorium initially opened many were excited for the potential gaming opportunities. Attendees brought their computers, controllers, consoles and board games to battle alongside their friends and enemies. All the proceeds went to AbleGamers Charity.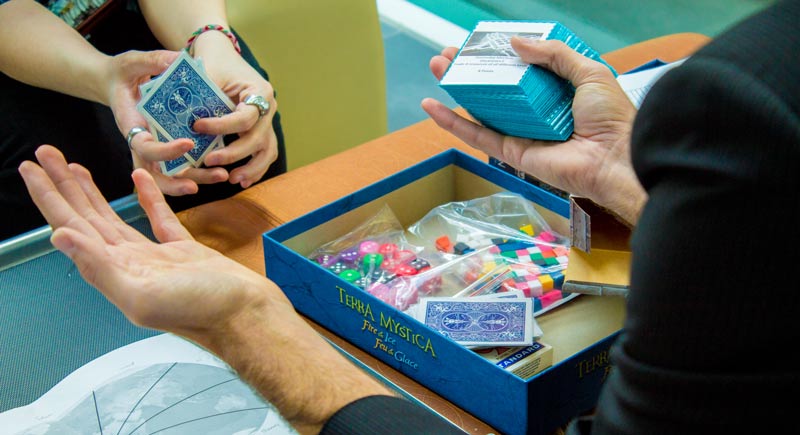 Board & card games help teach the fundamentals of all game creation.
AJ Ryan, a senior media informatics major, is the vice president of MINjas and was very happy about the turnout.
The 21-year-old has arthrogryposis, a condition where joint contractures have limited the use of his limbs since birth. Ryan moves in a power wheelchair that is operated by his feet with a joystick.
"MINjas was the coolest organizations I found on campus when I first got to NKU," Ryan said. "We do the charity event which is awesome, especially since I'm very passionate about AbleGamers and loved seeing all the people come out and support them."
Ryan started a video game development studio called Inclusive Games that focuses on keeping accessibility to disabled gamers at the forefront of its design philosophy.
"I started Inclusive Games personally with playing video games," Ryan said. "I can play them okay with my feet but I have friends who are in wheel chairs. As the games get more advanced, they are getting more difficult to play and the options in them aren't scaling up at all. Also virtual reality is not accessible at all."
Between programming experience at NKU and gaming experience throughout his life, Ryan believes they can make a positive change in the gaming industry and is excited to begin making games anyone can enjoy.
Ryan is happy with how much NKU is involved with gaming and wants to continue to see advancements in technology and equipment.
"It's just cool that NKU has so many different things you can do with video games and that this area has arcades still," Ryan said.