Sustainability: Where to go and where we've been
April 11, 2017
As an intern at NKU's Sustainability Office, one of Ronald Brown's projects involves sorting through waste.  Here, he begins to collect data on what, as a campus community, we're throwing away.
Tess Phinney, the sustainability manager for campus, said that the office will roll out a new Recycling Pilot program this summer.
"He did a waste audit where he identified all the things that were in all the trash cans in one building on campus and it showed that a huge percentage of what was in all the trash cans is actually recyclable," Phinney said. "It blew me away. I had no idea it was that much."
Though recycling bins are in all buildings on campus, the pilot program will push campus to recycle more. Phinney noted that, as a campus, we could utilizing recycling more than we are.
Brown used to be an environmental science major and is now a Spanish education major.
"I was still looking for ways to give back to the campus community in terms of sustainability," Brown said. "Searching for ways in which I can lower my carbon footprint and help the university lower its carbon footprint because it's always been something that's very important to me and that I've been really passionate about."
With Earth Week approaching, the office looks toward highlighting new initiatives to make NKU a more sustainable place, as well as reflecting on the progress made.
What to do during Earth Week: April 22-28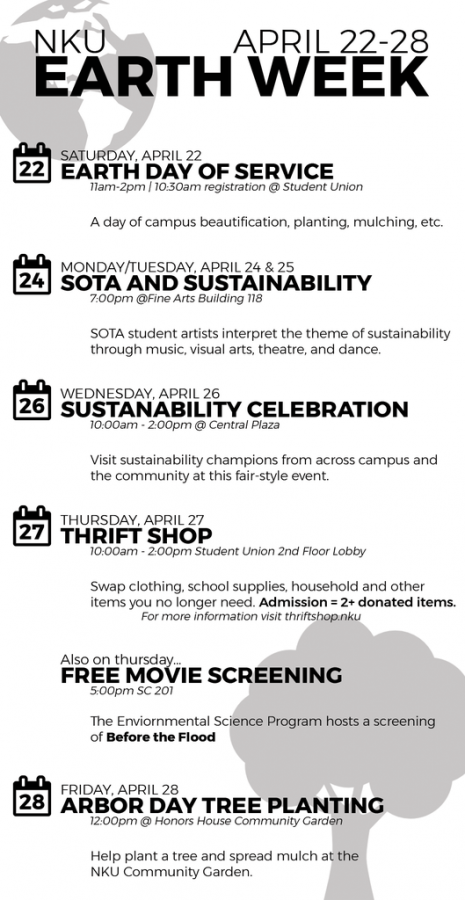 On April 24 and 25, a celebration of sustainability will be in partnership with School of the Arts (SOTA). Phinney said the event was spurred by Mackenzie Boyd, a student who worked in her office last year and now serves as an intern in SOTA.
The event will showcase student interpretations of the theme of sustainability through visual arts, music and dance. The event will be held both days at 7 p.m. in FA 118.
"We haven't done something like that before, so we're pretty excited," Phinney said. "A lot of people can make connections between sustainability and the environmental science program, but not always between sustainability and SOTA."
Following this, on April 26, the sustainability celebration will be held on the SU plaza from 10 a.m. to 2 p.m. Phinney said that the event is fair-style and will have tables from offices, organizations, and departments across campus, including Wellness, the Environmental Science department, Environmentally Concerned Organization of Students, and the horticulture department, who will be handing out tree seedlings.
During this event, Phinney said they will unveil their 2017 Sustainability Strategy. While there will be a few hard copies, it can primarily be found online. The strategy will contain six goals, Phinney said.
The Thrift Shop event will return to campus 10 a.m. to 2 p.m. April 27. Held last year, Phinney said it was a big event.
"We're asking people to bring clothes, household items, even [non-perishable] food," Phinney said. "You just need to bring two items and take whatever you want from the event."
Later in the day, the environmental science program will host a free screening of "Before the Flood," in Science Center 201 at 5 p.m.
To round out the week, Phinney said they'll be partnering with the Honors College to plant trees at noon by the community garden outside of the Honors House, which happens to coincide with Arbor Day.
All are invited to come to the event to help out, Phinney said. She added that they'll be spreading mulch in the community garden as well, which contains ten plots.
Earth Week is planned with the help of the Environmentally Concerned Organization of Students (ECOS). This group was responsible for the green programs on campus before Sustainability undertook them in 2015, Brown said.
Aside from on-campus events, St. Anne Wetlands, located on Anderson Lane in Melbourne, KY,  will be partnering with NKU biology professors to host guided tours through the area from 1 p.m. to 2:30 p.m. The land is owned by the Campbell County Conservation District and is in collaboration with the recently opened NKU Research and Field Station. 
Looking toward sustainability: Green initiatives
NKU signed a climate commitment 10 years ago centered around sustainability. Tess Phinney said NKU's goal is to be a carbon-neutral campus by 2050; this means that NKU would make no net release of carbon dioxide emissions to the atmosphere.
The commitment is mostly evaluated through data collection in regard to a commuter survey, and tracking paper and materials used on campus.From this data, Phinney said they begin to calculate the university's carbon footprint. 
Moving toward these goals, NKU recently added a bike-sharing program that's free for students to use as well as car rental service called Zipcar that's located by the welcome center; both of these initiatives address cutting carbon emissions with sustainable modes of travel.   
Aside from travel, the campus also looks toward more sustainable infrastructure, particularly with new buildings and projects coming to campus.
Griffin Hall is Leadership Energy and Environmental Design (LEED) Silver Certified, the Campus Recreation Center is LEED Gold Certified and the Health Innovation Center will be certified when it's completed. The certification is derived from the United States Green Building council and evaluates the environmental performance of buildings.
The sustainability strategy is updated every five years; Phinney said that the office has been working on drafting the strategy for months now.
"Our plan is to make it a fluid strategy, have it grow as the campus grows," Brown said.