GALLERY: NKU Music Prep fuses community, education and musical experience
NKU's Music Prep program recently was named best of NKY 2017 in musical instruction.
June 18, 2017
Children line the stage of Greaves Hall. Their arms are raised and faces taut in concentration. One steps forward and sings before the rest lend their voices, joined by a slick piano.  Earlier in the day, young string players poured over their violins, cellos, violas and more; their hands in harmony as string after string braced the crowd
The room swelled with parents, friends, and staff as the work of NKU's Music Prep summer camps–The String Project and Mainstage Musical Theatre and Voice Camp–was showcased on June 16.
The String Project began in 2012 and was a national, grant-based program. NKU had to apply to become a site for the program.
Holly Attar, director of the music prep department at NKU, has overseen the String Project each year. Two years ago, NKU's program was named the outstanding String Project of the year on a national level.
NKU Music Prep, which houses the String Project, Mainstage Musical Theatre Co., NKU Youth Symphony Orchestra, Piano Labs, Youth Choir and Dance Prep, was named Best of NKY 2017 in Music Instruction.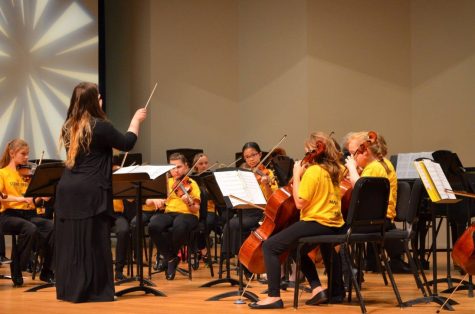 Attar said NKU Music Prep has the only full youth symphony orchestra in all of Northern Kentucky.
"What's neat about the string project as it relates to prep is it's designed to reach all types of people in the community," Attar said. "The benefits in addition to providing excellent string instruction to youth in the community and adults, the other benefit is we're training our undergraduates to be better teachers"
Attar said this "full circle" component of the String Project is her favorite part of the program.
"I love that we get to bring people in from the community but I especially love that we train people to go back out into the community upon graduation and do the exact same thing," Attar said.
The program has "master teachers," most of whom are professionals in the field, do the bulk of teaching and oversee the classes. 
NKU Students also work as teacher's assistants, such as Rebecca Caldwell, a senior elementary special education major. For the past three years, she has had a hand in the learning process.
"The reason I do it is to get music out there because in Kentucky it's not a big a thing here," Caldwell said. "It's allowing children to have access to music outside of band or for kids who may not have access in the school because a lot of our kids are homeschooled."
Seeing how much the students progress throughout the year is Caldwell's favorite part of the program, she said.  
"The first day they learn how to hold their instrument and by the end of the year they are learning how to play separate parts," Caldwell said.  "The progression of it is fascinating," Caldwell said.
Ashley Ware, junior music education major and teacher's assistant, said she wouldn't be a music education major had it not been for the program.
"I came in as a psychology major. As soon as I started teaching them I knew that was what I wanted to do,"  Ware said.
Ware, who plays the cello, was originally only a music minor until Amy Gillingham, director of the String Project, convinced her to be a teacher's assistant.
Throughout the process, Ware said she loves helping the kids learn more about themselves–not only as musicians in an orchestra but socially as well.
"Many of the students are homeschooled, so seeing them have that experience and seeing them go play music with their friends and playing music with somebody is one of the most intimate things you can do, it's very personal," Ware said. "I don't know if they really realize that but it's cool that they get that experience."
"I think that we're doing really great work here and it's a really great opportunity; it's a fairly cheap alternative to string private lessons."
NKU Music Prep classes run through the school year with the summer camps just ending this past week.  However, the summer community orchestra will run through July, Attar said.
There will be an NKU Music Prep open house on Saturday, August 26 from 9 a.m. to 12 p.m., which will give people the chance to learn more about the program. More information can be found at http://musicprep.nku.edu.were