Provided by Center for Student Engagement
Greek life slump, new coordinator seeks to increase membership
Greek recruitment numbers took a hard hit this year, but Michele Adams aims to get the community back on track.
October 12, 2022
Greek life recruitment suffered a tremendous blow at universities around the nation this year, and NKU was no exception. 
Michele Adams, newly hired Fraternity and Sorority Life and Civic Engagement Coordinator, is working to bring NKU out of its Greek recession.
In a typical year at NKU, around 200-300 women go through the Panhellenic recruitment process and approximately 200 receive bids, according to Phi Sigma Sigma President Emily Miller. This year, however, Adams quoted just short of 100 women accepting bids; the Interfraternity Council experienced a similar number, with around 100 male bids accepted.
While NKU's official website is quoted as having over one thousand students involved in Greek life, Adams said there are currently 700 total Greek students.
Since the new semester recruitment process is planned out far in advance, Adams spent time getting reacquainted with the process this fall. As a recent 2020 NKU graduate, Adams is no stranger to the Greek world. She was heavily involved throughout her time as a student, serving  as president of Theta Phi. She was previously the Welcome Center coordinator, where she worked closely with potential students and tour guides, organizing campus tours and presenting information on behalf of Admissions.
"Michele is from heaven. She has Greek experience and she knows the Greek language," said Tiffany Mayse, director of Fraternity and Sorority Life, Leadership, and Civic Engagement. 
Mayse, who is in her 24th year of service to NKU, spoke to the dedication it takes to serve all Greek life entities. With four different groups- Panhellenic Council, Interfraternity Council, Multicultural, and National Panhellenic Council- there are 23 chapters to oversee. After the finale of Panhellenic Bid Day on Sept. 11, Mayse recalled catching nine hours of sleep over the course of three days. 
As to this year's undersized recruitment, President Miller drew a link to the lack of students on campus. With the lingering effects of COVID-19, Miller recounted some people being unable to attend the recruitment process because of the virus. She also hypothesized that financial effects from the pandemic could put a strain on students affording the cost of being a Greek life member. 
According to Adams, in Spring 2019, NKU boasted 990 total Greek students. Three years later, in the midst of the pandemic, the university recorded 669 Greek members. She agreed the pandemic took a large toll on the fraternity and sorority community.
Another hypothesis Miller made was the effects of the virtual experience on student engagement. NKU's focus on the hybrid and virtual experience, as addressed by President Ashish Vaidya as one of the university's biggest goals, has yet to accommodate involvement in organizations, including Greek life. 
"Before COVID, there were very, very, very few instances where freshmen would simply never come to campus [and] be completely virtual. Now, post-COVID, that is an option for freshman students. I think that plays a big role in our ability to have engagement and recruit new members," Miller said. 
Adams mentioned one of the focuses to increase involvement is the continuous open bidding policy held by NKU fraternities. This means new members can be recruited at any time during the school year, not just during formal fall recruitment. Some sororities have also held informal recruitment in an attempt to gain more members who slipped through the cracks or were hesitant to go Greek at the beginning of the semester.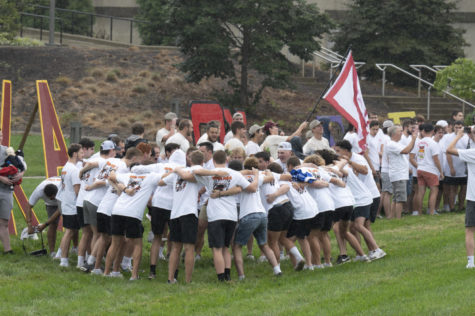 Along with recruitment comes retention, which is held in high regard by the Greek coordinator. She is currently working on Greek Month, an NKU fall semester tradition that holds events running through the end of the month and into November. These events encourage members to get involved by taking their attendance and giving their organization points based on involvement. 
Adams spoke to the importance and impact of Greek life prior to the pandemic. For the 2019-2020 school year, fraternity and sorority students raised over $89,000 for philanthropy and logged about 15,000 hours of community service. This is a goal Adams wants to see the organizations build back toward.
"The goal is making sure our students have the opportunity to serve, promoting different service events on campus and being philanthropic. Leadership is another thing that makes Greek life worth striving and fighting for … There's just a lot of potential for students to learn and grow," Adams said. 
Leaders of Sigma Phi Epsilon, Alpha Tau Omega and Theta Chi fraternities did not respond to requests for comments.