Disco Tits: From Seventies to Cyberpunk
Groovy. Rad. Tubular. One student's trip through the decades.
March 15, 2018
In a warehouse on the outskirts of Over-the-Rhine, industrial music screeched. Inside,  the otherwise sparse space was decorated with surrealist art: a vibrant birthday-cake-shaped statue made of nostalgia-sewn stuffed animals, twee porcelain sharks fishing and a teddy bear with a stake driven through its abdomen.
Deeper in, tucked in a packed adjacent room stood Maria Johnson. Flanked by three racks of vintage finds, she was joined by four other vendors, each selling their own clothes. She generally sets up her pop-up vintage store every month at locations scattered throughout the city. 
Her pop-up vintage store has a name: Disco Tits.
"It was a nickname given to me by my friends, because I really love disco music," she laughs, later adding that her dad hates the name, but still supports her. "I don't know where the tits came from, but I've always danced to Disco music and collected vintage clothing."
Johnson, a communications major and art minor, also keeps her screenprints in a suitcase一perfectly worn and thrifted, of course. Located between the racks are collages of classic horror-inspired comics printed in a 'zine-format, plus prints of her artwork, which are either abstract (on these, she uses her left hand) or pulled from old-school poster aesthetics. 
"For different themes, there's different things," she said. "When the vendors are together, we're a bunch of goofballs. Like, honestly, we'll turn on music as we're setting up and just dance around. Once we get there, it's more about just telling people where the clothes are from."
It started as small as the Playboy key necklace that Johnson wears every day. A friend of hers asked if she had more and would be willing to sell. Johnson said yes. What started as trading and offering up her collection to friends has evolved into a small-vendor store.
Eventually, she hopes to evolve even further and have her own shop. But now, the pop-up lifestyle (flexible hours and no rental cost) is easier to balance as a college student.
Her passion for second-hand apparel dates back even further, however: first, to her grandmother, who gifted Johnson with her own dresses from the '60s and taught her how to sew.
"She is my biggest inspiration. And my grandpa was a senator, so she loved to push buttons with fashion," Johnson said. "Even back in the day. She loved to push buttons, so she would kind of wear scandalous dresses, bright colors, big sleeves. She would make her own dresses and wear them events."
She fell in love with the authenticity of it, and thought it was cool how her grandmother didn't care what others thought. Though other members of her family aren't as personally vested in vintage, according to Johnson she has "the cutest parents in the world.
"They came to the first pop-up I ever had and both visited. My mom drove me to the last one and helped me set up, was taking pictures," Johnson said. "She took pictures of the first sale she ever saw me make. I'm very lucky to have such supportive parents. Even though my name is inappropriate, they still love me."
She's travelled cross-country twice. For seven months as a freshman at NKU, she took online classes and lived in L.A., right outside of Hollywood Boulevard. Everywhere she goesーMiami, Philadelphia, Californiaーshe keeps an eye open for clothes.
Each location has its own niche. In Florida, for example, she finds the most designer wear thanks to the state's high population of retirees trying to clean out their closet.
"I love Philadelphia. The historic aspect was cool, and me finding vintage was just amazing. The way they decorated their stores was really cool, and the people," she said. "That's my favorite place to go and find vintage."
During spring break, she travelled back to L.A., saying that "everyone out there dresses how they want, and I think that's important." Like her grandmother, many there don't care what others think–it's about self-expression.
To bolster her collection, she'll also hit up estate sales. Recently, she woke up at 3 a.m. and drove out to Dayton, Ohio for an estate sale with the owner of Sweet Dahlia Vintage, Amanda, who wanted racing gear.
The sale was from a woman who owned a museum and passed away. The finds ranged back to the 1920s一including luxurious nightgowns and the first Levi's jacket ever made.
"That's probably my favorite part of doing these. When someone comes in and finds something and says 'I've never seen anything like this,' and they're so excited," she said. " I buy stuff that's not my size. I buy men's stuff. Seeing people get as excited as I was when I saw it一it's really cute."
The pop-ups range in feel, but her motive stays the same. She wants to help people feel confident and comfortable with themselves. Sometimes they'll-be '70s themed, other times '60s or '90s, or across the board. In February, she and a few other vendors set up shop in OTR's Swoon, with a red-and-pink photo booth in tow (shoppers could try on their clothes and pose). 
In her most recent art project, her art and fashion came together in the form of a power suit. Using her left hand to wax abstract, Johnson screen-printed neon scrawlings of her insecurities as an artist on a '90s black suit. The contrast was stark and the print verged on childlike: Do better. I can't art. She pulled quotes straight from her personal journal, making the suit a reflection of herself. (It's part of a larger series).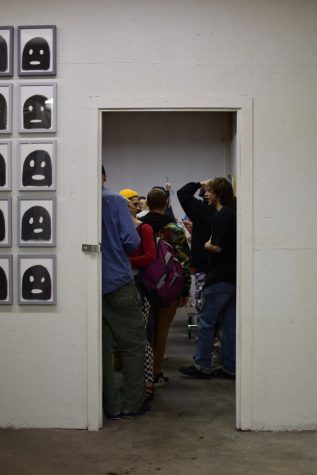 The day of the interview she wore a plaid skirt, just below the knee, from the '50s. She lifted the hem to show where she fixed the stitching and pointed out that the tags generally just don't include the year they were made. The age of items can be identified by the typeface used, the collar, how the buttons are sewn on, or if it's yellowed.
"You're able to learn about how people were. How comfortable people were, or how into vanity," she said. "I think that's really interesting to look back at clothes before suits–or even pants–were popular for women, and only big skirts, tiny waists with corsets. It's interesting to see how attitudes have evolved."
Her personal favorite era is Cyberpunk, a niche movement within '90s New York club culture that took its inspiration from dystopian cityscapes and robotic tech-wear, not unlike one of her favorite pieces, a pair of motor-cross pants with wide-legs and patches of black from a now defunct brand, LBZ (which was only in business for a year). It was ultimately a small group of kids that didn't care what anyone thought, she said, which fascinates her. 
The sentiment of not caring what others think is one she wants to instill in every customer she meets, even if they buy one of her more understated pieces.
"Bold. I like my pieces to be bolder and fun," she said. "That's my whole thing, even on my little card it says 'Be fun. Be funky. Be you.'"
Check out Disco Tits happenings on Instagram @disco_tits_vintage and @Disco__Tits on Twitter.