Student-fronted Watercolor finds home in Westwood Cafe
Both from NKU and across the river, the jazz-inspired band plays a blend of originals and pop-combo covers.
November 30, 2017
Like their namesake, Watercolor, a band of four college students, dip their instruments in a diverse palette of spacey, jazz and R&B brushstrokes at Muse Cafe every Friday night. On this particular evening, warm mugs of coffee clinked on tables in harmonic pleasure as they played to a full house.
Consisting of one NKU student (Sam Reuscher) and three University of Cincinnati students (Robert Gooch, George Drewyor and Hayden Floro), their tunes cross not only literal bridges but musical genres as well.
"The whole concept is kind of like is that we play a lot of R&B, pop tunes that people can dance to and when we're not doing that we play a lot of jazz-influenced originals," Reuscher, a music performance major, said.
On guitar, Gooch tapped his foot, nodding his head to the rhythm. His eyes were closed tightly, feeling out the notes around him. Behind, Floro played the drums with nuanced spontaneity: both steady and sharp.
Drewyor's keyboard grounded the music, at times evoking foggy melodies. Reuscher's bass infused it with slick funk. When playing as a band, Drewyor said the process can turn on a dime.
"You have to have people that understand your subtleties and the ways you're going to [play] or you need to communicate clearly," he said.
When the band first formed under a year ago–the members connected through a patchwork of musicians across Greater Cincinnati–they had booked a gig before they landed on a band name.
Reuscher thought of it during art class, and it stuck: a watercolor's diverse array of colors paralleled with the spectrum of sound they play not only during gigs, but during practice and jam sessions as well.
"In a way, we're being more selfish, in the sense that we're playing stuff we like, not necessarily being bound about it being jazz…," Drewyor said. "We go based on tunes that we think are cool. It's a group that's meant for our own personal fun.
For Muse Cafe's owner, Shawntee Stallworth Schramm, the band fit their vision for the recently opened business, a low-key place that serves coffee, wine and brews.
Schramm placed drinks and paninis by a nearby table, a silent thanks for their work. Fog rolled across the floor from a machine (it was Halloween) as they began their take on "Thriller." The city street was in plain sight: passerby pedestrians walking under streetlights, faces illuminated by car headlights and traffic lights. From outside, the music could still be heard, where patronages unwinded, some shuffling chairs around for a better view.
"They really fit in and melded to our vision for this place of what we were trying to bring to Westwood," Schramm said.
Later, they slip in another tune, this time with a honey-smooth vocalist, dripping with sentimentality. Their originals were speckled throughout, slinking across the tan walls–quick glances exchanged between members, hands unhesitant and memorized.
"It's almost like when you give something familiar to someone–like a Stevie Wonder song that everyone's heard before–the next jazz thing we play they're more likely to get into to it even if they don't know it because that energy is there."
Drewyor said that the members, who coincidentally are all members of the same music fraternity, simply gelled. The big thing with jazz, he thinks, is that they're split by the idea of expression and of creativity. While you don't want to sell out, there's a balance to strike between entertaining at gigs and asserting expression.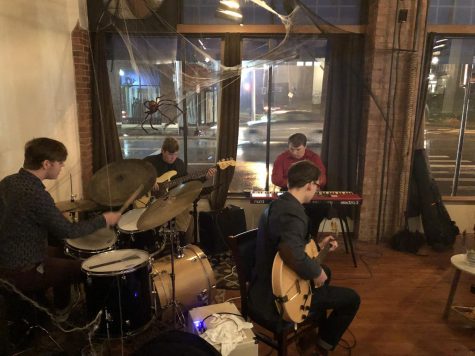 "Everybody wants to make their mark and sometimes that can get in the way of things," he said.
During a break, the bandmates laughed with another, occasionally returning to their respective instruments to tune or fiddle. They wandered to family members, significant others and friends in the crowd while munching on grilled paninis.  
Jazz musicians within the Greater Cincinnati scene have been branching out over the past few years, noted Reuscher. They are all friends. They go to late-night gigs together. If he can't hang out with you in real life, he said he feels like he can't play with you.
"Nobody wants to see anyone else fail. We're all trying to ultimately get better. We all want to go out and support each others' projects," Reuscher said.
At a table full of parents playing card games, the sound of cards slapped against the table added to the percussive wave. Both instruments and environmental sounds fused; a weekly ritual splayed out at a nook in the Queen City.
"Yeah, jazz is cool, you know," Reuscher said.
Watercolor plays weekly at Muse Cafe located in Westwood starting at 8. Peep them on Instagram, or Facebook, whatever your modern, social media savvy soul desires. Check out their music below.