Arcade Legacy's time-warping experience comes to Newport
October 22, 2017
Nestled deep in the ghostly innards of the nearly-abandoned Forest Fair Village Mall, Arcade Legacy's flagship location is a surreal oasis: a dimly-lit cavern of 16-bit nostalgia that glows with mystery.
Peek inside from the desolate food court that surrounds the store and you'll find more than decades' worth of coin-operated entertainment. Listen in: Pac-Man's familiar wocka-wocka punctuates the metallic rattle of pinball and Dance Dance Revolution's rave-inspired soundtrack.
A full day's worth of this nostalgia will normally run you 10 bucks for unlimited play, plus the gas it takes to drive up to Cincinnati's northern suburbs. In just a few weeks, however, you might be able to save a stop at the fueling station. 38-year-old store owner Jesse Baker is currently on track to open Arcade Legacy's third location in mid-November in the Newport Shopping Center, just five miles from NKU's campus.
"After looking all over the place, this place seemed like the best fit," Baker said. "There wasn't already a lot to do in this area for kids and families."
Arcade Legacy's first Northern Kentucky branch will house 50 arcade cabinets, current-gen console hits and a used-media store where customers can purchase classic games and consoles.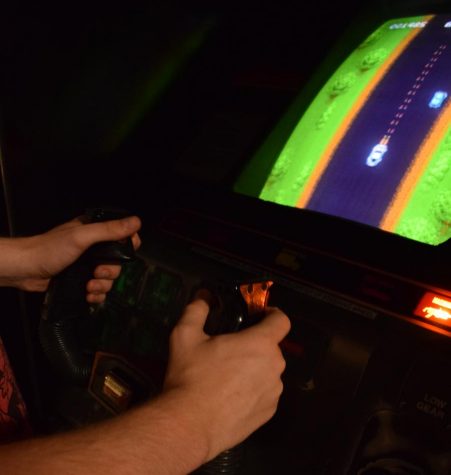 Baker and a friend founded the store–then called Arcade Legends– in 2009, setting up shop in Fairfield. Business was initially stagnant, and his business partner left the venture early on.
Baker stuck with the store though, building up a larger audience and eventually moving  to the Forest Fair mall after receiving an offer that he said was "too good to pass up."
Hosting Super Smash Brothers tournaments that have drawn up to 120 participants and selling used DVDS, games and systems, the culture surrounding the location began to grow, spawning a new store in Northside that hawks custom hot dogs, nachos and craft beers.
His gaming empire preparing to span two states, Baker still looks back fondly on his humble roots, pumping quarters into classic cabinets like Smash TV, Street Fighter II and Teenage Mutant Ninja Turtles in the '80s to early '90s. It's a tradition he's passed on to his kids.
"I raised them on the old stuff first to get that appreciation," Baker said. "My 10-year-old is obsessed with Megaman, the old games. And my 8-year-old just got Knack 2."
When he isn't playing Mario Kart with his family or competing in pinball tournaments, Baker's finding new ways to keep customers coming back to Arcade Legacy and posting these innovations to social media to keep buzz flowing.
In mid-October, he put the finishing touches on a D.I.Y. cabinet made to house Cuphead, a newer title released for PC and Xbox One that's inspired by cartoons from the '30s.
"I took an existing arcade cabinet that was broken, gutted it, put in a hi-def monitor and wired up new controls," Baker said. "It's almost the same as any other arcade cabinet, just different guts."
Japanese rhythm games with cult followings like Jubeat, Dance Dance Revolution and Museca also attract new faces to the store.
"People will come just to play those," Baker said. "They cost a lot more [than other cabinets] so they've got to be worth having."
At present, he feels that Arcade Legacy's roster of titles is solid, but there are still a few titles he'd like to add to the store that the staff has yet to come across, like the original Star Wars vector game from 1983 and Discs of Tron.
All-day passes to the Newport location will cost $10. Kids ages 11 and under will play for $6. Like the original store at the Forest Fair Mall, Northern Kentucky customers will be able to participate in tournaments and buy new and used games. More information is available at arcadelegacyohio.com. The new store is located at 1765 Monmouth Street.