The Dent Schoolhouse: From front yards to international fame
October 9, 2017
For NKU alumnus Bud Stross, bringing the nightmarish figments of his imagination to life is a process that lasts year-round. From a 14-foot tall Necromancer statue to catacombs covered in 4,000 hand-made human skulls to a haunted tin can, the horrors that populate Stross' Dent Schoolhouse are the product of a non-stop effort that just happens to revolve around the month of October.
"Sometimes, randomly, you'll be sitting at the Thanksgiving table," Stross said, "and all of the sudden you're like, 'ah!,' with the turkey leg in one hand, saying you've got this great idea and to 'write this down.'"
Climb up the repurposed schoolhouse fire escape and you'll find yourself in the central hub for demented activity: actors, costume designers and makeup artists work on finishing touches as they prepare for the nights' haunt. Further back is Stross' self-described makeshift office, adorned with a single strand of red Christmas lights, a Dent Schoolhouse mouse pad and a noose dangling from the ceiling. Off to the side, silicone horror masks sit behind glass in a display case, crumpled to menacing contortions.
Though the haunt is one of the largest in the region, attracting national and international scream-seekers, Stross began his journey of horror in his own front yard.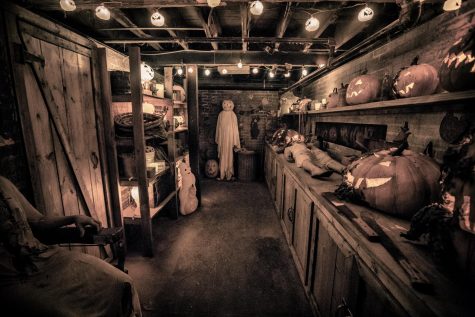 "One day, in the late '90s, when I was a kid trick-or-treating, I thought [horror] was cool, so I asked my parents if I could put a bloody dummy out front and make a monster," Stross said. "So I did that, you know, with the newspaper wads and took a flannel shirt and made the dummy. I thought it was the coolest thing ever. The next year, we carved out some styrofoam tombstones."
With each passing autumn, Stross' homemade Halloween displays grew more extravagant. In high school, he met Josh Wells, whose family also spent their Halloween seasons constructing haunts in their yard across town.
"We had this bromance," Stross said. "We decided, like, 'this could be fun for us to do for a living–let's own a haunted house.' So, that's exactly what happened."
Stross' father, who contracted the same case of the "Halloween Bug" that infected his son, joined in the venture. While searching for haunted real estate, Dent's three future owners were introduced by a family friend to the schoolhouse, then owned by the Boy Scouts, who were looking for buyers.
"The scouts used it as a charity haunt," Stross said. "It used to be called 'The Haunted House.' It was your typical black walls and moving monsters [type of attraction]. We took it over twelve years ago and wanted to make something unique for the tri-state."
His freshman year at NKU was the first year that he–alongside his Father and Wells– was an owner of Dent Schoolhouse; between classes and homework, Stross manufactured spooks and started a business that would eventually see 30,000 people circulate through its doors each season and employ about 140.
With the purchase of the schoolhouse came an opportunity to turn the building's sinister backstory into creative inspiration.
"We found out that there was this legend of a murderous janitor," Stross said. "I thought– 'how are they not using that?'–and decided to final coin a name for [the house] and make a brand."
T H E  E V O L U T I O N
After Wells and the Strosses purchased Dent, the architecture of the rickety structure began its growth from a generic, monster house to an elaborate themed haunt complete with animatronics up to $20,000 that walk, crawl and grasp at guests who dare to enter.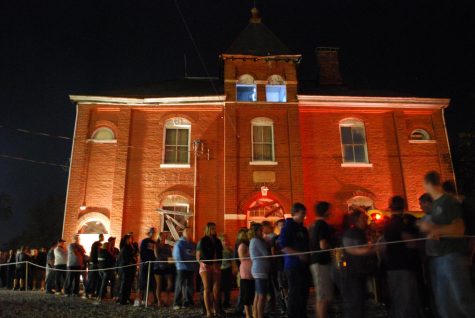 Projected ghosts swirl on the walls as figments of cockroaches scurry across the floors. In terms of the prop he's most proud of, Stross said it was difficult to say.
"You roll the dice. You think something's going to be cool and every once in a while you'll buy something and say 'Oh my god, that's so awesome' and find out that the crowd thinks that the neatest thing was a talking bean can."
Last year, he challenged his staff to create the monstrosity, which is placed in the pantry. Reminiscent of Wet Hot American Summer's talking mixed vegetable can played by H. Jon Benjamin, Dent's wisecracking version is rustier and grimier than its counterpart.
"Out of all the thousand dollar props we have and all the cool things," Stross said. "I'd have to say it's a simple bean can prop that's one of our neatest things."
With bigger-budget scares came a larger fanbase.
"We usually have people who've come from three hours away," Stross said. "We're starting to get people from seven hours away. We see somebody from about every state by the end of [the season]. We've also started to get international visitors, which is really crazy."
The media's taken notice, too. Over the house's 12-year history, it's been featured on Travel Channel series like Halloween Crazy and Toy Hunter, has appeared on Buzzfeed and earned a position on Forbes' 2014 "Best Haunted Houses" list.
With a new season comes new creatures, props and yes: smells. As you tread through the schoolhouse, Stross said their hopes are that the experience goes beyond the visual and taps into all senses
These new smells include fresh dirt in the catacomb, a scorched scent in the Freddy Krueger-esque boiler room and cotton candy among the clowns.
B E H I N D  T H E  M A S K S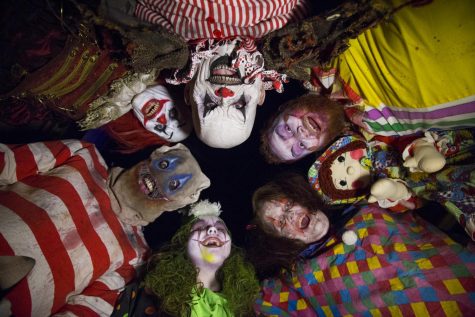 Maximus Bryant is a hockey fan, a multi-instrumentalist, an enthusiastic member of his church and one of the many macabre characters that lurk among Dent's halls.
A three-year schoolhouse veteran, Bryant seems to have been destined to become a member of the haunt industry. He was born on Halloween night, and ever since then the spirit of the holiday has always been a major part of his life.
"I've always had a huge fascination with Halloween," Bryant said. "I used to live in Springfield, Ohio, and when I lived there, I used to have a yard haunt. It was free of charge–a fun thing for the community. I did that for three years."
When Bryant came to the Cincinnati area for a job, he decided that he wanted to work for a professional haunt. Though he considered applying for other local attractions like the USS Nightmare and Land of Illusion, it was the house's lore that piqued his interest.
"There was the legend of Charlie the janitor, who had killed all these kids. That led me to look up all these Youtube videos that talked about the legend," Bryant said. "There's so much content out there about the Dent Schoolhouse that I became hooked. I said, 'I have to work for this haunt.'"
Since becoming a member of Dent's crew, it's the schoolhouse's family-like atmosphere that's kept Bryant coming back for three years.  
In the offseason, the staff goes out to bars for karaoke to boost camaraderie. In October, they enjoy a free meal every Saturday, which gives the actors a chance to exchange "war stories": recounted tales of the shift's best scares.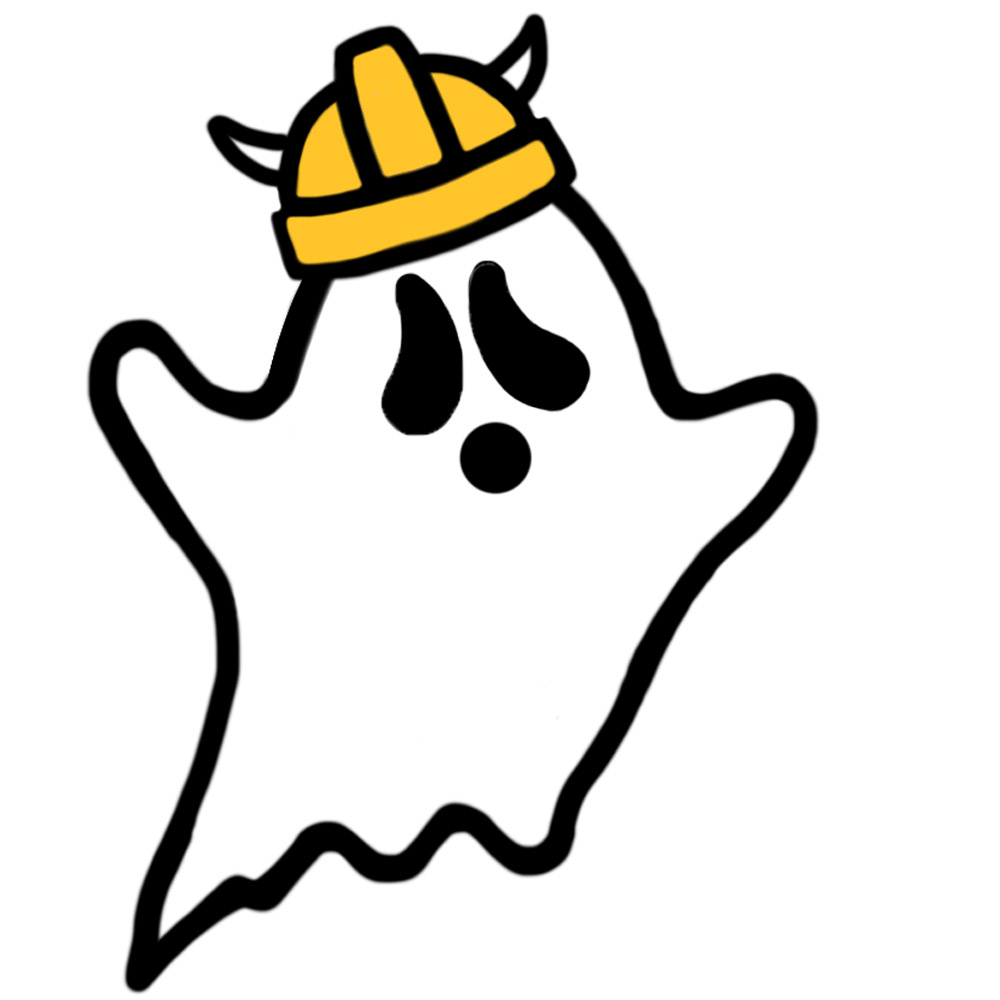 "It's a very friendly, welcoming group," he said. "It's great to become part of it. As soon as the season ends you can't wait for it to be done. It's exhausting. It's tiring–more physically demanding than a lot of people think it is. But by the time January rolls around, you're extremely anxious to go back to it."
Between seasons, Dent employees attend team meetings and haunter's conventions. Auditions and training take place in August, about two months before the haunt officially opens to the public.
"The owners themselves change about a third of the haunt every year," Bryant said. "The actors start getting excited about, like, 'what's going to be new? What are the new scenes? Is this something I'd want to go for?' Maybe they'll even try to make their way up to be a character that's more well-known like Charlie or the Pumpkin Smasher."
In the past, Bryant's played a chainsaw-wielding man in a pig mask and a cannibalistic butcher. This year, he'll assume the role of one of Charlie the Janitor's assistants. His character doesn't have a name, but he's one of the last you'll see walking through the house–that is, if you're brave enough to find your way to the exit.
2 0 1 7 :  T H E  Y E A R  O F  T H E  C L O W N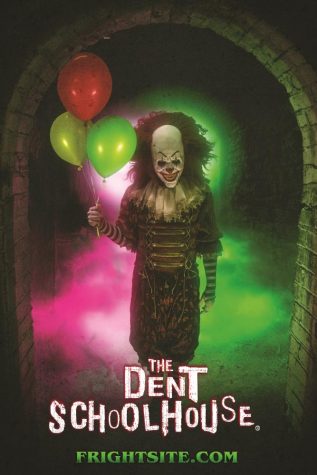 Last year, when news began to emerge of menacing clowns standing near rural roadways, Stross began to see a trend. The arrival of Stephen King's It solidified this notion, and thus clowns at Dent Schoolhouse were resurrected.
This year, among the usual ghoulish residents of the haunt, clowns will be in on the scare. Though your first instinct may be that Stross' team was inspired by Stephen King's It, the carnival-esque creatures closely represent that of cult classic Killer Klowns from Outer Space. In terms of adhering to Dent's tight theme, Stross said they landed on shaping the clown narrative around a PTA funfest.
"We're putting on this festival that has clowns in the gymnasium," Stross said. "We have these eight feet tall monster alien clowns, clowns that are ripping off their faces, cotton candy cocoons–pretty much any clown anyone could want in the genre we put it in there."
Looking toward the future, Stross said they have to keep up with pop culture to stay relevant to their audiences while adhering to their tightly woven theme.
Want to get into the spooky spirit with Dent Schoolhouse? They're open every weekend throughout October, ending the first weekend of November with a 'lights out' showing. Tickets range from $20 (general admission) to $50 (front of line admission). Free parking is available nearby at the nearby Cinemark, or you can drop $5 for parking across the street. Pro-tip: cash only (unless you pay online in advance). Never fear, however, ATMs are on-site.