Midpoint molds OTR into cityscape of sound
Since its conception in 2001, Midpoint Music Festival has brought together both local and internationally known acts.
September 27, 2016
Genres pooled together between four stages, sound traveling through vape clouds and the smell of spilt craft beer, as artists both international and local performed at Midpoint Music Festival throughout the weekend.
The Sept. 23-26 festival amassed a congregation of characters as diverse as the bands playing, from dads with Skyline coneys and beer in hand to young adults fashioned in a punk-rock aesthetic, donned in distressed jean jackets and band tees.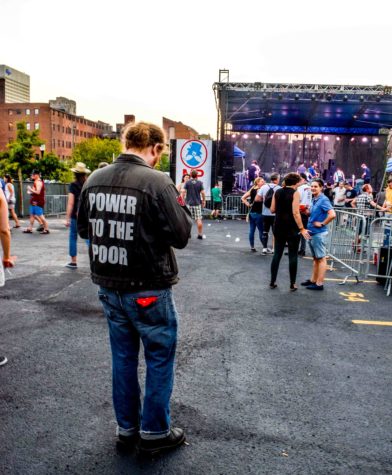 Since its conception in 2001, Midpoint Music Festival has had venues scattered across the city, creating a musical safari of sorts for attendees. This year, according to the comprehensive guide released by the festival, it was centralized to two blocks in the Over-the-Rhine district in Cincinnati.
Across these four stages, 75 bands in total played over the weekend.
For those outside the designated concert area, some have chosen to take to the trees for a view. Live for the music, man. @northernermedia

— Mackenzie Manley (@MackieManley) September 24, 2016
Though this tweak was not met without controversy, condensing the festival to two blocks allowed for easier access as well as admittance to those under 21 for every concert.
WNKU was one of the sponsors of the event and had its own stage along with Skyline, Central Parkway YMCA and Eli's BBQ. The fourth stage, Eli's BBQ, was open and free to the public.
"A lot of the bands we know our listeners love and the station loves," said Christa Zielke, WNKU staff member. "It's been a great festival for the city for many years, and it has changed this year, but we're still happy to support it."
The festival was bought from its founder in 2008 by CityBeat, a Cincinnati-based entertainment publication.
In the depths of the crawling city life, flanked by pastel residential buildings and high-rises, Zielke walked onto the WNKU stage to introduce Virginia-based lo-fi indie rock outfit Car Seat Headrest, fronted by a dark-haired Will Toledo.
"We're happy to be here," she shouted as the setting Saturday sun dusted the blacktop lot where the stage was stationed, "And we hope you're happy too!"
Supporting the locally-grown festival for Zielke is a pleasure as a staff member at the radio station, whose tagline is "Discover music."
"We like to open up our members-only tent so we can thank our station's members in every way possible," Zielke said, adding she got to meet one of her favorite artists, Bob Mould, who performed Saturday afternoon. "We provide [members] with some beers, they get to meet some of the artists and it's a lot of fun."
This was the highlight of my weekend. @bobmouldmusic @WNKU @MidPointMusic #myjobrules pic.twitter.com/ZyiCEIFEOJ

— Christa Zielke (@Christa76) September 25, 2016
WNKU wasn't the only local outlet to show up at the event.
In a sea of food trucks and merch tables, CincyMusic.com was stationed. The music entertainment site provided attendees with free magnets and camouflaged koozies emblazoned with the state of Ohio and the slogan "support local musicians."
"It's what we do," said Courtney Phenicie, editor-in-chief. "We support local bands and help them help themselves."
The website helped Midpoint Music Festival format their app as well preview several of the bands performing.
"The website is awesome because all the local bands have features when they have acts, and articles will be written about them," said Tom Green, volunteer at CincyMusic. "If they have shows around here, a lot of times photographers will show up to take pictures that will be put on the website. They don't have to pay, it's free press."
Part of midpoint, the duo agreed, rests in showcasing local musicians as well as smaller, more unknown artists. Though national acts such as the folky Band of Horses, draws a crowd, many come to experience bands close to home and under the radar.

Performances from local artists included SMUT, Animal Mother, MULTIMAGIC, Us Today and Knife the Symphony.
Taking the Eli's BBQ stage on Sunday, Abby Weems of Potty Mouth, an all-female punk band with a 'riot grrrl' attitude, told the crowd that the band was grateful for the opportunity to perform at the festival.
The trio wished that their own city in Massachusetts had a festival such as Midpoint Music Festival, where local and non-local, known and unknown are sandwiched together, oozing with sight and sound.
At night, as the sun slunk into the horizon and the stage lights permeated through the city streets, the sound of band performances snaking throughout the blocks of OTR, attendees swarmed across the multiple stages before trailing back to their respective abodes.