GALLERY: More than a bomb dog
K-9 Arritt serves campus for 3rd year
September 5, 2016
The four-year old German Shepherd, dusted with tan and black fur, sat at attention. His pointed ears were perked as his gaze steadied towards his handler, who reached for a neon yellow tennis ball in his pocket.
The canine, calm in demeanor, was practicing what he was trained to do: sniffing out explosive materials. Guiding his owner to a black trash bin, K-9 Arritt pointed his nose towards the bin and looked up expectantly at Officer Jonathan Murray, his partner and handler.
Inside the bin, Murray had planted a small silver metal box that concealed smokeless black powder. Scratching behind Arritt's ears, Murray offered the tennis ball as a reward.
Arritt pawed at the ball before clutching it in his jaws, breaking his attention and serious stature. Slobber oozed through his teeth and slowly dripped from his mouth,  eliciting a chuckle from Murray.
Murray said Arritt's entire training rests on the tennis ball. Without it, the training would be void.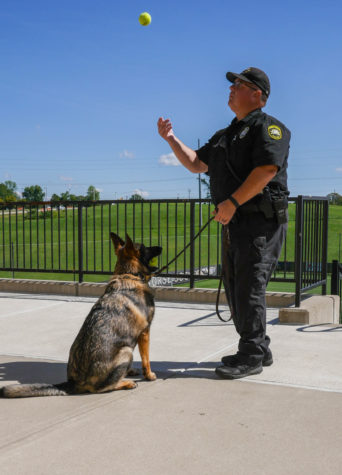 The training itself is called imprinting, a process in which the canine at hand is trained to detect various scents.
"They'll bring an odor in and they'll put it in a cinder block. He's brought in and he's given the command to seek. Once he smells it, I tell him to sit and reward him right away with a ball," Murray said. "You bring him back in and see if he sits with the odor. What he does is match up the smell with the tennis ball, that's how he's trained."
Thus far, K-9 Arritt has been trained to detect 16 distinct odors, and Arritt searches for each scent when he is on duty.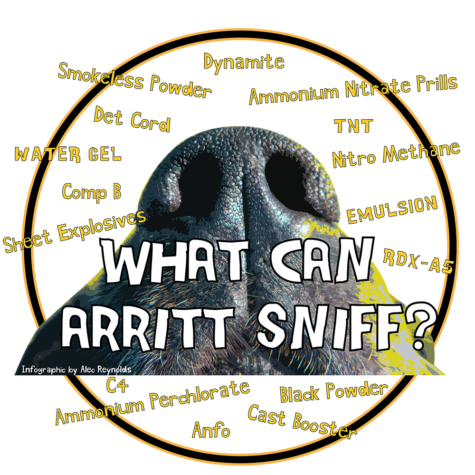 Alec Reynolds
Originally born in Czechoslovakia, Arritt was given to the university on a grant from Homeland Security. NKU is one of the three schools in the region who have a K-9 unit, the other two being the University of Cincinnati and Miami University.
Miami employs one canine officer, K-9 Figo, who took over after the retirement of K-9 Ero in 2013, according to the University's website. Figo, like Arritt, is a German Shepard. The University of Cincinnati currently has two Labrador retrievers in their K-9 unit.
Despite the serious job of sniffing out possible bomb threats and explosive materials, Murray said Arritt is a softie at heart.
"I like to say he's a big baby. He's great on campus and people approach him and people ask if they can pet him, of course," Murray said. "He loves to be petted and loves to have his belly rubbed. He's just a great dog. His personality is wonderful."
At home, Arritt sleeps in Murray's room in his own bed complete with his own blanket. He shares the house with three other dogs, which range from a husky to mixed breeds, and Murray's children.
Despite how well he fits into his life, Murray admits he was wary at first to take in Arritt at first, after his previous owner, officer Todd Streitenberger, passed away in May 2015.
Murray and Streitenberger had been friends and colleagues for 25 years. Both previously worked as airport police as well as officers on NKU's campus.
After his death, the team didn't utilize Arritt for two months, and they considered donating him.
At this point Murray admitted that he just had to take him in, especially after they ran into problems donating him elsewhere.
"I was very wary about taking him because I've been in law enforcement 25 years and I'd never done canine," Murray said. "It was sort of scary stepping into something I had never done after that long in the profession, but I'm glad it did it."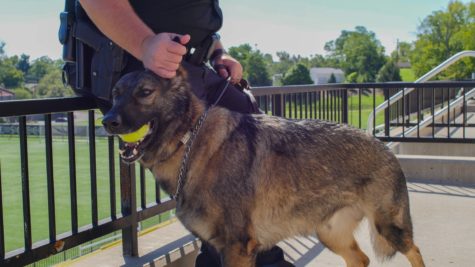 Arritt has not only changed handlers but has served the university through three police chiefs starting with Chief Wilson, Chief Kachurek and currently with Interim Chief Gaffin.
Arritt trains alongside units stationed at UC, Hamilton County and Cincinnati. Together the seven-man team covers 13 counties, stretching from Northern Kentucky to Indiana to Southwest Ohio. Over the last year they've responded to over 20 bomb threats at different schools in the region.
Arritt stayed close by Murray's side, hardly barking, a tennis ball planted firmly in his mouth. "He's spoiled", Murray said while rubbing his back, "but that's a good thing."