Wallows heads to Newport Kentucky this weekend
June 7, 2022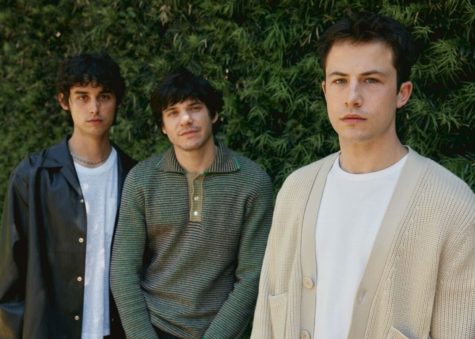 Wallows, made up of members Dylan Minnette (rhythm guitar), who you may know from the Netflix series 13 Reasons Why,  Braeden Lemaster (bass guitar) and Cole Preston (drums) make up this young Los Angeles-based alternative band. Formed in 2017, these childhood best friends have slowly taken over the alternative music scene in the last five years. With hits such as "Are You Bored Yet" and "Pleaser,"  Wallows have made a name for themselves and are embarking on their first world tour this year. The band will be making a stop in Newport, Kentucky on June 11 at PromoWest Pavilion at Ovation. 
Wallows sat down with The Northerner a few weeks ago to answer some questions. 
Zayne: How has tour been going so far? 
Braeden: It's been great. We are happy to be back on the road after all this time. 
Zayne: I want to congratulate you guys on the release of your sophomore album Tell Me That It's Over, it's been almost two months if you can believe it. This is your first big release since the pandemic and Nothing Happens in 2019. How do you guys feel about this release and why did you decide to release it now? 
Braeden: I feel really good about this release. It's the kind of thing where we wanted to make an album pretty much right after Nothing Happens, but obviously the pandemic happened and we couldn't make it for a lot longer than we wanted to. But, once we got the green light to go to the studio and got to put this thing together, it happened very quickly and very organically. I'm very happy with the way the songs turned out. We had a different approach than we did with the first album. This one is more of a collective/collage of different songs and sounds, whereas the first one was more cohesive in a sense – not that this one isn't – this one we were just more relaxed with the approach to it.
Zayne: How do you feel like the past 1-2 years in a pandemic have shaped your journey as artists? 
Cole: When the world started spreading the news of the pandemic I think everyone in music, especially touring artists were thinking "Oh no what are we going to do right now?" We had to cancel shows and tours were not happening. There was this moment of how are we going to use this time that we have all of the sudden. For us as Wallows, our song "Are you Bored Yet" just so happens to say the words "bored" and "stay at home" in the lyrics. We didn't have a crystal ball when we wrote that song, that was just a complete coincidence. I don't know if anyone ever directly acknowledged that in relation to the pandemic, but maybe subconsciously, those words were reverberating true for a lot of people. So yeah, it caught on and we were sitting at home and going online and seeing numbers grow and change. It didn't really feel real because we were not seeing any of this happen in front of our faces. This tour that we are on is kind of the first time that we've been able to actually digest how our career has changed since the end of 2020 and it's been great! The past few years have been super wild, not only for the entire world, but in the Wallows universe specifically. 
Zayne: Have you had any "I've made it" moments this tour? 
Dylan: Every moment on tour is sort of an "I've made it" moment. The fact that we get to sort of leisurely live on our buses and play to such big amounts of people and have them sing every word. To young us and early Wallows, this is exactly what we have always dreamed of ever doing. I mean do we still see growth in our future, of course. We want to keep growing for sure. I don't think we've made it to the end point, but even if this was, we are super super thankful and pleased with where we are at. We definitely don't take it for granted.
Zayne: I know Braedan and Dylan, you are both from the Tri-State area. Do you feel like growing up, you felt like midwest kids or do you feel kinda detached from that after living in LA? 
Braeden: I moved to California when I was 9 but I still went back a lot. I grew up in Ohio, but it's hard for me to tell. I feel like my environment didn't really change. I guess I feel more like a midwestern kid, like I used to say pop instead of soda. And apparently, people have said that I have a midwestern accent sometimes and I don't even know what that means but I guess I understand. 
Dylan: Sometimes I'll say something and I'll be like, "Did I just sound midwestern or southern?" Honestly in Indiana growing up, the accent is sort of blurred into a southern accent to me. When I'm back in states, even like Georgia, when you are driving through places that are so vast and flat with green trees, it just reminds me a lot of the midwest as well. There's definitely a lot of nostalgia to me when I come here. Braeden and I have spent the majority of our lives growing up in Los Angeles; LA definitely feels like home and I feel most comfortable there. But still, it's definitely deep in us, and brings back memories. It's funny, I come back here now and after living in such a different climate, I don't know how I used to deal with the humidity and harsh weather. 
Zayne: So this will be your first time in Cincinnati, correct? 
Dylan: We've played Columbus and Cleveland but never Cincinnati, so I'm excited to come over there.
Zayne: So the venue you all will be playing at, PromoWest Pavilion at Ovation, is just over the river in Newport, Kentucky. Ovation partnered up with two local businesses, Carabello Coffee and Dojo Gelato nearby to make you all a special latte and ice cream flavor for you to try when you come. 
Dylan: Oh sweet, we can't wait to try it! Love me some cold brew, love me some caramel, love me some non-dairy milk, I'm so there. 
Zayne: So this next question is for Cole since I left you out on the last one. I asked your fans on TikTok if they had any questions and I got this one several times. In the track by track for your song "End of the Day" you said that you got Taco Bell after writing the song. What is your go-to Taco Bell order?
Cole: I remember so well the beautiful time of day and the imagery of that day at Taco Bell. I probably got a crunchwrap. At the time, I was vegetarian so I probably subbed potatoes for beef, which is bomb if you've never tried it. In non-vegetarian times today, I would probably order a cheesy gordita crunch. 
Zayne: What advice would you give to your 18-20-year-old selves in relation to music and your careers? 
Dylan: That was right around the time we were starting Wallows.
Braeden: I'd probably say don't overly think about what other people think of you.
Cole: Yeah that's good, it's easy to get caught up in people's perception of you but ultimately us worrying about how people have received us has never changed anything in our career or life. If I look back, I don't remember a time that made a positive difference. 
Zayne: Last question, I feel like I have to ask this for the fans. Have you listened to Harry's House at all? 
Dylan: I checked it out, I think it's my favorite thing he's done. It's the first time that I've been like,  "I get this now." I'm on board, I think it's cool. I really like "Daylight." I think it's a good song and I've warmed up to "As it Was," once I heard it on the album. 
You can buy tickets to see Wallows this weekend at PromoWest Pavilion at Ovation here. You won't wanna miss this!