REVIEW: 'Maleficent' sequel fails to capture magic of the original
A frustrating example of wasted potential
October 17, 2019
"Maleficent" was a surprisingly fresh take on a tale as old as time, as the fantasy epic about the legendary fable of Sleeping Beauty surprised both critics and audiences when it debuted in 2014. While not perfect, "Maleficent" is still regarded as one of the best live-action remakes Disney has produced, so it's no surprise that Disney opted to launch a sequel. Whereas the original was anchored by a magnetic performance from Angelina Jolie as Maleficent, "Maleficent: Mistress of Evil" relegates her to a background character in her own movie, and the film suffers because of it.
Angelina Jolie's portrayal of Maleficent, Guardian of the Moors and godmother to Aurora (Elle Fanning) is the most exciting thing the studio has done with any of their live-action remakes. Her electrifying performance as the titular character in the original film held the movie's seams together when the writing wasn't up to snuff, simply because watching Jolie be given free rein to take over every scene was a lot of fun.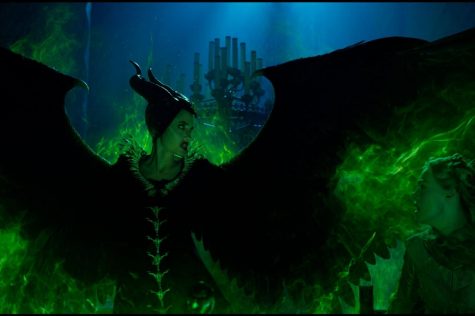 So when Michelle Pfieffer—who, like Jolie, is a once-great '90s actress who disappeared from the screen for a time—was announced as the sequel's villain, it was easy to speculate that the two actresses together on screen would result in plenty of great sparring moments. Pfieffer plays Ingrith, the queen of the kingdom neighboring the Moors, and mother of Prince Phillip (Harris Dickinson), who Aurora has planned to marry. 
Unfortunately, the moments with Pfieffer and Jolie both on screen are few and far between, and the film's best scene features the two quarreling while sitting at the dinner table. ("If I didn't know any better, I'd think that was a threat," Pfieffer's character exclaims. "Do you?" "What?" "Know better," Jolie's character says.)
The majority of the two-hour movie focuses on Queen Ingrith's plan to take over the Moors and kill all fairies living inside it. However, it quickly devolves into various, less interesting storylines filled with more CGI than dialogue, including a scene featuring Maleficent flying through the skies with other dark faeries that's ripped straight from James Cameron's "Avatar," a not-so-subtle Holocaust metaphor—seriously, fairies are locked in a processional chamber which is then filled with poisonous gas that instantly kills them—and a war scene that is essentially a family friendly version of the Battle of the Bastards from HBO's "Game of Thrones."
The opportunity of seeing two Hollywood stars duke it out on screen being squandered in favor of a generic, visual-effects heavy story that has been told a thousand times makes this film more frustrating than if it had simply been bad. The story's potential is wasted to showcase thousands of animated creatures that, while well designed and executed, are nothing that hasn't already been showcased in any other fantasy movie from the last five years. Disney super fans will likely enjoy this one, but others will walk out of the theater frustrated at what could've been a great sequel. This is one fairy tale you shouldn't waste your time hearing about.
1.5/5
Tickets to an early screening of this film were provided to The Northerner by The Owens Group.