Review: 'Losing Sleep' tour countrified BB&T Arena
January 20, 2018
My dad introduced country music to me when I was a little kid. The radio in our garage would blare the Indiana's Eagle 99.3 as he worked on various tasks. On our fishing trips to Kentucky Lake, the old, beat up radio in our Triton boat played the southern drawls of older country music artists I didn't know, and some of the popular artists of the mid-2000s–like Kenny Chesney and Toby Keith.
 The artists have rough, gruff voices that don't need to be autotuned to sound great. Of any genre, country artists have the most original storytelling ability. The banjos, fiddles and steel guitars provide a unique sound that brings forth exciting ballads and anthems, as well as sad songs that make you think of better times both in your personal life, as well as in the world. 
While country music on the radio seems to be moving away from the traits that made it great and more towards party anthems, live country still brings out the genre's best  and provides some of the elements of the classics, showcasing their natural talents.
Chris Young and The Losing Sleep World Tour entered a sold-out BB&T Arena Thursday night, alongside rising stars Kane Brown and the band Lanco. The 32-year-old from Murfreesboro, TN released his seventh studio album, Losing Sleep this past October. In 2011, Young was named Breakthrough Artist of the Year during the American Country Awards and won Single of the Year for his song "Voices". In total, eight of his singles have reached number one on the country music charts since 2007. His single "Tomorrow" became a platinum selling single in August of 2012. His last tour was the I'm Coming Over Tour in 2016.
While NKU traffic was brutal as ever before the concert, every seat was filled by the time Brown took the stage as the middle act. The crowd raised their hands and beers high in the air through every performance; most in the floor seats and lower bowl stood through the entire concert. Others on the floor migrated to the aisles so they could have more room to dance along. 
Chris Young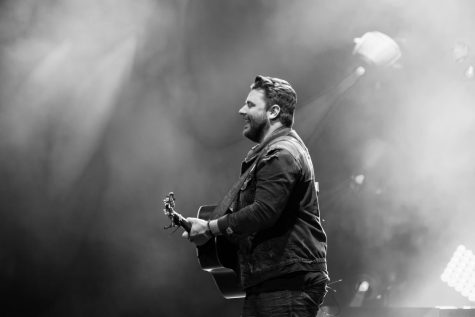 Though I've seen big-time country artists in the past–Thomas Rhett, Jason Aldean, Zac Brown Band, Dierks Bentley, to name a few–no one brought the pure joy to the stage like Chris Young did on Thursday.
Young hesitated after finishing several songs to soak in the applause from the raucous Northern Kentucky crowd. "This is badass," Young said at one point.
Before performing his rocking song "Aw Naw", he discussed that a band member was late to an event because they drank too much tequila.
"Allegedly it was me… It was me," Young said chuckling.   
The performance started with his new passionate single "Losing Sleep" followed by "Gettin' You Home". This was followed by soulful performances of his hits "Voices", "Lonely Eyes" and "Who I am With You".
Whether he was playing his guitar or just singing, Young was fully engaged in his performance and with the emotions of the crowd.
One of the best moments of the show was not performed by Young, however. As an introduction to his song "Neon", Young exited the stage and allowed his steel guitar player to perform a solo for several minutes, channeling the mournful, twangy cries that made classic country music so great.
Any modern country music artist who uses a steel guitar in their act are winners in my book.
Young's mother was also in attendance, and at her request he played an acoustic version of "I Thought it was You", originally performed by Doug Stone in 1991. He continued with an acoustic version of "The Man I Want to Be" before welcoming his band back to the stage.
Young is a passionate, joyful and versatile performer. You worry when you go to concerts that the artist won't sound like they do on their albums. But, he sounded exactly like he does on the radio and his ability to switch between slow acoustic songs and rocking anthems make him one of the best performers I have seen. In the country music world, Chris Young is underrated.
Kane Brown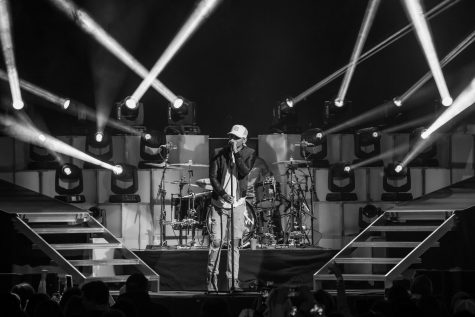 Kane Brown took the stage prior to Young. Brown is a rising star and was the first artist ever to reach number one on all five Billboard country charts. The 24-year-old from Chattanooga, Tennessee brought together elements of rock and hip-hop to his performance on Thursday night along with his low rumbling voice.
Brown seemed more laid back on stage than Young or LANCO. He seemed "cool" on stage, much like a hip-hop star would seem.He was able to connect with the audience, including sharing details on his struggles growing up. Brown revealed to the BB&T audience that as a child, he was abused, bullied and as he grew older, faced racism.
Brown then performed his song "Learning", textured in notes of hip-hop and highlighted his struggles. He toured the floor, high-fiving, shaking hands and even hugging a little girl being held by her mother.While he performed his hits "What Ifs", "Used to Love You Sober" and "There goes my Everything", he performed a mashup of the songs "Billionaire", "Miss Jackson" and "Over My Head", showing off his musical versatility and some subtle dance moves as well.
While Brown didn't dance around as much or was as expressive as his tour mates, his band brought the energy that made this a good and enjoyable performance.
LANCO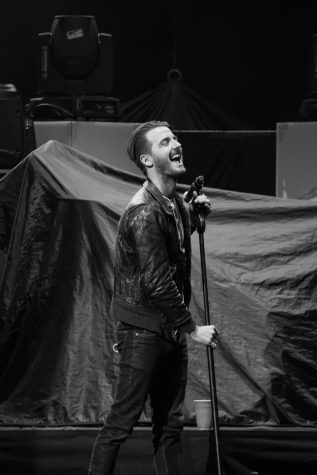 I didn't know that much about LANCO before arriving in BB&T Arena on Thursday. I soon found out however that the band from Nashville are country rockers and bring a ton of energy to stage.
They were undeterred by the late arriving crowd (who no doubt got caught in the brutal NKU traffic), playing and singing as if the arena was completely full.
Much like Young, lead singer Brandon Lancaster brought energy and joy to the stage. He was more of a rocker than Young, rounding the stage throughout his six-song set. After the second song, "Troublemaker", Lancaster announced the band was releasing their first studio album, Hallelujah Nights, at midnight and those in attendance would have the opportunity to buy the album and meet the band after Young performed.
During "Singing at the Stars", Lancaster grabbed a drum and some sticks and headed down to the floor, where he sang as well as played around the fans and led the crowd in song. Lancaster was very interactive with the crowd and while on stage, shook hands with those who were at the railing close to the stage.
LANCO finished their set by playing their number one hit, "Greatest Love Story".
LANCO was a fun, active band (with a steel guitar) and I believe they will continue to rise and will eventually be stars in the country music industry.