Technology changing the future of music
April 8, 2014
If you picture a music student in front of a keyboard, you might envision an electric piano-like instrument. With the current development and progression of music technology courses at NKU, a computer keyboard is also gaining traction in the music department.
Eight prospective students have auditioned for a bachelor's in music with an emphasis in music technology or audio production. Those two emphases will be implemented this fall.
William Brian Hogg, assistant chair of the NKU Department of Music, is eager to see this developing, after first submitting his proposal for the emphases in 2012. According to Hogg, the courses offered under those disciplines will give music students skills to broaden career opportunities.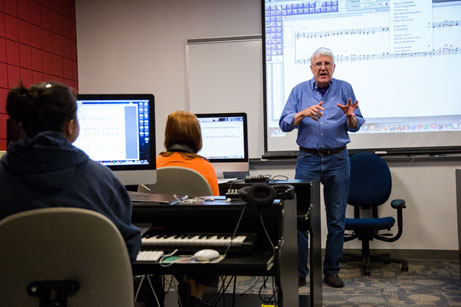 "It's for a musician who wants to do anything besides teach or play professionally," Hogg said.
There is an introductory music technology class at NKU. Currently, a requirement for all music majors, it fuses together students' knowledge of key signatures and rhythms with digital audio workstations, or DAWs like Garageband and Logic Pro. Hogg says the main idea with that course "is to give students a general overview of music technology."
Thomas Jordan is the instructor for that class. He believes that technology is important for not only recording music, but also distributing it via the Internet.
"You're going to be wanting to get your material on a webpage," Jordan said.
Even though the recording of electronic music distinguishes it from music recorded in more traditional ways, Jordan doesn't find there to be any severe stigma attached to it. He makes note of the increasing visibility of it.
"Everywhere you turn the sounds that all of us are hearing on TV, in a movie, on the radio, on the Internet, it's loaded with all kinds of electronic sounds," Jordan said.
Chris Meeks is a senior music major enrolled in Jordan's class. As a trumpet player, Meeks has found music technology to be very beneficial to learning different techniques and tools for recording music, such as combining multiple tracks, working with audio dynamics, and using loops in music.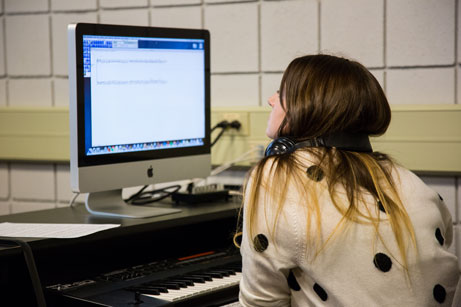 "I think it's very useful," Meeks said. "We should probably have it required for maybe the first or second year of music students."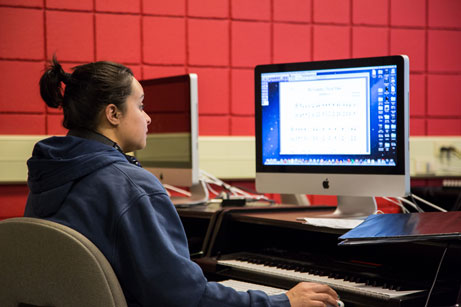 The new programs that have been developed are based on music degrees from other universities, such as University of California, Berkeley, Belmont University in Nashville, and Full Sail University in Winter Park, Fla. Though Hogg says there is some overlap with the courses, music technology and audio production aren't exactly the same.
"[Audio production students] get more in depth with working at a board, like engineering-type things," Hogg said. "[Music technology students] are going to get more into electroacoustic music and computer applications."
As students work their way toward a degree and prepare to graduate, Hogg believes their career success will largely be determined by versatility.
"If you're not diverse, you're not going to be successful," Hogg said.