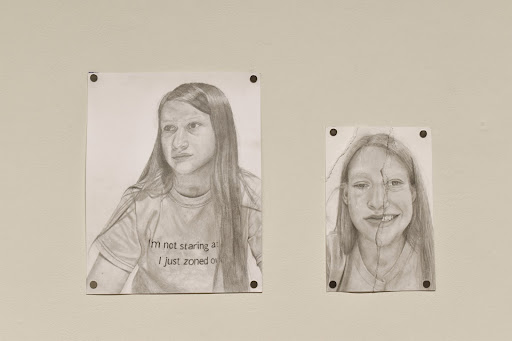 Haylee Vallandingham: Called Mirrored (hand & mirror), Zoned Out (side profile), and Fake Smile (portrait)
Freshman VCD major Haylee Vallandingham completed the application to the exhibition with the expectation of not getting in. To her surprise, 3 of Vallandinham's pieces were featured in the exhibition alongside many upperclassmen.
Because the exhibition is for everyone, it gives students of all educational standings at NKU the chance to be featured and get the word out about something important to them. 
Vallandingham used the exhibition as a way of sharing her personal experiences with ADHD and educating others about how she feels daily. 
"These different things are something I have dealt with since I was very young and it's something that others can relate to," Vallandingham said. 
Originally, the 3 pieces featured in the exhibition were all part of an 8 part series that depicted different aspects of ADHD and her struggles. She chose her strongest pieces and the ones that she hoped would resonate the most with the audience. 
Her piece Fake Smile demonstrates how she feels as she masks the pain she feels inside and pretends that she is okay. In this piece, she paid close attention to the order of the torn pages, as she placed the smile over the sadness. This goes to show that she puts on a fake smile, as the name suggests.
Zoned Out was staged using the help of her friend, as she made sure to angle the shot as if she was zoning out in everyday life. Vallandingham noted that she often zones out and replicates the shirt in the picture to reflect the title. 
The 3D piece, Mirrored, reflects Vallndingham's personal challenges with body image and overthinking.
"It's about how I view myself sometimes, focusing on the negative things about my body rather than the positives. It is like looking into a mirror and staring at myself and judging everything I do," Vallandingham said. 
All pieces work as an educational experience for viewers and the chance to communicate how an artist truly feels through art.