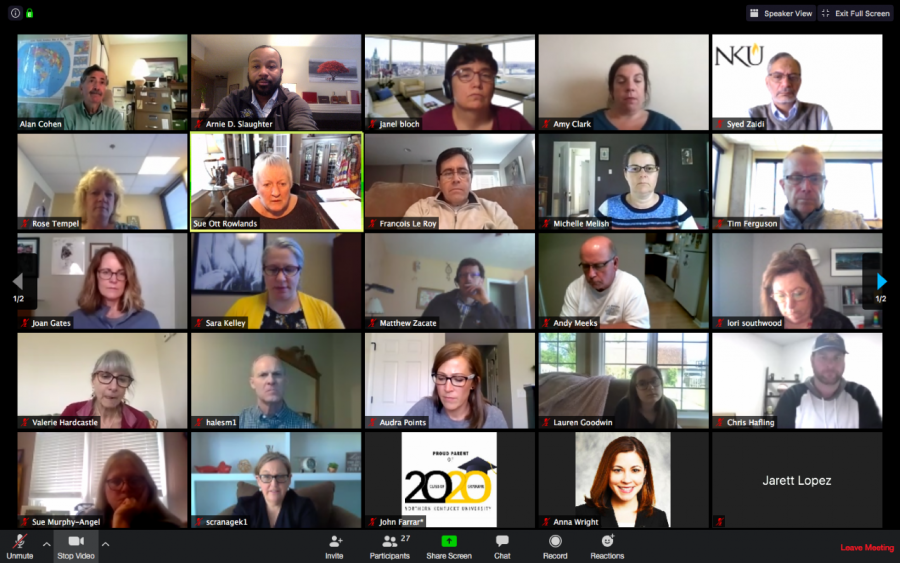 Provost Sue Ott Rowlands: Leading a campus through COVID-19
"Does anyone else have something to bring up? Any questions?" NKU Provost Sue Ott Rowlands asks in an empty room. On her computer screen, twenty-five pairs of eyes blink back at her. She always ends the daily Zoom meeting like this, giving a final chance for any member of the COVID-19 Preparedness Team to offer any comment or suggestion. This time, no voices crackle from her speakers. 
As soon as Rowlands ends the meeting, there's another one waiting in her queue. And another. And another.
"It is a day full of Zoom meetings and conversations," Rowlands said when describing her daily routine.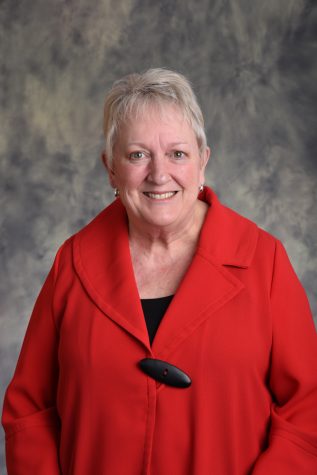 According to Rowlands, she has been an active leader in NKU's response to the COVID-19 epidemic since day one. In February, she was tasked with creating a task force to monitor coronavirus developments in the world. At the time, she did not anticipate just how significantly the virus would come to play in campus operations
"Almost overnight, [COVID-19] shifted from being something that people were dealing with on the other side of the world to something that was really going to impact our students and our community," Rowlands said. 
As cases of coronavirus began increasing in frequency and proximity, Rowlands' leadership became even more vital to NKU's community. 
The COVID-19 response team has made several recommendations to NKU President Ashish Vaidya's cabinet: cancelation of study abroad programs, the transition to online classes for the remainder of the spring semester and a pass/fail option for students, among others. 
According to Rowlands, the team has approximately 25 members, who are each assembled into nine work groups to focus on different aspects of the university. When the team has drafted a recommendation, Rowlands takes it to the president's cabinet for university approval and implementation. 
At the beginning of the pandemic, the work was like a whirlwind. The COVID-19 task force would meet every hour to assess new issues and brainstorm solutions.
"If you have the time, you have to take it," Rowlands said. "Sometimes we don't have the luxury of time."
According to Rowlands, the team only had a few days to make the recommendation to extend spring break and transfer all in-person classes to online. 
As the spring semester comes to a close, the necessity of immediacy has decreased. The team is planning to take more time in its recommendations to provide the most thoughtful responses in terms of NKU's near future. 
The most rewarding part of her position as leader of the coronavirus task force has been meeting new people and building an interconnected network among other campus leaders, she said.
"I've always heard that you learn from the best leaders in times of uncertainty," Co-Interim Chief Student Affairs Officer and Dean of Students Arnie Slaughter said. 
Slaughter is a member of both the coronavirus task force and the president's cabinet. Because of his dual role, Slaughter has been able to work with Rowlands at both capacities. According to Slaughter, Rowlands has been "a rock" for the NKU community, specifically the faculty members under her supervision. 
"In the midst of a crisis that is recently experienced, she's held her resolve. She hasn't stressed. She hasn't shown any fatigue. She hasn't shown any signs of wanting to run away from this," Slaughter said.
Kimberly Scranage, vice president of enrollment and degree management, described Rowlands' demeanor to be a source of comfort among the task force. As team members faced difficult moments of anxiety, Rowlands had an open-door policy.
"She's empathetic to everyone's situation." Scranage said. "She's just been a very calm, guiding person through all of this."
Rowlands said she's made her mental health a top priority during this time of work and self-isolation. 
"I have to stop myself [from working] in the evenings and have some downtime," she said.
To decompress, Rowlands likes to read non-fiction books and stream Netflix's "Ozark" or "Better Call Saul". Every weekend, she and her friends reenact a Shakespeare play over Zoom. Over the last few weeks, she has played Juliet Capulet and King Lear from the stage of her living room. 
Whether it's in a play or a conference call, Rowlands has been described as an open-minded, collaborative leader.
"I think of the Provost as a leader that does not act in isolation. She's not one to say, 'Yes, this is what I think. This is the decision.' She's been instrumental in making sure that multiple perspectives and multiple voices are heard at the table," Slaughter said.
For example, Rowlands invited two students—former SGA president Jarett Lopez and current SGA president Lauren Goodwin—to join the task force in order to include the student perspective on key issues. 
Rose Tempel, the director of health services and member of the COVID-19 Preparedness Team, said she admires Rowlands' leadership style.
"She doesn't lead from a superior standpoint like she's better than us," Tempel said. "She's one of us."
Scranage described Rowlands as a mentor to her over the last six years they've known each other. In times of uncertainty, Scranage has looked to Rowlands for a new perspective and guiding advice. 
"I truly do feel blessed that I had the opportunity to learn and to grow from her for the last six years," Scranage said.
According to Rowlands, she is very proud of what the COVID-19 task force has accomplished this semester. 
"I am proud of the decisions and recommendations that have been made around the emergency situation. I think our decisions have been well-founded and well-reasoned," Rowlands said. "While not everyone likes all of them, I think I feel comfortable that we've made the best decisions that we could make in the situation."