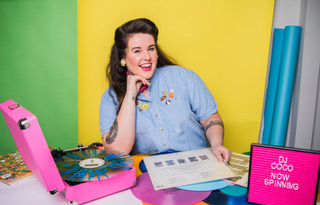 Chanell Karr
When were you at The Northerner?
August 2013 – May 2014.
When did you graduate? Major?
May 2014, Public Relations & Communication Studies.
What did you do at The Northerner?
I served as the Promotions Coordinator during my senior year. I helped run the social channels, run contests, promote the overall brand of The Northerner, etc. I organized us having a tabling presence in the Student Union each week, we would pass out the paper, have students sign up to be a part of the staff, etc. I launched a series of contests for local festivals & concert tickets with The Northerner & Norse Media. We went through a re-branding period, and I worked with the business team to reach out to local businesses for advertising opportunities online & in print. 
What has your career been like since graduating?
During college, I had multiple internships and part-time jobs—I worked part time as a Premium Seats Sales Coordinator at Bogart's (in college & post grad), and worked my way into a full time gig at CityBeat as the Events & Marketing Coordinator (interned in college, and then worked into a full time position post grad).
What's your current job?
I am the Marketing & Ticketing Manager for Nederlander Entertainment at the Madison Theater. I run our social channels, work with agents to develop marketing campaigns for tours coming to our venue, maintain our holds calendar, coordinate with local media outlets on coverage, contests, and more. I launched the internship program here, where I have students assist me in marketing out upcoming shows. I also help book local talent in our smaller room, Madison Live, or work to book local talent to open for the Madison Theater. I also run our box office at the Madison Theater, where I sell tickets to upcoming shows. 
On the side, I am also a radio DJ at INHAILER radio, I help manage a local band, Saint Sterling (comprised of 2 NKU alumni); and I also spin as a vinyl DJ – DJ Coco! 
How did The Northerner help you start your career?
Marketing and promotions has always been a strong suit for me, and The Northerner helped me hone in on that skill at a media outlet. That directly carried over to my time at CityBeat, where I was able to continue running marketing & promotions for a local media outlet. The Northerner also helped me network within the industry, helping me further my career opportunities. 
What's something you miss, or don't miss, about The Northerner?
The Northerner, while sometimes insanely hectic with deadlines, was a lot of fun! I become friends with someone who is still one of my best friends. I met amazing people, had the inside scoop on what was happening on campus and in the community. My life was enriched with stories from students, faculty, and staff—something that I definitely miss! We always took time to keep the morale high, and encouraged one another to do our best! We had a great staff while I was there! 
What is a piece of advice for current Northerner staff?
Have fun! Meet deadlines, and edit your work, but remember to have fun! College is such a wonderful time to make friends & network & enjoy life — don't forget to do that! Grab coffee with other staff members & get to know them! Make time for pizza parties, and go out for dinner. Hang out. Bond. Who knows who you may become best friends with! Journalism is already a competitive market, don't forget to let your guard down sometimes & live in the moment.