"There is more to life and this world we are all a part of."
August 21, 2016

Dieudone studied in Bregenz, Austria for five weeks, where he enrolled in "International Real Estate and Leadership Around the World."
He received a private scholarship, International Studies Scholarship and a KIIS grant. Beyond the financial assistance, hard work made his goal doable.
"My parents work 24/7 night and day," Dieudone said. "You have to ask yourself if you really want to do it. For me this was a part of my dream and education. I want these experiences to make my education and skills stronger for my career. I told my parents this is something I have to do, and I did it."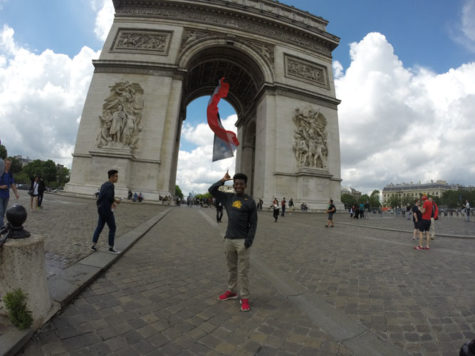 Dieudone visited Vienna and Milan, Italy, Munich, Germany, Paris, France and Switzerland over the course of his stay in Europe.
While visiting Austria, Dieudone and classmates were given the opportunity to meet businessmen, who gave the class a walk through of the real estate process.
For his other course, Dieudone spent most of the time in each city observing adolescent behaviors.
"Observing the children was fun for me," Dieudone said. "I would go into coffee shops and without hesitation these kids would sit next to me and continue on with their conversations as if I wasn't there. All of them were so polite while being so comfortable around strangers at the same time. Overall both classes were extremely rewarding."
Although he encountered challenges with his nationality and race, Dieudone is grateful his experience abroad expanded his perspective.
"As a person this opened my world," Dieudone said. "There is more to life and this world we are all a part of. Everything has a specific history and culture and it's all so beautiful and breathtaking.
"Not only did I find myself and realize how people look at me and how I look at them is but how important it is to understand why we do the things we do. Coming to America gave me more possibilities than I could have ever imagined, that alone is enough of a reason for me to keep going."