Northerner Coverage of Midpoint Music Festival 2015!
September 29, 2015

Friday night kick off
Lizzie Kibler – Arts and Life Editor
Washington Park was abuzz Friday night with the first shows of MidPoint Music Festival.
The festival started off in the brand new Indie Craft Village with a free show by the band Dale Earnhardt Jr. Jr. playing on the small makeshift stage of the gazebo in the center of Washington Park.
Aside from watching the show, patrons of the festival could grab craft beer from the vendors in the village.
One of those vendors supported the Kelts Rugby Team.
Tents surrounded the outside of the gazebo area which included a Blu tent for the vape company, several music tents and a WNKU tent.
"It's an awesome radio station," Barb Powell, a volunteer said as she set up the WNKU tent. "I'm meeting great people."
Another volunteer held up one of the wristbands with their mission statement on it that they were giving away for free.
"Discover music!" Powell laughed.
They also were raffling t-shirts and selling other merchandise.
Following along the path of music and craft beer, patrons could find many food trucks. One of the food trucks would be home to Umami Bites.
Sarah Stoner, one of the workers for the truck could be seen smiling at the window as she explained where the inspiration of the food comes.
"It's from backpack travels… through Asia," Stoner said.
This was their second time being at a big music festival with the first one being Bunbury Music Festival and the truck will be returning to MidPoint on Sunday.
The real draw were the bands that were playing the main stage at Washington Park like Purity Ring, HANA and Nick Diamonds.
"I'm excited to see Purity Ring," NKU alum Ali Willis said.
Willis said that she really started to like MidPoint after getting into music more and that she loves the ability to walk around during the festival instead of being stuck in one place.
Willis' friend Satoru Matsubara talked about coming from Japan and finding that he likes MidPoint a lot.
"I'm definitely coming every year," Matsubara said.
Performers that were not playing Friday night were still excited to be there.
George Byrd of Gran Bel Fisher will be playing Sunday. Byrd's band is playing MidPoint for a second time and will take the stage before Iron and Wine.
"We have kind of a Hall and Oates feel," Byrd said.
Byrd also said that he can't wait to see the patrons laying down blankets before their show and getting to know their music more.
MidPoint Music Festival affects the attendees as much as the local vendors and bands. The rest of this musical weekend will continue until Sunday night.
JSPH at MidPoint Music Festival
Sarah Clark – Reporter
Over the Rhine was packed with music lovers Saturday night. At 8:30 p.m., the line to get into the Drinkery on Main St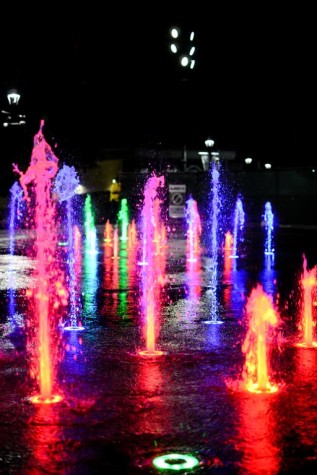 was 10 people deep. Shortly after 8:45 p.m. the stage lights went up and the band JSPH began their first song, "Victim".
The Midpoint Music Festival lasts three days. Its lineup of over 100 local bands includes JSPH, an R&B/Soul/Pop/Electronica hybrid.
Victim is an upbeat song from JSPH's first album, Rest. The band, which is made of six members, played seven songs from both their albums during their 25 minute set.
Lead singer Joseph Nevels opened with references to his Northern Kentucky ties and joked about the great distance it is to cross the Ohio River into Cincinnati. The crowd gave positive feedback from the beginning.
Chelsea Devers, a junior studying PR at NKU, said her favorite song is "Magnetic" because of its fast pace and layers of meaning in both the music and lyrics.
The Drinkery was packed with music enthusiasts of all varieties. JSPH has no stereotype audience, said Isaac Karns, 27 and friend of Nevels.
"This (JSPH) is a talented group of people everyone should be interested in," Karns said.
The crowd cheered and interacted with the band, Nevels assigned the crowd a singing part in the song "LMNM". The crowd happily did their part and sang their assigned, "ooh ooohh oooooh."
Emily Karns, 27, who was watching JSPH for the first time said the whole band was super sweet and fun to listen to.
Nevels said the whole set went really well with great energy from the crowd and community.
This show helped build experience for the band which will be playing again at Ubahn Fest this October in Cincinnati.
"I really enjoy this music. It is fun but still with lots of depth and hidden meaning," Sophia Beya, 27 and a backup singer for JSPH said.
The band ended with a crowd favorite, "Forever" which was featured in the Lifetime movie Wuthering High School.
With the set over, the band kept it low key, packed up their own equipment, and interacted with the crowd. Nevels said he is excited to explore other local bands at the Midpoint Festival.
"I am looking forward to Sylvan Esso tonight," Nevels said.
Beya said the mixing of genres is what really sets JSPH apart and gives it appeal.
The "sweetest" band at MidPoint
Maggie Fulmer – Contributor
Rich Shivener walked into his bandmate Tom Ryan's house one Sunday evening to find an empty living room. A room that would later be used as a set for their band, Sweet and the Sweet Sweets, first music video. As the house filled with cameras, equipment and instruments the anticipation to get started on this new project grew.
But before the excitement of music videos there was just a love for music.
"I first picked up a guitar my freshman year of high school and started taking lessons from my cousin," Shivener said, an NKU alum and former professor of English. "I got two lessons from him and he might have suggested that it wasn't a good idea because I wasn't disciplined enough. But I was 15 and I just wanted to play music."
Shivener went on to teach himself by ear. Playing with friends in garages and practicing on his own, he was able to learn the fundamentals of guitar.
He played in a variety of different bands growing up which helped him meet bandmate Tom Ryan, also an NKU alum.
"Our former bands met back in 2002. And then later we found out we both went to NKU," Shivener said. "We stayed friends loosely through freshman year and then met again sophomore year in a history class. We were still in different bands at this point, but we stayed friends ever since then."
The two performed together once in the dorms – in the Bluegrass community of Kentucky Hall.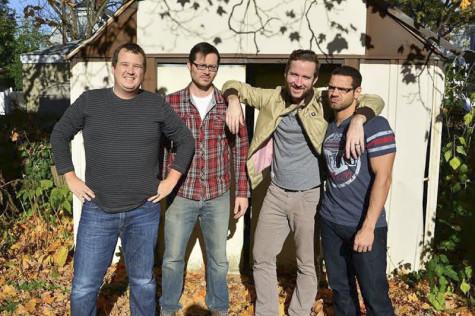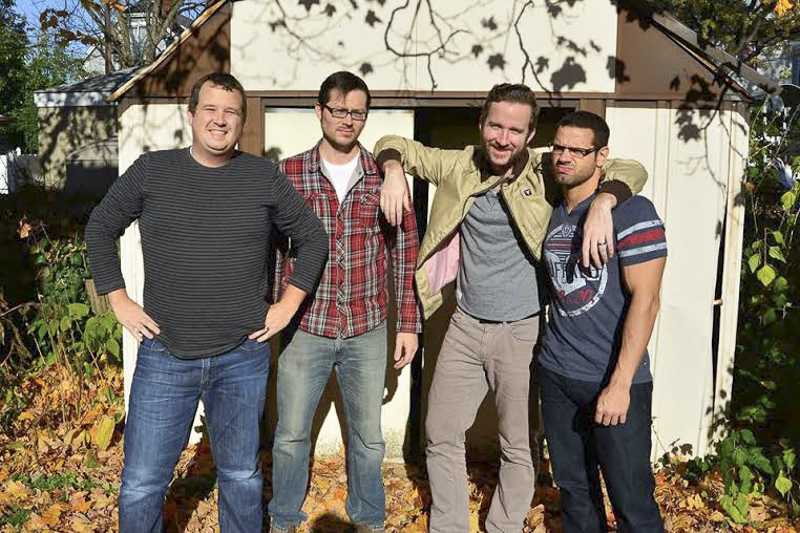 Shivener also remembers playing old soul/rock and roll covers of songs he liked with Dave Tennant, the drummer, and Ben Jones, the bassist. In 2013, a group of friends who just liked to hang out and jam together became Sweet and the Sweet Sweets.
And coming up with the band name wasn't something they wasted too much time on.
"Band names can be so annoying to come up with. There's usually lots of debate," Shivener said. "We just wanted a name that was obnoxious and easy to remember. And we like the mid 20th century feel it has to it."
"I immediately liked it because I could imagine Rich saying it in his head and then laughing at himself," Tennant added.
Later they brought in NKU Jazz Studies student and saxophone player, AJ Pearson.
"I was playing a school gig over at York Street Cafe and a family member of an acquaintance told me about this group," Pearson explained. "They gave me Rich's contact info, we got a gig scheduled and I've been playing with them ever since."
"He's the cheese on top of the three-way," Tennant said referring to what Pearson adds to their sound.
Tennant explained that when they first started out he didn't really think they ever had the intention of playing live shows. However, this summer helped bring their live performance to a whole new level.
"This summer has been an oddity," Tennant said. "If we hadn't gotten into MidPoint Music Festival we probably wouldn't be playing again until November because we just got done playing three shows in a row."
In August, Sweet and the Sweet Sweets played at Rhinegeist Brewery, Fountain Square and MadTree Brewery.
The band does their best to get together every Saturday for rehearsal or just to hang out. Setting aside one day a week allows them to be able to focus on their day-to-day lives, but still keep up with the music. They also like to spend a lot of time writing and recording because Jones has his own studio.
"We like to write songs that have that danceable quality to them. We want people moving around," Shivener said. "When people are connected to the music like that it's a huge motivator for us."
On the evening of Sept. 27 you'll be able to catch them playing at Maudie's as a part of this year's MidPoint Music Festival.
"Just when you think you've seen the best on Friday or Saturday, you're wrong," Tennant said. "It's not over yet. Sunday night we're bringing the heat."
"We're bringing the sweet heat," Shivener said.