Center spreads environmental education throughout the university and beyond
December 28, 2014
Clay Tyler is no environmental expert.
As a senior middle grades education major, he sits in class (almost) everyday  like most NKU students and doesn't spend time thinking twice about the impacts of his drive to campus or the bottled water he crinkles in his hands.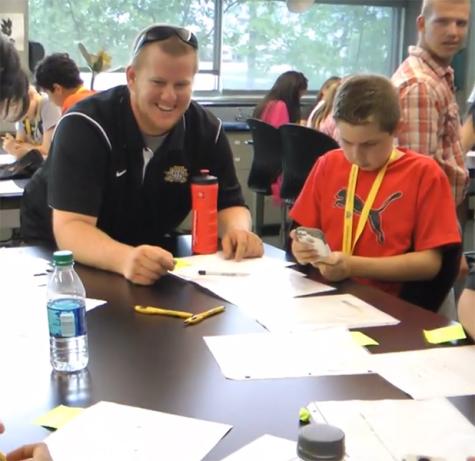 That, however, all changed this past year — in a way that has opened his eyes to the natural world around him.
Tyler took up a crash-course lesson in the world of environmental science after being hired at NKU's Center for Environmental Education— working on educational outreach initiatives focused on environmental issues.
"It has definitely opened my eyes," Tyler said. "I didn't have a huge background in environmental science, but it will be helpful and important for my future down the road."
Tyler heard about the position at the center, an institute within the Center for Integrated Natural Sciences and Mathematics aimed to improve regional environmental literacy, from a professor who suggested he apply for the job.
He heard it was funded by NASA and thought it had to be a great opportunity with such prestigious backing.
Now, as a student worker Tyler writes up lesson plans to be taught at schools across the country to help supplement the students' learning and understanding of the environment around them — coupled with the science they are already learning or serving as extra lessons.
Within nine months Tyler went from not thinking about the environment at all to becoming conscious of it in many aspects of his daily life.
"I know way more now than I ever thought I would," Tyler said. For example, "there is a water crisis around the world and we here Americans take it for granted. We think it's not a big deal, you can just get a bottle of water and everything will be okay."
Besides giving him new environmental insights, the position has also given him experience he can use within his profession after graduation.
Real-world experience has far-reaching influence
Tyler already writes lesson plans and practices teaching in real-world classrooms for his middle grades education major. However, his work at the center gives him even more of that real-world experience.
When not perfecting the center's specialized lessons, Tyler gets to take students out in the field to local streams to implement the coursework he has created, along with the other student workers.
But not all student workers are education majors. All of the students workers come from different backgrounds, according to the center's Interim Director and NKU Alumna Rose Marie Santos.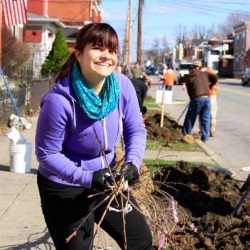 And that means the role offers a diverse wealth of experience to a diverse group of students.
"I have seen the center have such a positive impact on the students who work for it," Santos said. "I'm a perfect example of one of those students. It's been amazing for me coming from the student side to watch it happen for my students. It's really just kind of a powerful thing."
The center for environmental education was established by the Kentucky Environmental Education Council. They developed a state mandate requiring all state, public universities to have centers for environmental education in the '90s.
From that mandate, the universities formed the Kentucky Universities Partnership for Environmental Education (KUPEE). KUPEE currently has six active centers, NKU, Moorehead, EKU, Western, Murray and KSU. All of those centers are currently in different stages at this point, but some of them are actually funded by their institute.
The lesson plan project funded by NASA is one that all of the universities are a part of.
Each of the university's centers has a group of students developing lesson plans. They are all thematically different, but they are all connected to the environment.
Sustainability is one topic. Climate change is another. NKU's is water quality.
"We have to be flexible depended upon what the funding is. If we apply for a forestry grant, we are going to do more forestry projects. If we are going to apply for a Duke Energy grant. we would focus more on energy."
The center also got money to develop a water quality app. This was a project that was a partnership between the Foundation for Ohio River Education and NKU's center.
"We had this amazing app that was a great resource for teachers and a lot of people were already using it, but  for the lay teacher who has never taught water quality, well, what am I going to do with it? Well now there is a lesson plan to accompany it?" Santos said.
The lesson plans utilize the water app to help local teachers better teach their students.
"It starts out with the big picture: What is water quality? What is a watershed?" Santos said. "Then it goes into what chemical testings are, what biological testings are, and then the fourth day is an accumulative field trip and that is when they use the app in the field."
So it's a product essentially that the center is offering for teachers. The lesson plans are free. The water app is $4.99 on iTunes.
The overarching goal would be to push toward environmental education and create resources so that teachers have access to materials that can help them with that process.
Connecting back to nature, within NKU and beyond
Elementary and middle school students who are taught the lessons receive an additional insight, according to Santos. They regain a connection to the natural world.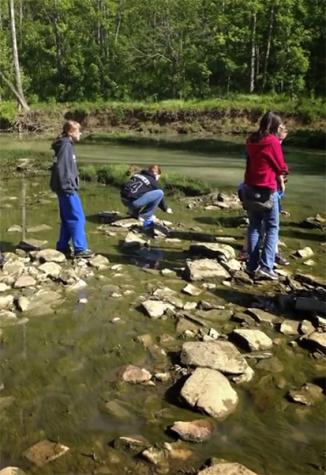 "It's just so great because kids don't get to do this anymore. If they learn anything awesome, that's great, but just allowing them to get out into nature is great," Santos said. "I'm from Cincinnati. I think back to what made me care about the environment. It was walking in streams and not really knowing what I was doing but just being outside after years of not being outside, it changed the way that I experienced nature."
Several studies have shown that many kids nowadays aren't being exposed to nature in the same ways that older generations were, according to Santos. That has an impact on the way they perceive their connection to it.
"They are really disconnected from where their food comes from, how when you flush the toilet it affects the water, their connection is far less clear. 100 percent I just think getting the kids outside is a victory in itself."
Tyler agrees and said getting to take students out in the field to learn is his favorite part, as well as theirs.
"We took a group of sixth graders out to a stream and they did some collecting of macroinvertebrates and did some chemical testing of water to determine its quality or healthiness," Tyler said. "The field study, when the students get to go out to the creek, is always their favorite part because you know they get to play around in the water."
Santos said that this is one of the main things that inspired the app. If you put the app in the hands of kids who are a little more tentative to be outside, suddenly they become interested about how it all comes together.
"The best thing for me is they become less interested in the app and more interested in the bugs."
Ultimately, Santos believes this environmental education is important for all ranges of students involved, because it impacts one's ability to be civically engaged and responsible.
"If people don't have an understanding of science, they don't understand, they can't vote appropriately. There is so much false information, that even the most basic understanding of science can help a person rationalize through that," Santos said. "That's a major reason why I want to target an undergraduate audience with the CEE because I think it is 100 percent important. "