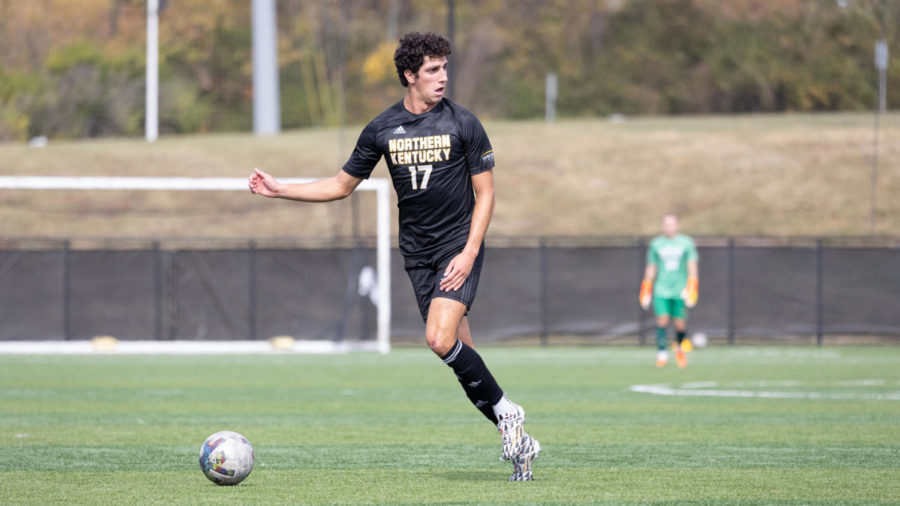 Robinson plays for Puerto Rico
April 18, 2023
NKU soccer player Sam Robinson's dream came true after playing for the Puerto Rico national team. The senior captain sees this as much more than just an athletic accomplishment: for him it's also a chance to honor and represent his mother, a Puerto Rican native, who passed away his senior year of high school.
Sam has always been drawn towards his sport. As his father David Robinson said, "Soccer is his passion, it's what he loves to do all the time. He started playing year-round soccer once he got into high school."
Sam is the youngest of his four siblings and always followed the sports that his brothers competed in, but he always loved soccer the most. His parents never specialized their children into sports. Because of this, it wasn't until high school that they let him play soccer year-round.
David Robinson describes Sam to be a passionate person. "Passion involves emotions, and Sam has a lot of emotions," he said. Because of these emotions, Sam is very appreciative of his mother for getting him to where he is today, being able to play for the Puerto Rico national team and represent her.
In this podcast, Sam goes through his journey of playing soccer along with his experience playing for the Puerto Rico national team and the Norse.
The Puerto Rico national team approached Sam, who has been playing as a forward for the Norse for a few years. In his international team debut, he was able to play against the British Virgin Islands and the Cayman Islands before making his return to NKU. Sam will take his experience with him into the fall as he continues his fifth year at NKU.
"Sam is a very driven and focused individual that is very detail oriented, which really leads him to be a good person to have helping the younger players," said head coach for the men's soccer team Tom Poitras.
Having players exposed to a higher level of competition really leads the players to excel when they come back to their college teams. "It's a huge help to him individually and to our program as well. When he came back this week we saw an even more focused Sam because he saw a higher level play," Poitras stated.
Sam is a captain for the soccer team at NKU and is seen as the guy that wins every drill he is put in, and pushes his teammates to follow him.
The soccer team is in the spring season right now with their next game set on April 22 against The University of Kentucky. The game is scheduled to be played in Lexington, Kentucky at 5 p.m.
Listen to Sam Robinson's emotional journey with the Puerto Rican national team as well as thoughts about his life in this podcast interview.