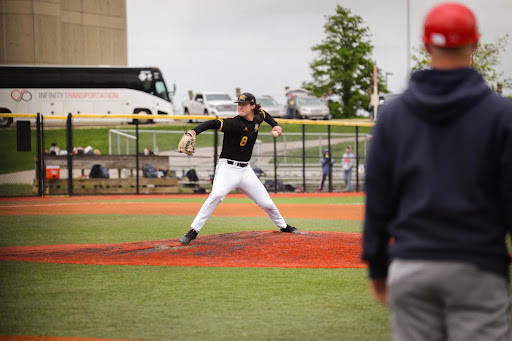 Carpool karaoke a bonding ritual for Norse baseball team
April 4, 2023
The Northern Kentucky baseball team has a unique icebreaker tradition that will definitely make any team chemistry strong.
At the start of each season, the newcomers to the baseball team have an important ritual to perform where they sing a song of their choice in front of the returning players on the first couple bus trips. The newcomers have the option to sing whatever they want; the only thing that the returners ask is that they put on an entertaining performance. 
"This helps the guys let loose and be themselves for a minute and a half," said graduate assistant Michael Hall.
Hall, who graduated last year after spending two full seasons in a NKU uniform, shared his personal experience when he participated in the tradition.
"I chose to do the Drake and Josh theme song and it went pretty well, I got a standing ovation," Hall said.
The former catcher and designated hitter states that he still thinks this tradition still holds the same value to him, even with switching roles from player to assistant, adding that it's always a great experience seeing the players show their true colors. 
Having a strong team bond is something that is often overlooked in athletics. If each member of the team has a type of friendship with their teammates, they are more likely to play together as a unit when it comes to game time. 
"The team chemistry is really good," said senior infielder John Odom. "You would think it would be a little patchy with half of our team being new, but everyone gelled together pretty well." 
This tradition has been going on for as long as every player can remember which adds a sense of importance to it knowing that players from years ago participated in this, making it important for the current players to continue it. 
"It's a pretty funny tradition," Odom said. "It's kinda scary when you have to do it, but for the older guys it's a lot more entertaining."
Stepping on to a new team can always be intimidating, but adding this fun activity to the first road trips highlights each player's personality and helps everyone bond with one another. 
The first road trip for the 2023 baseball season was at Eastern Kentucky University and the team had six of their newcomers perform during this trip, but they still have quite a few participants left with the team having a large group of 24 fresh faces. For this reason, they have decided to do three bus trips of the tradition, having 6 performers each. 
This first round trip was a big success for the Norse, with a lot of great contenders for having the best performance.
"Cleary Simpson sang, 'I Want It That Way' by the Backstreet Boys,' and that was a crowd favorite," said junior Ben Gerl. "Everyone was getting into it." 
The Norse have held six more performances since, as they held three during their series against Murray State and three more when they traveled down to Texas A&M. They will have plenty of opportunities as the season goes on with seven more road trips sprinkled throughout the remaining schedule.