Celebrating Black History Month with tennis captain Trevor Ball
NKU men's tennis captain Trevor Ball shares his African American heritage and success within a predominantly white sport
February 3, 2023
Trevor Ball, a native of Columbus, Ohio, began playing tennis at a young age. His father played tennis for two years at Edinboro University, a Division II school in Pennsylvania. He was introduced to both golf and tennis when he was young, and explained how the sport brought him excitement. 
"Golf was just too slow for me, I picked up a tennis racket and it felt right," Ball said.
His youth career proved to be successful, with Ball being recognized with the Wellington Rising Star award in 2017, winning the 2019 Greater Columbus Tennis Association Junior Player of the Year and earning third in the Ohio Class of 2020 State Rankings.
Like many athletes, Ball found himself in the midst of recruiting difficulties due to the COVID-19 pandemic in 2020. The NCAA created a policy allowing players to return for an extra year of eligibility, known as a COVID year, because they missed out on a competitive season due to the pandemic.
"I was about to commit to a school in Tennessee when COVID hit, and the coach had to ring me up and tell me all of his seniors would be coming back so there was no longer any spot for me," Ball said.
In late June 2020, Ball found himself with no school to attend and only two months to go until the fall semester would start. Coach Brian Nester, the men and women's tennis coach at NKU, reached out to Ball through his coach in Columbus.
 "I spoke with him for an hour, and then committed the next day," Ball said. I knew very little about the school or area, but I wanted to stay on track and go to school in the fall, and NKU seemed like a great opportunity for me."
Ball, a junior global supply chain management major, was named captain of the men's tennis team this year alongside senior Brandon Ponomarew.
During his past 12 years at NKU, Coach Nester had never appointed any team captains.
"He saw the work we were doing with keeping the team organized with practice sessions, lifts and schoolwork. I was really honored when he named Brandon and I team captains," Ball said.
Vincent Knott, a sophomore finance major on the men's tennis team, has been able to share the court with Ball during doubles matches and believes their games are very complementary. 
"We played against UK last year, and although we lost 7-5, they were a top 10 program, and it was a great learning opportunity. As a big server, it's nice having Trevor at the net, creating shot opportunities and volleying," Knott said.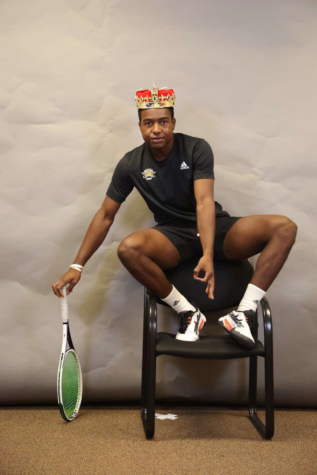 Black History Month is an annual celebration that takes place every February across the United States, and Ball believes his African American heritage has pushed him to success and where he is today. 
"Black History Month means a lot to me and has provided me with some great role models: Malcom X, Martin Luther King Jr., Rosa Parks, the list goes on," Ball said.
However, such role models haven't always been present in tennis. 
"Growing up I didn't have many peers that looked like me, there were two other black kids that I always saw at tournaments since I was 12 years old, and that was it. When I was watching tennis, the only black player I can remember is James Blake," the junior said.
Tennis is a predominantly white sport, with 77 percent of professional tennis players being white and only nine percent black. However, recently there has been the emergence of multiple successful black tennis players such as Francis Tiafoe, Felix Auger-Aliassime and Coco Gauff.
"Role models are huge, when you see someone that looks like you on the TV, then you think to yourself why can't I," Ball said.
Last year, Ball decided to join the Pi Pi chapter of Kappa Alpha Psi, Inc., an African American fraternity, to give back to his community and connect with his heritage. He was inspired by his father, who joined the chapter in 1984, as well as tennis legend Arthur Ashe, who was a part of the same fraternity while he attended UCLA.
Ball says that Ashe is his biggest role model both as a tennis player and for the community work he did following the end of his career. Ashe is the only black man to ever win the U.S. Open, Australian Open and Wimbledon. After retiring from tennis, Ashe advocated for the African American community as well as for AIDS awareness, after he contracted the HIV virus following a contaminated blood transfusion.
"A lot of athletes after they retire either disappear into the shadows or remain in the athletic world as announcers," Ball said. "Ashe was the best African American tennis player ever and after his career he was still able to do prominent work for the better of his community."
Daniel Myers is the current president of the Student Government Association and a member of the Pi Pi chapter of Kappa Alpha Psi, Inc. He and Ball became fraternity brothers in November 2021, and Myers has been able to see him develop as a leader and friend.
"Trevor is one of the most genuine and driven individuals I've ever met. I've watched him grow tremendously as a leader and he pushes me to be better every day," Myers said.
The Pi Pi chapter's involvement post-college with their alumni chapters is another reason Ball decided to join the fraternity. The alumni chapters work tirelessly to advocate and support their local African American communities, with fundraisers for things such as turkey and toy drives.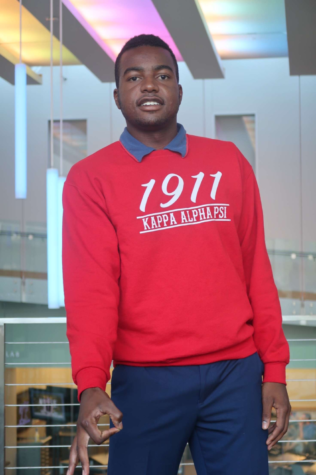 "I saw the great work they were doing with my dad and the alumni chapter, and I saw it as a way of getting more involved with our community on campus as well as helping the general community," Ball said.
Ball hopes that for this Black History Month, more athletes will engage with the campus community and attend some of the events that are taking place.
"There are some fun and educational events going on, and I'd love for people to attend one of them and learn something new. I'd be happy to be a resource for anyone who is interested in getting engaged," Ball said.
A list of all of the events for Black History Month 2023 can be found on flyers across campus as well as this link.