Men's soccer recap: Sjølander, Vasic among young Norse finding success
As the soccer season ends, how did players such as Christian Sjølander make an impact, and what is the team looking to work on this spring?
December 12, 2022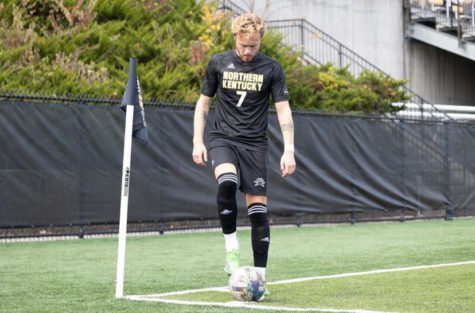 Despite finishing ninth in the Horizon League and failing to make the conference championship tournament, the NKU men's soccer team saw success come from both fresh faces and old ones.
Christian Sjølander, a freshman and sports business major, was named to both the Horizon League All-Second Team and the Horizon League All-Freshman team. Sjølander, a native of Taastrup, Denmark, joined the Norse this year as a midfielder and led the team with seven assists, which placed him second in the Horizon league.
 "There are no individual accolades in a team sport," Sjølander said about his awards. "It's a win for the whole team, and for me to get that many assists there needs to be another guy on the end scoring."
 Parker Vasic, an attacking midfielder and business major, is another notable freshman from this season. The native of Portland, Connecticut carded 531 minutes for the Norse with one goal and one assist.
 "A standout for me would be when I started against VMI and managed to get a goal, and the game against Xavier was also a great memory," Vasic said.
 Both freshmen, although coming from very different backgrounds, have been able to work together in the midfield.
"We are similar players, we like to have the ball at our feet and we combine well in attacking plays," Vasic said.
 Ben Hegge, a senior and business informatics major, will be returning for the 2023 season as a fifth year. The attacking midfielder from Loveland, Ohio will look to complete a business informatics masters.
 Hegge scored the infamous corner kick goal against Purdue Fort Wayne, leading the Norse to a victory.
 "It was a good game and a good moment," Hegge said of his Olympico. "I think Detroit Mercy was a solid game for me too."
 All three players stood out in a 4-11-2 season that was rough at times, but Sjølander said that there were points in the season that held something for the Norse to build on.
 "We've all had a part in this season, individual mistakes were made by everyone including myself," Sjølander said. "What is important is that next season is going to be better, and we all have the drive to get there."
 The roster will be undergoing big changes going into the 2023 season as up to nine players will be graduating or transferring. A sense of leadership will be vital as we see an influx of young incoming freshmen and transfers.
 Hegge believes mentorship from the older players is an important aspect moving forward. 
"They are both great players, and I'm a bit older so I'm trying to guide them a little bit," said Hegge about Sjølander and Vasic.
 As the Norse move into the spring semester, there are both positives and negatives to take from their season. Sjølander's awards are just a few of the bright spots from a disappointing fall.
 "He's a great player, he did a lot for our team with creating plays and assists so good for him," said Vasic about Sjølander's play.
 However, defensively the Norse struggled with 34 goals allowed and 44 yellow cards. This is an area that the team agrees needs to be improved.
"We had our meetings today and you know defensively we weren't very good," Hegge said. "We are just letting in too many goals, but we are hoping to improve."
 The players will look to make progress in their cardiovascular endurance and general fitness, as well as keeping up with their soccer practices.
 "Some personal goals of mine are to lead the league in assists and be awarded Horizon League player of the year," Sjølander said of his personal goals. "But really, I just want to win with the team and make the national championship."
 As we look towards the 2023 season, it is important to note the players to look out for, whether it be standout freshman like Sjølander and Vasic, veteran seniors such as Hegge, or possibly new recruits.