Businesses, Reds fans gearing up for a day that looked unlikely just two months ago
April 12, 2022
Baseball is back, folks! Local baseball fans are gearing up for another exciting Reds home opener. Peanuts, hot dogs, beer, and family fun are just around the corner for Northern Kentuckians.
We might even forget that, just two months ago, baseball fans feared the unthinkable: no baseball.
As collective bargaining agreement negotiations stalled between Major League Baseball owners and the MLB Players Association, Opening Day was looking more likely to be postponed. 
On Dec. 2, 2021, the MLB imposed a lockout. MLB's official Opening Day was supposed to be on March 31. Due to MLB canceling some regular season games because of the lockout, the Reds Opening Day was pushed back.
In the end, the players and owners reached an agreement. The new date for Opening Day is scheduled for April 12 against the Reds intra-Ohio rival, the newly named Cleveland Guardians.
"There is nothing like a true Opening Day. It's our Mardis Gras. It's going to be a great inbound travel generator," Julie Kirkpatrick, CEO of meetNKY, said. "In late February and early March, we were beginning to sweat. We've made it through COVID. We've made it through the worst. Now the MLB is having a breakdown. I was thinking that we just couldn't catch a break."
Richard Dickmann, owner of popular Northern Kentucky sports bars such as Smoke Justis and Dickmann's Sports Barn, said the last few years have been hard on business owners. However, Dickmann learned to adapt and roll with the punches in order to keep his successful businesses moving forward.
"The last couple years, you just keep getting punched. Down here in Covington, not only did we have COVID, but the suspension bridge closing, the Brent Spence Bridge reconfiguring," Dickmann said. "You have all this stuff you continuously had to adapt to. The best way to explain it was that it was one more thing that we had to deal with. You get kind of callous to things. When you get so many issues coming around over the last few years, you just view it as one more thing happening. It really didn't affect me as much as it would have in the past because I've become used to dealing with situations that are not under my control."
The threat of losing MLB loomed large for the region. Businesses would miss out on one of their largest revenue generating weekends of the year. Kirkpatrick said baseball is a leading travel generator for Northern Kentucky. The Reds are a preeminent avenue for family-oriented travel in the region. 
"Baseball is America's pastime. It's a huge travel generator for this region, whether it's the Reds of Florence Y'alls. Baseball is a family friendly experience. You get a lot of families from Cleveland, Akron, Columbus, Huntingdon, WV, and Lexington, KY, Louisville, and Indianapolis that will come over and make a Reds game their anchor for the weekend," Kirkpatrick said. "They'll also parlay it into other things. Maybe there's a Kings Island trip involved, or an Ark Encounter trip, or a Newport Aquarium trip. The Reds are what we call a primary demand generator. There's nothing else like sitting in Great American Ballpark when the weather is beautiful, looking out over that beautiful river. It's a huge demand generator for family travel."
Unfortunately, Northern Kentucky businesses won't have the Chicago Cubs fan base coming to town to spend their money. The Reds were initially scheduled to kick off the season against the Cubs before MLB canceled the original Opening Day. Because Chicago is approximately a five hour car ride from Cincinnati, when the Reds host the Cubs, it's not unusual to see Great American Ballpark full of Cubs fans.
"When MLB announced they were canceling the first series, I thought 'this sucks, we lost the Cubs,'" Kirkpatrick said. "To have an Opening Day with the Cubs and then the first weekend of baseball in Cincinnati being the Cubs which is a huge inbound travel generator. My bars were disappointed, my restaurants were disappointed, my hotels were disappointed. I was personally disappointed."
Northern Kentucky businesses received more great news when it was announced the historic Roebling Suspension Bridge would reopen to vehicular traffic on Friday, April 8.
Northern Kentucky businesses that rely on traffic from large regional events such as Opening Day rejoiced. A main thoroughfare for vehicular and pedestrian travel was now open once again. Businesses located at Roebling Point will now get more traffic from cars traveling across the Roebling Bridge from Cincinnati.
"It's gonna help us quite a bit," Dickmann said. "When they did decide to close it for construction, it was in my interest to make sure I was getting a hold of people to make sure we had a pedestrian way. We see a good chunk of business, especially during lunch from over the river. It will definitely make an impact on our lunch business. We'll see growth in it just by opening the bridge."
Opening Day baseball is part of Smoke Justis' ethos. When Dickmann decided to open a sports bar in Covington, he wanted its name to have roots in the sports history of the city. While doing independent research, Dickmann discovered the Covington Blue Sox, a defunct professional baseball team that competed in the Federal League. The team was founded in 1913 and played their games at Federal Park, the current location of the Kenton County Circuit Courthouse. The Blue Sox folded in 2015.
"I was going to call it Blue Sox Bar & Grill, but my kids told me the name sucked," Dickmann said. "I kept researching. Opening Day, May 9th for the Covington Blue Sox, the starting pitcher's name was Walter Justis. His nickname was Smoke. I asked my kids, 'what do you think about Smoke Justis?' They loved it."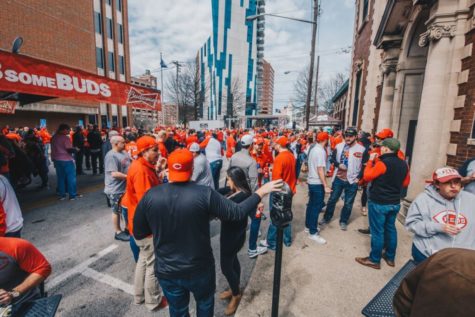 Walter "Smoke" Justis was the starting pitcher for the Covington Blue Sox on Opening Day, May 9, 2013. Dickmann seeked out living relatives of Justis to ask for permission to use the name for his bar. The family granted him permission, and today, Justis' legacy lives on in a city where he once played professional baseball.
The Reds home opener is culturally connected to both Northern Kentucky and Cincinnati. It's a universal sign that spring has officially come to the region. Every year, the Reds host a large Opening Day parade to honor the beginning of the season. Dickmann wanted to honor the legacy of baseball in the area.
Since 2017, Dickmann has hosted a block party on Opening Day to kick off the year. This year, Dickmann's block party will be on Tuesday, April 12. Festivities will begin at 11 a.m. when a DJ will begin to play. Live music will officially begin at 1 p.m.
Dickmann has recruited other businesses to participate in the party for this year. Along with Smoke Justis, Frosthaus, Keystone, and Molly Malone's will join in on the festivities. Court and Park streets will be barricaded off. The block party will end at 10 p.m. Justis was granted Kentucky Entertainment Destination Center License which will allow patrons to purchase a drink inside and walk outside with it.
"At Smoke Justis, I believe it was 2017 that I had the Opening Day party. The first day that I did it, I closed the street and had the party outside, but then I closed it at 3:00 p.m. because I thought everyone would pick up and go to the game. People had a fit about it," Dickmann said. "The next year, I had it open until 7:00 p.m. and people still had a fit about it. So now we go until around 10:00 p.m. because about 70 percent of the people who come to the block party are all wearing red, they're all excited about Opening Day, but they don't even go to the game. It showed me that as big of a thing Opening Day is, it's not just for the people that go to the game. It's a day of celebration."
This story was originally published by LINK nky. The original link to the article can be found here.